Behind every life addicted to drugs are family and friends. Humans are not disposable to us, which is why we invest in Narcan to save lives. We must give people suffering from addiction a chance to heal. For them and their friends and family.
We're experiencing a rash of opioid overdoses outside our doors in downtown Portland. Five times in one week, Blanchet House staff members rushed to revive unconscious people with Narcan, also known as naloxone. They saved their lives.
The call for help came, and they answered it. They are heroes.
Ami Prevec, Blanchet House's Direct Services Coordinator is one of these heroes.
She told me, "A woman ate breakfast in the cafe then walked outside and collapsed. We ran out to her and she was turning blue, not breathing. We gave her Narcan, waited, then gave her another dose. A bystander stopped to help and administered CPR. We stayed with her until the ambulance arrived."
As you know, Blanchet House exists to alleviate suffering and offer people, often at the lowest moment in their lives, a reason to feel hope.
We serve people just as they are. We don't always know their stories, but we know they've likely experienced trauma and abuse. Their recent days are dominated by negativity, disappointment, resentment, and shame. We serve people who often feel worthless or even shocked that anyone could care about them.
Some people in our community criticize the way we serve. We've been told that we're "enabling the homeless." Recently, two people left us voicemails to express their displeasure that our staff is saving lives with Narcan. One caller said that we're "wasting taxpayer money on drug addicts."
Life is Worth More Than the Cost of Narcan
Let's be clear. Human life isn't disposable to us. And for the record, Blanchet House receives no public funds for our services. We serve thanks to generous people like you.
Our critics believe that if we let people starve and suffer then maybe they'll stop being homeless. Maybe they'll magically find an affordable place to rent, stop doing drugs, or no longer have a mental illness. It's absurd, I know.
So we serve with dignity and compassion. And if this requires saving lives so that they have the opportunity to change their life later, then that's what we'll do.
"All I can say is that addiction led me to one of the darkest points in life, and getting to know staff, volunteers, and residents during meal times led me to finally choose to change my life around, and seek the help needed," shared Chad, a previous Blanchet House resident and meal guest.
You can help us to continue to be here for people who are alone and suffering by donating and volunteering. Thank you for your life-saving support and compassion.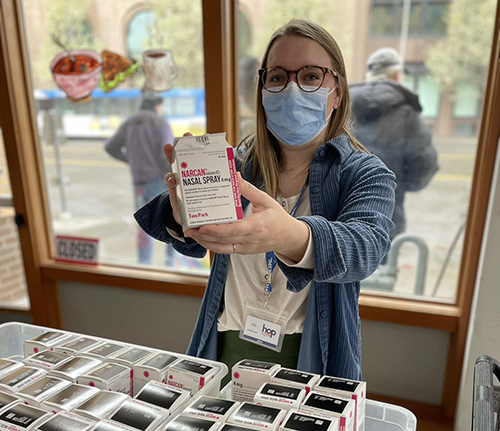 Narcan Hand Out During Lunch Service
Tiffany with Multnomah County Health Department is handing out more than 200 doses of Narcan during Blanchet House's lunch service. Our guests are very grateful to have this life-saving treatment on hand. Many street drugs now contain large amounts of synthetic fentanyl which is causing overdoses and deaths.
Last week, three people died in one day with more than 11 overdosing in a small area of downtown Portland. And those are only the reported overdoses. Life is not disposable to us and we must give people a chance to better their lives.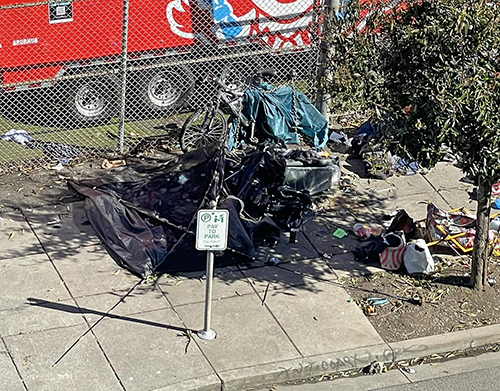 Staff Saves Life with Narcan
A few minutes prior to this photo being taken a man was pulled out of a tent unconscious. Blanchet House staff eating lunch across the street sprang into action. Jon Seibert rushed over with a dose of Narcan. The man's friends had already administered two doses but the drugs were so strong. They administered a third dose and the man began breathing. Two volunteer University of Portland nurses at Blanchet House also came to help.
Drug overdoses in Oregon increased by 51% from 2019. It's devastating to witness. We're so grateful to our team for saving a life. They go above and beyond the call of duty.