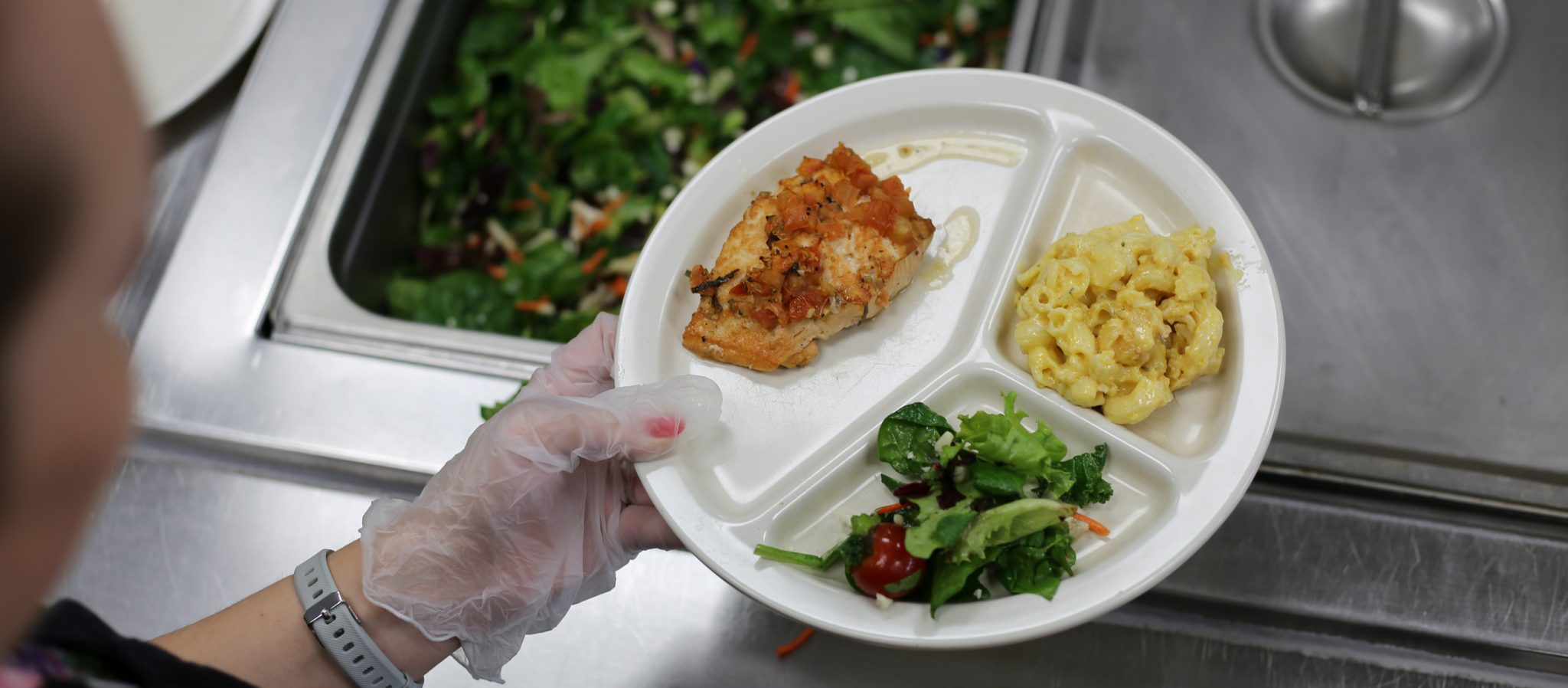 Reducing Hunger While Reducing Food Waste
How we lower our impact on the environment while serving those in most need.
An astounding amount of valuable food—40%—is wasted in America. At the same time, more than 550,000 Oregonians are not secure in their access to food. Blanchet House has developed an innovative system to rescue excess fresh food, get it to people who need it, and keep it from going to waste.
In an average month, we collect and receive more than 30,000 pounds of perfectly good unexpired food from local restaurants, grocery stores, wholesalers, and bakeries. There are many reasons why good food goes to waste, from stores overbuying to the public's misunderstanding of expiration dates, but we have found a way to use it to benefit our community.
Donate Food
We accept fresh, unexpired, and soon-to-expire food Mon-Sat. Please keep in mind that we need large quantities of each item so we can prepare meals for hundreds of people.
No, we cannot accept partially eaten or served meals.
No, we cannot accept canned food drives without pre-arranging.
No, we cannot pick up from your home.
Yes, we can accept homebaked goods like cookies.
Restaurant or catering pickups should be arranged by calling 503-241-4340 or emailing info@blanchethouse.org. We are closed Sundays.
Who We Serve
Rescued food gives Blanchet House the quantity of food needed to serve nutritious and delicious hot meals to thousands of people daily. Our meal guests include individuals who are experiencing homelessness, living in their cars, struggling with limited incomes, unable to prepare food because they do not have kitchens, or dealing with other adversity. Everyone is able to receive delicious hot meals without question. In 2020, we're serving an average of 1,500 meals a day.
Our meal program not only serves people in need of meals but it also provides a valuable service to businesses by giving them a place to donate excess fresh food before it goes to waste. Any large quantities of food that we cannot store or use immediately is shared with our peers at Union Gospel Mission, Stone Soup, Urban Gleaners, and Portland Rescue Mission.

Meals Prepared and Served with Love
Every meal is prepared and cooked by professional chefs with help from the men residing in our transitional housing program. We do our best to serve a balanced plate of protein, vegetables, carbohydrates, and fruit at every meal. It is difficult to predict what we might get donated so our chefs have to be creative with the daily menus. "What should we make with a donated pallet of eggplant today?" Learning how to cook for those in need helps our residents build soft job skills and gain self-worth.
A Closed Loop Food Cycle
We can store only so much food in our refrigerators and there are always food scraps involved with meal preparation so we must compost and discard of tons of food somewhere. This is how a few very hungry animals at Blanchet Farm and another local farm help create a closed food loop cycle. Food scraps are driven to the farms where it's processed and fed to animals. Pigs, goats, and chickens were responsible for keeping 63 tons of food out of landfills in 2019.
more than
30,000 lbs
of fresh food rescued every month
63 tons
food saved from landfills in 2019
Zero Food Waste
After every meal in our Founders Cafe, volunteers knock any leftover food from plates into bins marked for food scraps. These 40-gallon bins of food scraps are turned into slop for Blanchet Farm's five adult pigs. Food scraps are cooked to eliminate pathogens. The alternative would be 63 tons of food waste going into local landfills each year. As far as we know, Blanchet House boasts the only charity run kitchen, housing, and food recovery program utilizing pigs.
Feeding food scraps to animals stops them from going to a landfill where methane, a dangerous greenhouse gas is generated.
Using food waste for animal feed preserves valuable resources, such as fresh water and arable land, since less feed in needed.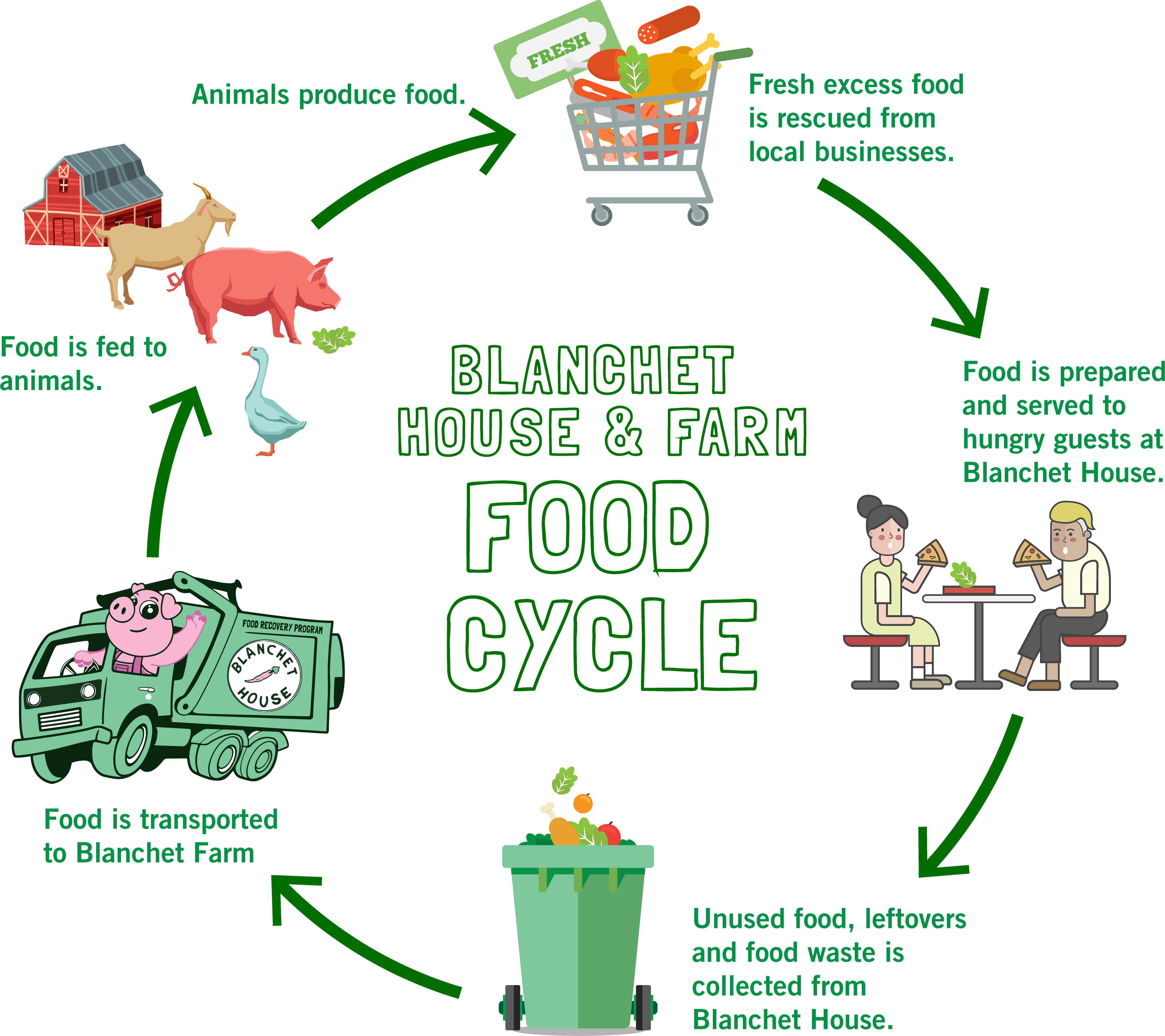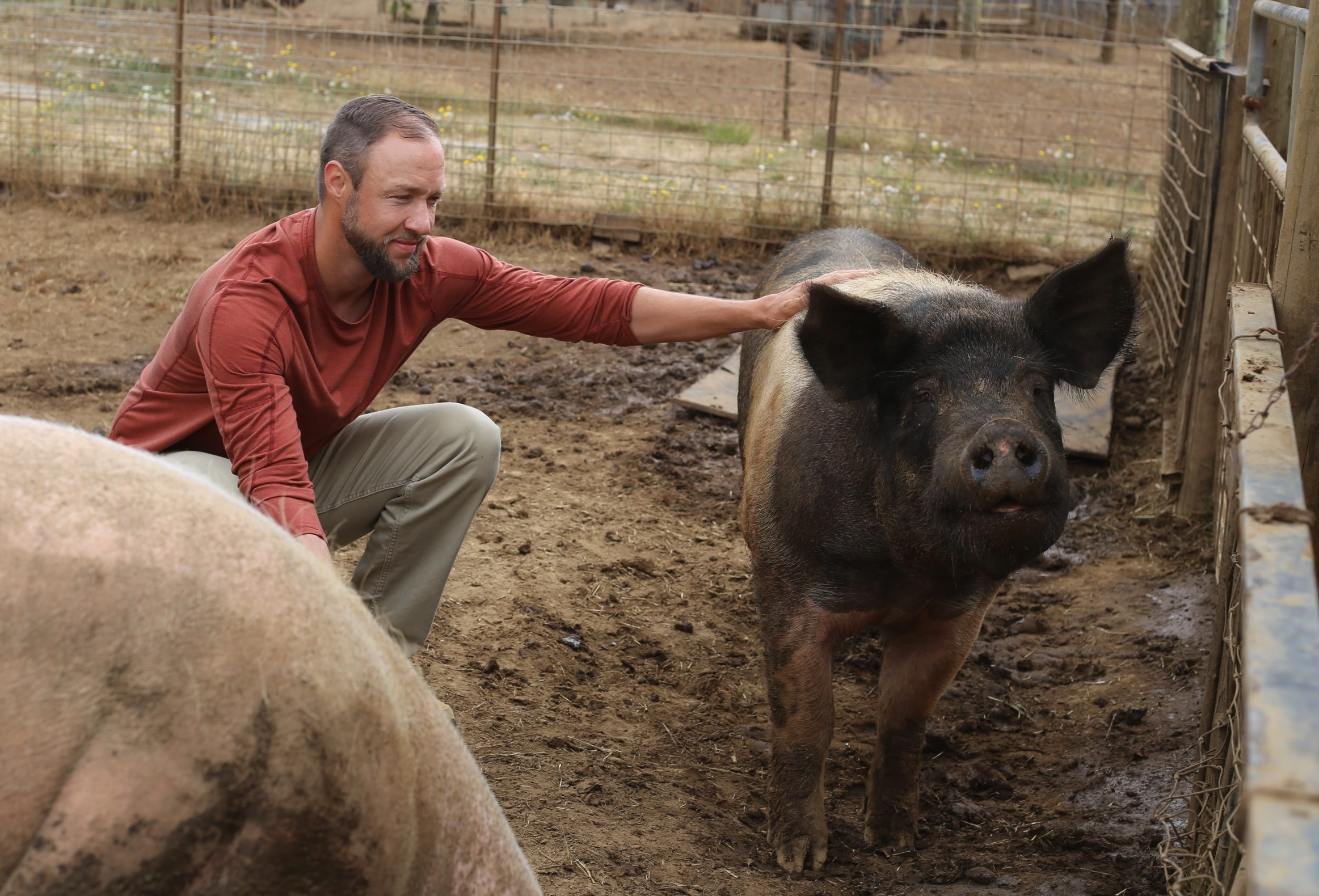 Blanchet Farm
In 1962, the founders of Blanchet House saw a need for a tranquil respite outside the city for people struggling with addiction to work on gaining sobriety. They purchased a 62-acre prune farm, built dormitories for 20 men, and developed a therapeutic manual labor program. Today, the residents of Blanchet Farm stay approximately nine months while learning animal husbandry, beekeeping, vegetable gardening, fine woodworking, cooking, and maintenance. There is usually a waitlist to stay at the farm as it is the only option for many low income and formerly homeless men.
"The solitude and working with animals has really helped me," said Lindsey, a veteran who was diagnosed with PTSD after serving two tours in Afghanistan. " I go down to the pigs and think, 'What do they need right now?' It makes me feel really good. I get to show some love and feel some love without having the stress of 'Oh, did I do it right?'"