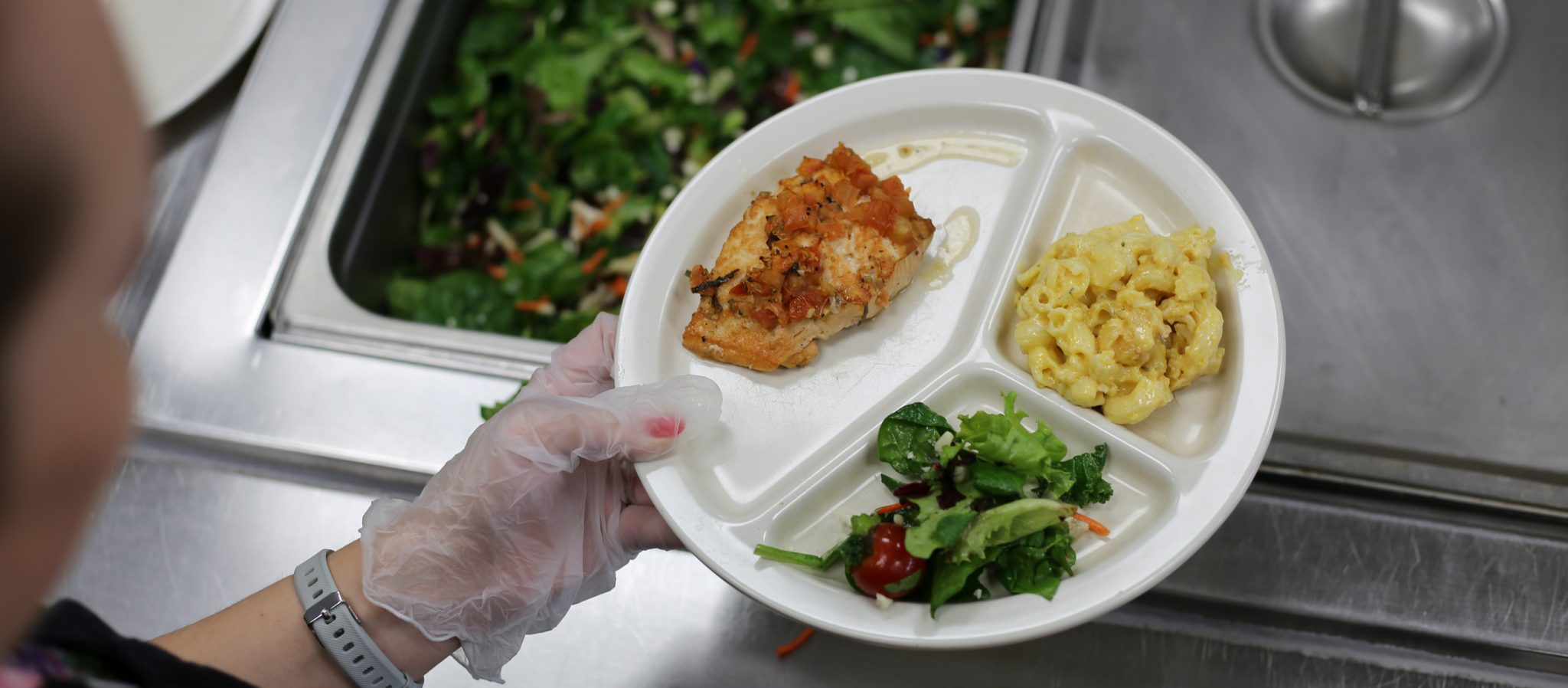 Food Recovery: Reducing Hunger While Reducing Food Waste
Reducing our imprint on the environment while serving those in most need.
Blanchet House offers free hot meals, three times a day, to anyone in need including people experiencing homelessness and food insecurity. We are able to serve an average of 1,900 meals a day because we collect and receive fresh food from restaurants, grocery stores, wholesalers, and bakeries. This is fresh, soon-to-expire, great-tasting food that would go to waste if not for our ability to quickly receive and prepare it for hungry people.
NOTE: During the COVID19 pandemic we are serving all meals and drinks to-go. We're following all CDC and state recommended health and safety guidelines to prevent the spread of the virus. Currently, there is no evidence to support the transmission of COVID-19 from prepared foods.
Meals Prepared and Served with Love
Men participating in our residential housing program learn to prepare delicious and nutritious meals using donated, rescued, and purchased ingredients to gain job skills and self-worth. Hundreds of volunteers serve meals with kindness and compassion. Our food recovery program provides a valuable service to grocery stores, restaurants, wholesalers, and caterers by giving them a place to donate excess fresh food before it goes to waste. We are able to share excess fresh food with neighboring nonprofits like Union Gospel Mission and Portland Rescue Mission.
more than
30,000 lbs
of fresh food rescued every month
Zero Food Waste
After every meal in our Founders Cafe, the staff knocks any leftover food from plates into bins marked for food scraps. These 40-gallon bins of food scraps are turned into slop for Blanchet Farm's five permanent pigs and occasional piglets. Food scraps and any unusable food are transported to our farm in Carlton, cooked to eliminate pathogens, and fed to pigs and other farm animals. The alternative would be 63 tons of food waste going into local landfills each year.
Feeding food scraps to animals stops them from going to a landfill where methane, a dangerous greenhouse gas is generated.
Using food waste for animal feed preserves valuable resources, such as freshwater and arable land, since less feed in needed.
63
tons of food saved from landfills in 2019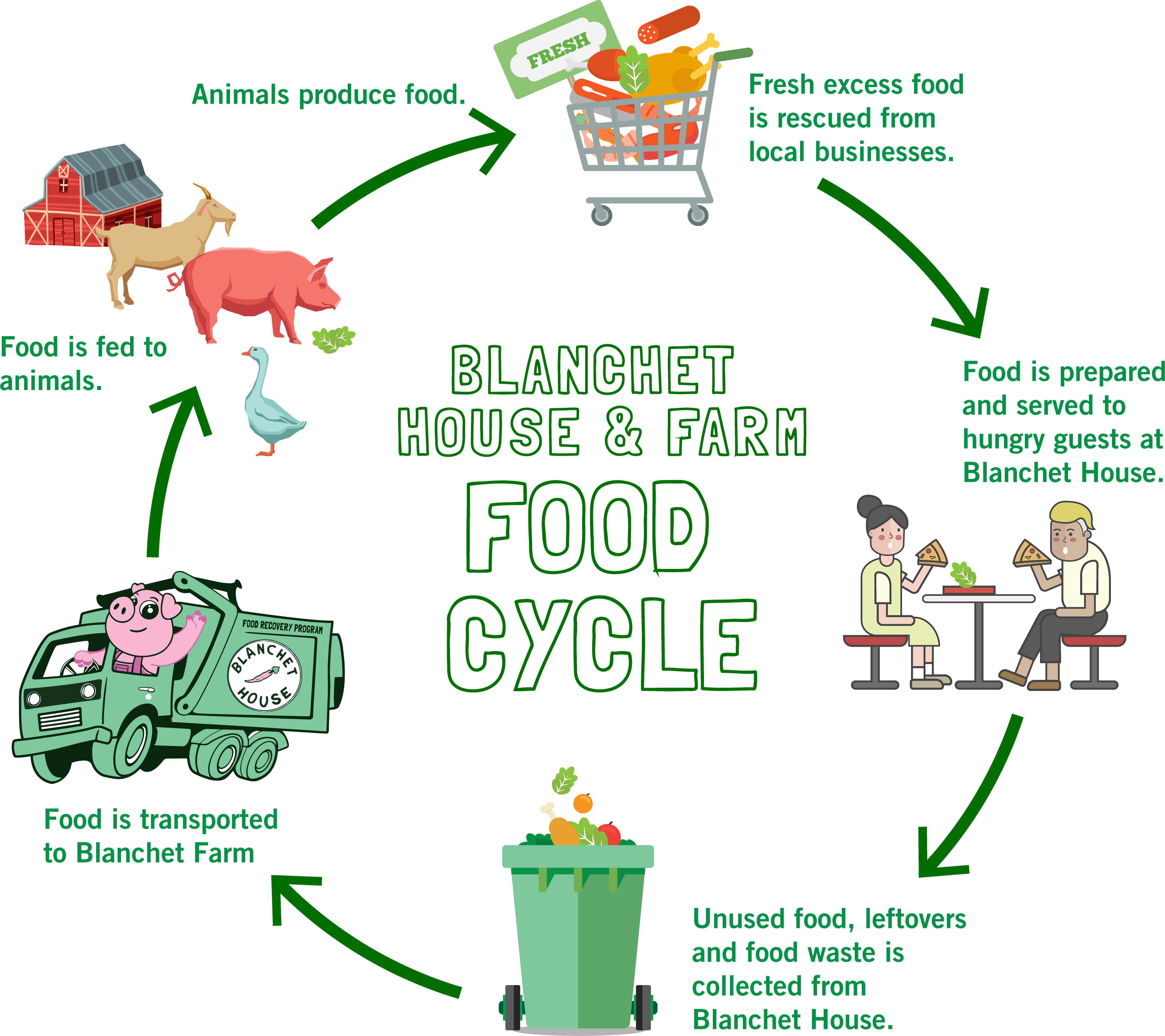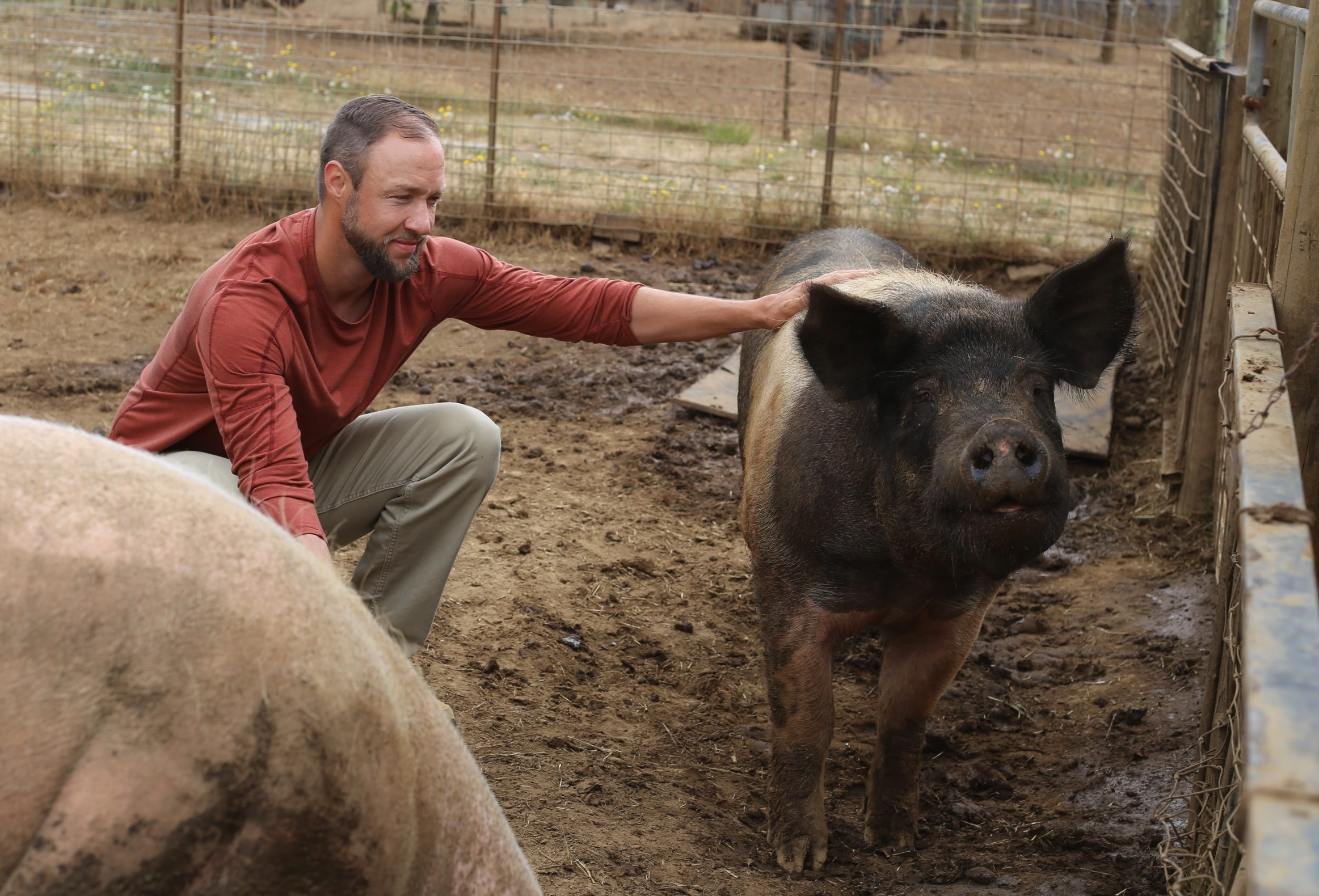 Blanchet Farm: Animals Help Reduce Waste
As far as we know, Blanchet House boasts the only charity run kitchen, housing, and food recovery program utilizing pigs.
In 1962, the founders of Blanchet House saw a need for a peaceful respite outside the city for people struggling with addiction and other issues to work on rebuilding their lives. They purchased a 62-acre prune farm, built transitional housing, and a therapeutic work program. Today the 22 people working at Blanchet Farm practice animal husbandry, vegetable gardening, fine woodworking, cooking, and farm maintenance. There is usually a waitlist to live at the farm as it is the only option for many low income and formerly homeless men in Northwest.
After serving two tours in Afghanistan, Lindsey was diagnosed with PTSD. "The solitude and working with animals has really helped me. I go down to the pigs and think, 'What do they need right now?'" It makes me feel really good. I get to show some love and feel some love without having the stress of 'Oh, did I do it right?'"
Help Feed Many! Blanchet House served over 353,000 plates of food last year!