After serving two tours in Afghanistan, Airborne Paratrooper Lindsey Stolz was diagnosed with Post Traumatic Stress Disorder (PTSD). A disorder in which a person has difficulty recovering after experiencing or witnessing a terrifying event. Back at home with his family in Oregon, he abused drugs and alcohol. It put a strain on his marriage and he left his family to get help.
Veteran's Affairs (VA) got him into substance abuse treatment programs but he continued to relapse. The traditional approach to recovery wasn't working for him. He needed something different.
"If I knew that a place like Blanchet Farm existed, I would have come sooner," Stolz says. "The things that have really helped me here are the solitude and working with animals. I never really thought of myself as an animal person. I realized that with PTSD it can be tough to do social stuff. Even though I love talking to people it can leave me feeling worn out. So, to go down to the pigs and be able to think, 'What do they need right now?' It makes me feel really good. I get to show some love and feel some love without having the stress of "Oh, did I do it right?"
The farm one hour outside Portland offers men something traditional rehab programs do not, the opportunity to do physical work every day. Residents of the farm rise every morning at 5 am to begin their assigned chores. Gardening, cooking, caring for farm animals, cleaning, beekeeping, or maintenance keep each man busy until 2 pm.
After living at Blanchet Farm for three months Stolz has gained a better understanding of his past decisions and is making a plan for his future with the help of a Case Manager.
"Don't give up on people."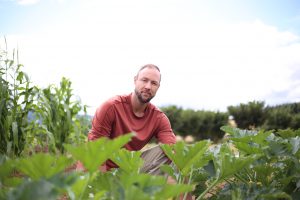 "I know this place is responsible somehow. When I'm out working in the garden with my hands in the dirt, it's grounding me. The farm helps the body recalibrate. It forces your brain and body to simplify. I've gotten a little of the ability to zoom out. The work gives me time to reflect," he says.
The farm also provides a fun place for Stolz's two young daughters to visit him during his recovery. He hopes to one day mend his marriage and family completely.
"I feel blessed. Don't give up on people. I have been shown grace here."
-By Julie Showers
You can give a veteran like Lindsey a second chance at life by donating to Blanchet House & Farm.