After serving two tours in Afghanistan, Airborne Paratrooper Lindsey Stolz, was diagonsed with PTSD. He also struggled with drinking and drugs. The VA helped him find treatment programs but he continued to relapse.
"If I knew that a place like Blanchet Farm existed, I would have come sooner. The things that have really helped me here are the solitude and working with animals. I never really thought of myself as an animal person. I realized that with PTSD it can be tough to do social stuff. Even though I love talking to people it can leave me feeling worn out. So, to go down to the pigs and be able to think, 'What do they need right now?' It makes me feel really good. I get to show some love and feel some love without having the stress of "Oh, did I do it right?"
Stolz says that he has gained a better understanding of his past decisions and a plan for his future.
"Don't give up on people."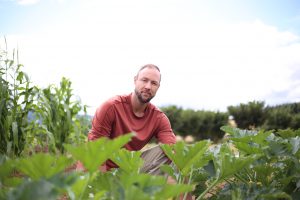 "I know this place is responsible some how. When I'm out working in the garden with my hands in the dirt, it's grounding me. The farm helps the body recalibrate. It forces your brain and body to simplify. I've gotten a little of the ability to zoom out from the city, from information. The work gives me time to reflect."
The farm also provides a fun place for Stolz's two young daughters to visit him during his recovery. He hopes to one day mend his marriage and family.
"I feel blessed. If anyone has the chance to support Blanchet Farm I would recommend it. Don't give up on people. I have been shown grace."
You can give a man like Lindsey a second chance by donating to Blanchet House & Farm. A $50 recurring donation will pay for one man's counseling each month. DONATE HERE