Come In. We're Open.
On May 2, Blanchet House will reopen its cafe for indoor dining after more than two years of pandemic to-go services. We're looking forward to serving our guests inside where they can find relief from the rain, sit, relax, and enjoy conversation and a meal in a communal setting.
Eating at Blanchet House is many people's only opportunity to be invited indoors and accepted as they are.
It's so important to our mission that we offer nutritious food and community. Your support makes life-saving meal services possible. Please consider donating today or joining us as a volunteer.
Meal Hours
(Mon-Sat. Closed Sunday.)
Breakfast 6:30 a.m. – 7:30 a.m.
Lunch 11:30 a.m. – 12:30 p.m.
Dinner 5:00 p.m. – 6:00 p.m.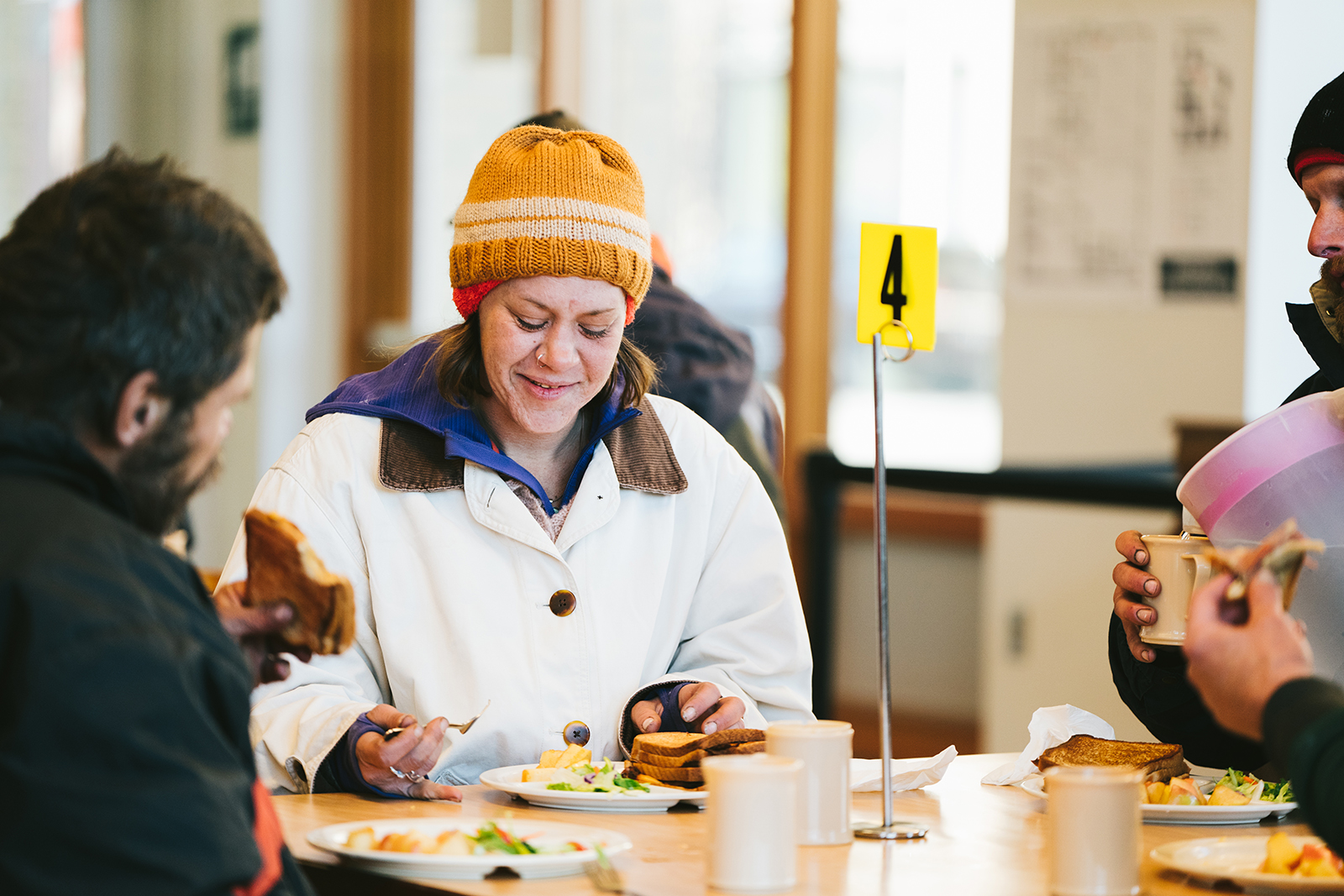 Indoor Dining Returns for Houseless Community
By Scott Kerman, Executive Director
After more than two years of serving meals to-go because of COVID, we are reopening the cafe to indoor dining.
We'll never forget the incredible sadness we felt in 2020 knowing that Blanchet House's indoor meal services must stop. And for how long, we didn't know.
There were so many unexpected variables to quickly address. How were we going to serve meals to hundreds of people to-go? Would volunteers show up? Where would the food come from with businesses shutting down?
But despite these questions and anxiety, we knew one thing. We had to be ready to serve breakfast at 6:30 a.m. the next morning.
And we did.
And then the next day and the next day for more than two years.
On one hand, we reflect with admiration on the dedication of our staff, volunteers, and supporters who enabled Blanchet House to meet the incredible need in our community during this time.
On the other hand, we know that it has been a truly horrible two years for the people we serve. People who have been markedly changed for the worse by the suffering and trauma they've endured.
We're compelled to look ahead. And to do so with hope and optimism.
We know that reopening the cafe to indoor dining isn't a total remedy to the problems our guests face. But we know being welcome indoors will bring some relief. And an opportunity to feel "more human" again.
We will welcome anyone to sit down, let their guard down if only for the length of a meal, relax, and be served as a guest by friendly volunteers.
And thanks to your generous donations and support we can do this.
It's not an exaggeration to say we couldn't have served during the pandemic without you.
Thank you for your generous support, which we will need more than ever as we hopefully turn this corner.
Sign Up to Volunteer
Sign up to volunteer in the cafe at BlanchetHouse.org or call Jon at 503-241-4340 x108.