Last year students from Grant High School, united by the common goal of designing and hand-making shirts to make a difference in their community, developed a fundraiser called 'Shirts For Shelter' to raise money for Blanchet House.
Spearheaded by Student Ambassador Tom Thake, a senior at Grant, the students are back at it again.
"This project meant more than I could describe last year. Seeing the community come together to give support to those in need was unbelievably uplifting during a period of hardship," Tom shared on his Instagram.
Big Impact
It was the impact of last year's fundraiser and work with Blanchet House as a summer intern, that inspired Tom to continue supporting our mission as a Student Ambassador and organize 'Shirts for Shelter' for a second year.
The students took a similar process as last year. Tom gathered a group of students interested in designing a graphic. However, this year it was with a minor twist of calling toward Blanchet House's mission. They found an image of an antique coin collecting can on the Blanchet House website and knew that it was perfect to be the center of the design.
When brainstorming initial ideas, hands and roses were a common theme amongst everyone's sketches, making it clear that we needed to put the two together. What resulted is a creative design the students are proud of and speaks to Blanchet House's life-renewing services and long-lasting commitment to helping those in need.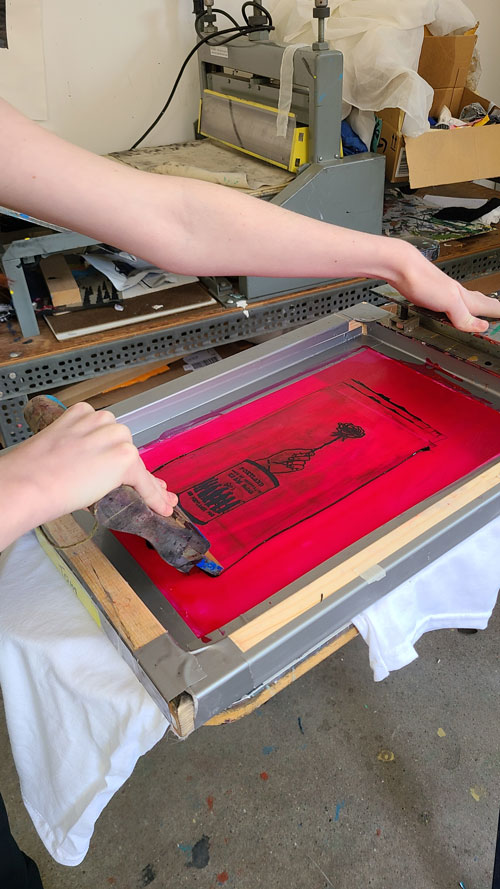 Every shirt is hand-printed by students at Grant High School.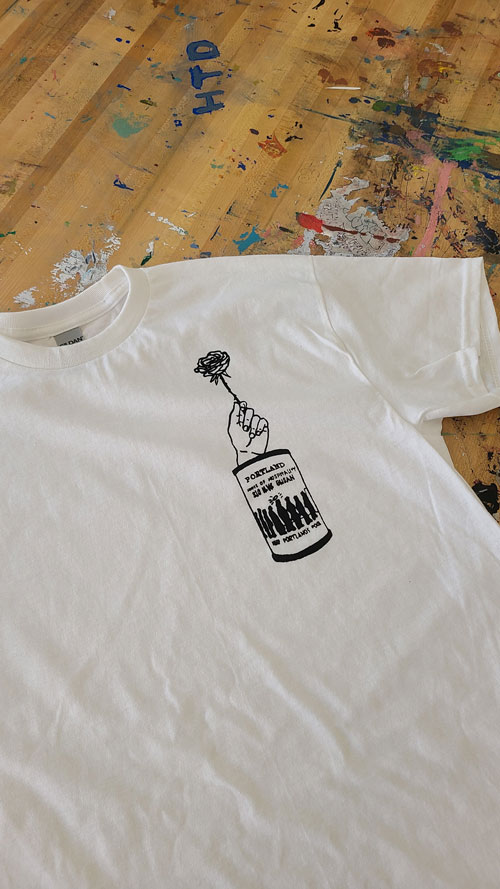 This year's graphic takes inspiration from an antique coin collecting can Blanchet House used from the 1960s that were placed in bars to solicit donations.
"Blanchet House is a crucial continuity for so many, not just because of the services they provide but because of their steadfast commitment to doing it no matter what. That's what made the use of the antique can in our design so important to me," Tom shared. "It symbolizes the decades of recognition Blanchet House has given to those who otherwise have been neglected. The can was from the 1960s, and even though the people who make Blanchet House have changed, the critical work they do hasn't. That's what inspires me about Blanchet House's mission."
The students are taking pre-orders until Friday, March 25. Shirts are $15, can be purchased in black or white, and there is an option for either pick-up or delivery. Not only will you get a unique hand-printed shirt, but all profits are also donated to Blanchet House.
Thank you to Tom, his fellow students, and art teacher Lynn Yarne for supporting us with this endeavor. We are continually inspired by the creative ways that individuals connect and contribute to our work.
-Gabby Thuillier