OUR MISSION
"To offer food, shelter and aid to all those in need of a safe place to be nourished and restored. Assist the transformation of each life we touch with compassion and dignity."

Blanchet (pronounced Blan-shay) House is a nonprofit social services organization located in downtown Portland. We offer many services to those in need but are best known for being the largest feeder of the poor in Oregon. We offer breakfast, lunch and dinner six days a week in our Founders Cafe.
Our nutritious meals are compassionately served to our guests by volunteers. Thanks to generous financial and food donors we are able to provide free meals to thousands of people every week. We believe we have a responsibility to offer assistance to those in need. We are not affiliated with any religious organizations though our beginnings are rooted in the Catholic community.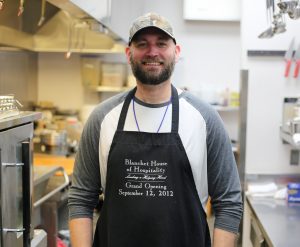 Our Residential Programs
We also operate two transitional shelter programs for men struggling with addictions, unemployment, mental health and/or family issues. In exchange for room, board and case management the men do volunteer work to aid the mission. The guests living in the Blanchet House program in downtown Portland work in the Founders Cafe preparing and serving food for the public. The men living in the Blanchet Farm program in Carlton, Oregon maintain the 62-acre farm and learn woodworking.
For the safety of all, residents of our programs must adhere to certain rules and regulations, and abstain from using drugs or alcohol while living with us.