Therapeutic Beekeeping to Help Build Sobriety and Coping Skills
Bees bring hope and healing to men in recovery—and the environment too—at Blanchet Farm.
Suited up in head-to-toe protective gear, beekeeper Katy Fackler slowly pulled a churning mass of buzzing bees from a box as a small group of onlookers watched. Fackler has recently volunteered to lead the creation of a beekeeping program at Blanchet Farm—a residence where men build new lives free from drug and alcohol addiction.
"Learning new skills, being present in nature, and doing meaningful work are core reset and recovery tools for all of us," says Katy Fackler, a second-generation beekeeper in Oregon.
READ: The Oregonian's Feature on Beekeeping at Blanchet Farm
The delivery of four handmade yellow bee boxes and hundreds of live bees has been months in the making, due to coronavirus slowing things down. The goal of the new beekeeping program is to offer the men at the farm a productive activity that will build soft job skills, self-worth, and generate extra income for the farm. Beekeeping is a relaxing hobby that is beneficial to both those in recovery and the environment. There is a large body of research that shows the benefits of beekeeping to people with mental health problems such as stress, anxiety, and depression. Some even call the pasttime "beekeeping therapy."
Beekeeping for Wellness
"Taking care of something helps men in recovery. It takes away from just thinking about themselves. It teaches empathy and sympathy. Caring for any animal does. Even bees," says Ross Sears, Blanchet Farm's manager, who's also in recovery.
Fackler will be working with the farm residents at least once a month, if not more during the summer. She learned the art and science of beekeeping from her father growing up in eastern Oregon. He keeps an apiary at their home on the coast.
"The location of this apiary is unique in that it's only 100 feet from the ocean and very close to a large botanical garden," she says. "The honey produced is amazing! It has a slight saltiness that makes it very special."
Though she grew up beekeeping she's new to urban beekeeping living in Portland. She has two small hives and has to work hard to keep the bees and neighbors living in harmony. She explained that urban beekeeping is different and has its own challenges. Fackler is also enrolled in a five-year Master Beekeeping Program at Oregon State University. 
Fackler explained that the bees will begin making honey almost as soon as they are hived. It will be about a year before honey is able to be taken off the hives for human use. Depending on how robust the hives are, most of the honey will need to be left for the bees to use over the winter. It will be exciting to see how well the bees do living on the farm.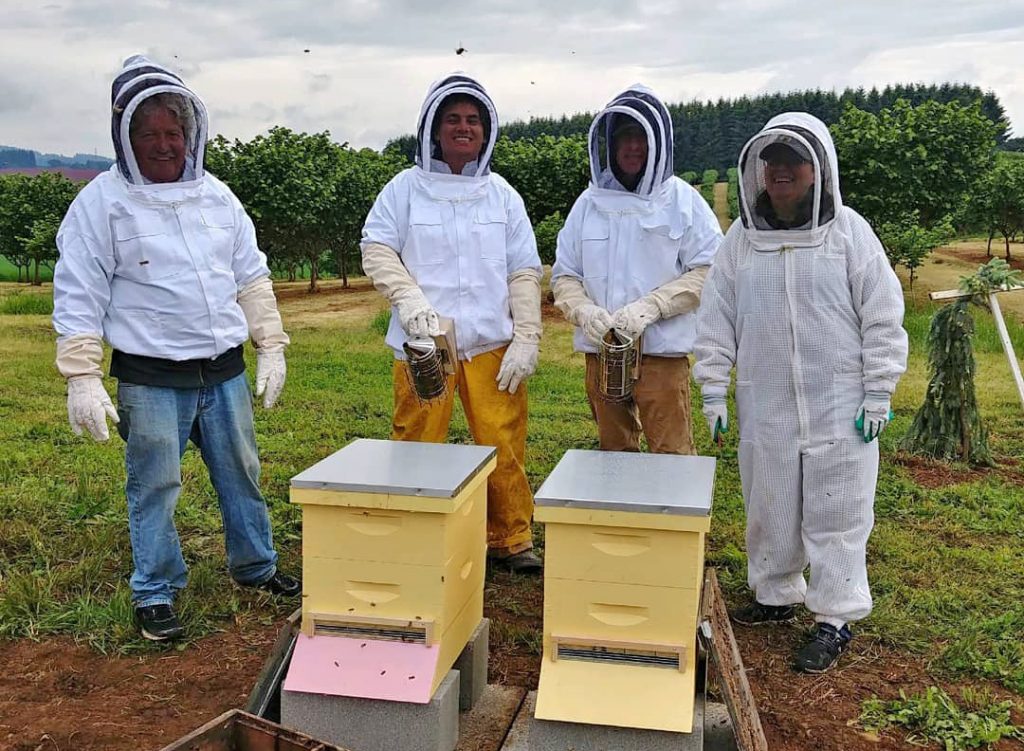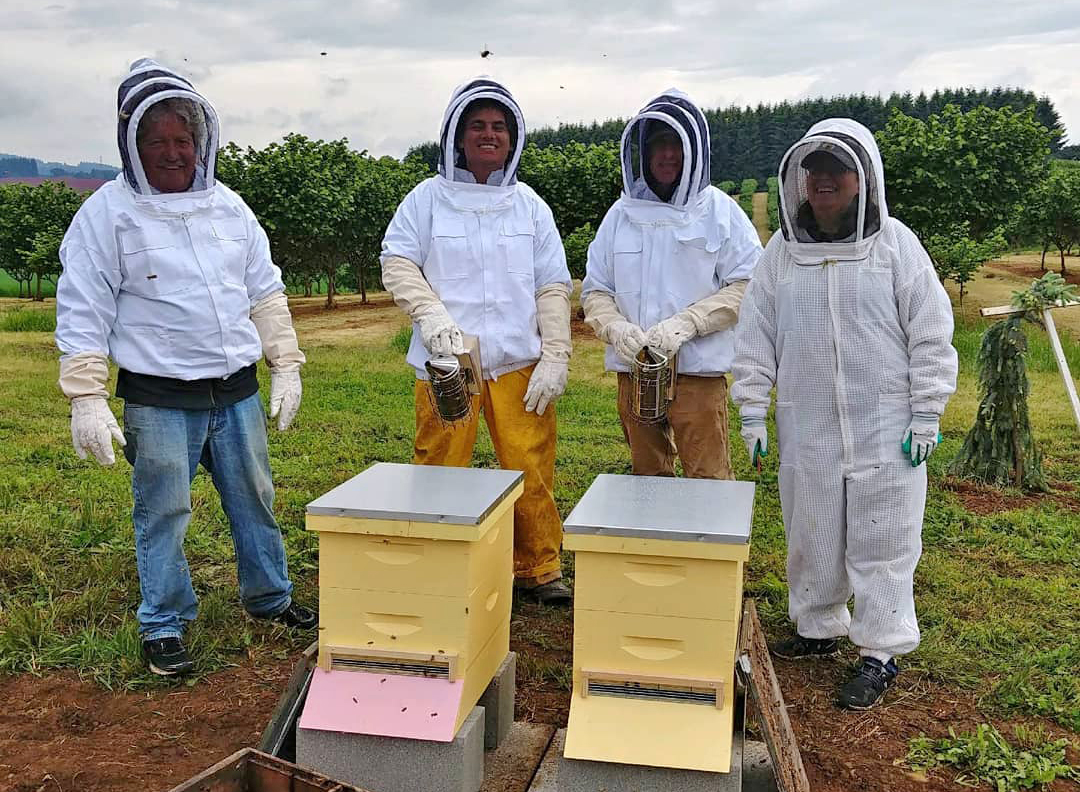 Patience Needed During Coronavirus-Caused Delay
"I'm very glad we kept going on this project despite the pandemic. Faith in the future and for better times is the only way we are getting past this," Fackler says. "For me, [the delivery of the hives] felt like a celebration after months of planning. I am so excited to finally get to the FUN part of the project."
The guys at the farm were excited to learn. They suited up and jumped right in to successfully set up four beehives. In the meantime, the bees need to get acclimated to their new homes for about two weeks. 
Sears says he looks forward to the benefits the bees will bring not only the men of Blanchet Farm, but also the fruit and vegetable crops on the farm.
"The more bees the healthier everything will be," he says.
-by Julie Showers
Our farm and beekeeping program is funded by individual donors like you. Please help give someone a second chance at life! Donate $25 here >>