NEXT FOOT CARE CLINIC: Tuesday, August 9, 1-4 p.m. at Blanchet House
PLUS: Veterinarian Dr. Robert Mack will be on site to care for animals from 12-2 p.m.
Contact info@blanchethouse.org with questions.
Nurses from the Harrington Health Clinic (HHC) and the University of Portland host foot care clinics for people living homeless or unable to access care. The nurses transform public areas into a cozy spa with multiple care stations and live music played by harpist and fellow nurse Maureen "Mo" Briare.
The feet of people experiencing homelessness or poverty are often neglected and can cause them much misery. Ill-fitting shoes, no shoes, wet socks, and walking long distances to meet your basic needs contribute to poor foot health.
"Walk and walk and walk," says Jennifer Coon, a Peer Support Specialist at Blanchet House who's experienced homelessness. "They sometimes won't take their shoes off for weeks at a time for fear of them being stolen."
Nurse Practitioner Emily Harrington, one of the founders of HHC explains the need for foot care among people who are homeless.
"This population is at increased risk of peripheral neuropathy, diabetes, osteoporosis, and poor immunity," she says. "Foot injuries are common due to accidents, assault, as well as self-neglect. Good hygiene can be difficult to access and even when available, and it is often offered in the form of shared showers which can invite other foot ailments."
Foot Care for Homeless: A Chance to be Treated
In the days prior to the clinics, Coon personally invites Blanchet's meal guests to attend. The trust she develops with people living on Portland's streets helps to ease anxiety around receiving medical care from a stranger.
"The foot clinic is amazing, absolutely amazing! We turn our garage into kind of an oasis," says Jennifer Coon, a Peer Support Specialist at Blanchet House. "It's so beautiful to welcome people inside. They can sit down for 45 minutes and just be loved on, be spoiled, I guess you could say. The harp music playing is beautiful, absolutely beautiful."
Each guest has their feet washed, treated, moisturized, and massaged at one of six stations. Treatment lasts for approximately 45 minutes depending on the level of care needed. Should they choose guests can receive new socks, a pair of shoes, and an additional pair of odor-repelling insoles all bundled in a reusable tote bag.
Harrington says the plan is to host foot care clinics every month. If you'd like to help, the nurses are always in need of new socks for men and women in cotton or wool. Dark colors are preferred.  New Athletic shoes and boots for both men and women are also needed. Sizes generally range from women 7-11 and men 9-13.
You can donate socks and shoes or drop them off during donation hours at 310 NW Glisan St., ATTN: Harrington Health Clinic, Portland, OR, 97211.
–by Julie Showers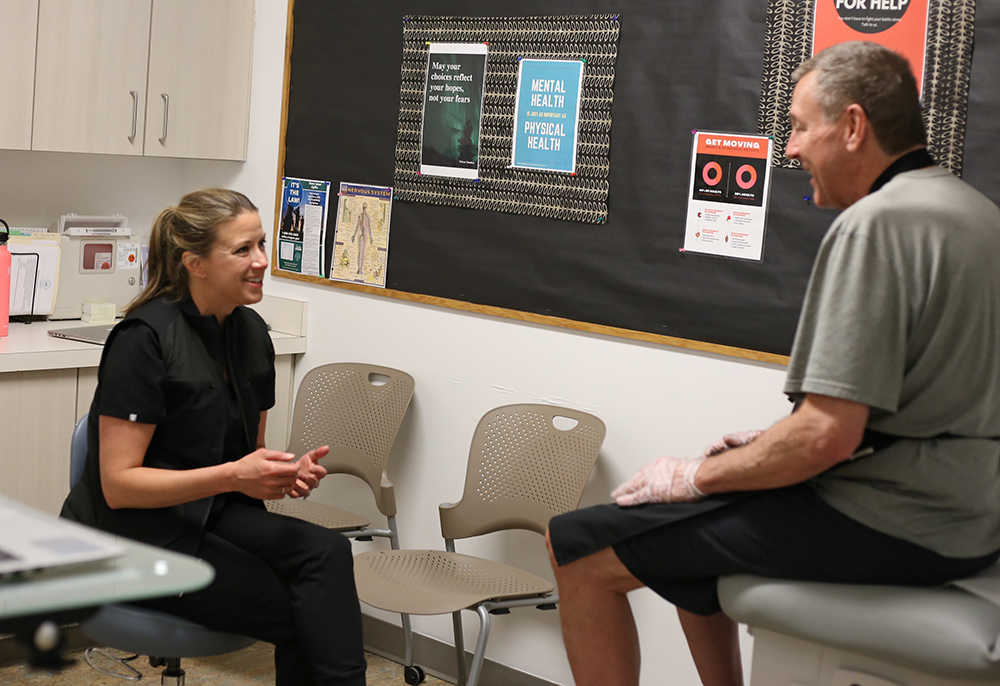 Harrington Health Clinic Opens Inside Blanchet House
The 126-foot exam room might be the smallest health care clinic in Portland. Nurses staffing the clinic provide primary care, health and wellness, palliative care, and telemedicine services to the residents of Blanchet House and people experiencing homelessness.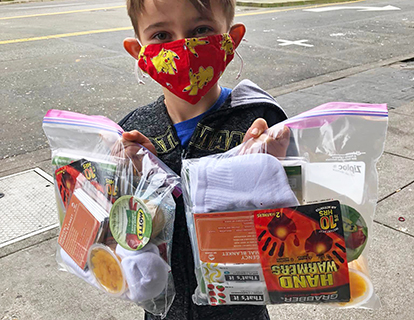 Make Hygiene Care Kits for People Experiencing Homelessness
A care kit contains essential relief items like clean socks, a rain poncho, gloves, bath wipes, and snacks that offer comfort to someone living outdoors in difficult conditions.