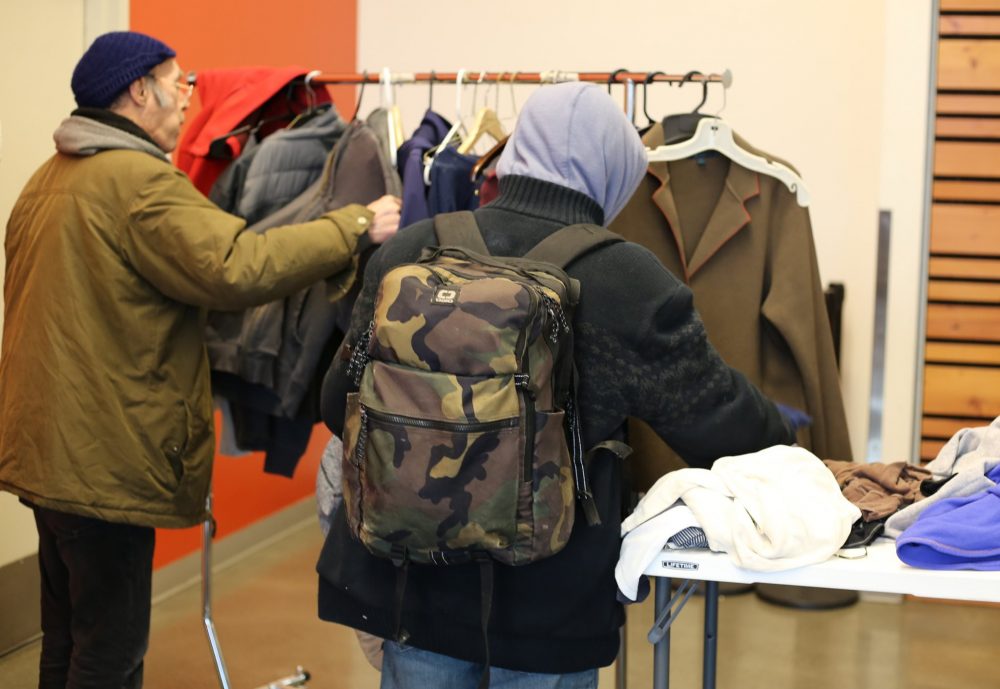 Donate New and Used Clothing
Our guests experiencing homelessness in Portland are in need of new and gently used clean clothes. We invite you to donate adult-sized seasonally appropriate clothing for our staff to give out at our downtown Portland location. We also share clothing donations with peer shelters and aid groups. Please contact us before starting a large clothing collection drive at info@blanchethouse.org.
Only donate clean and usable items. We are unable to wash or repair clothing.
Being offered dirty, stained, or damaged clothing can feel humiliating. Please consider the dignity of the receiver of your clothing donation.
Most Needed Clothing and Sleeping Items
Due to limited storage space, we cannot accept any items that are not on the list below.
Raincoats and foldable ponchos. All adult sizes. Small umbrellas. (Seasonal)
Men's and women's jeans.

No tears or holes.

Sizes 30 – 34.
Sweatpants. All adult sizes.
Outdoor jackets. All adult sizes. (Seasonal)
Socks. All adult sizes.
Underwear. All adult sizes.
Hats and gloves. (Add to a care kit.)
Blankets and sleeping bags.
Tents and tarps.
Backpacks.
Outdoor boots and sneakers. All adult sizes. Size 10-12 are MOST requested.
Please note: We DO NOT accept children's clothing, business attire/suits, housewares, linens/pillows/towels, or books.
Purchase Items from Our Amazon Wish List
Buy and donate new items listed on our Amazon wish list. The items will be shipped directly to Blanchet House at 310 NW Glisan, Portland, OR, 97209. If you use Amazon Smile a portion of the sale will be donated to Blanchet House.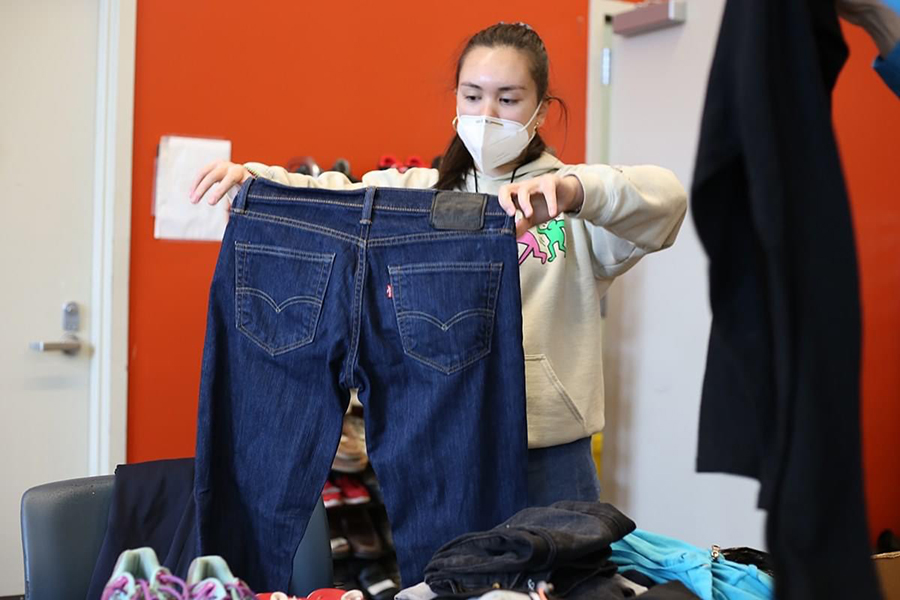 How to Hold a Clothing Drive
We often need large quantities of new and gently used clothing.
Email
or call us for ideas on what to collect and let us know when you plan to drop it off.
It's best to ask your donors to give specific items like:
Tents & tarps
Socks & underwear
Rain ponchos & socks
Coats & gloves
Sew or Knit Scarves and Hats
We accept adult-sized handmade warm weather items to give out to our meal guests on cold days. Drop off information below.
Make Care Kits
Pack a plastic bag with the most needed seasonal care and hygiene items. Find out how >>
Volunteer
Sign up to Volunteer. We need people 14 years and older on-site to help sort and hand out clothing.
Where to Drop Off New and Used Clothing in Portland
Clothing can be dropped off Mon-Sat, at 310 NW Glisan St. from 8 – 10:30 a.m. and 1:30 – 4 p.m. Please avoid dropping off during meal services. Pull up to our entrance, knock on the door to get our attention, and a staff member will retrieve your donation from the car. If you'd like a donation receipt, we can provide one. You can also call us at 503-241-4340 or email info@blanchethouse.org.
Not in the Portland metro area? You can support our guests by purchasing items from our Amazon wish list. They will be shipped directly to Blanchet House. If you would like to collect or donate clothing for people in your town call your local shelters, religious centers, or charity kitchens.