 Celebrating 70 Years of Service
Much has changed in Blanchet House's 70-year history, but its mission and values have not. Every day people struggling with hunger, loneliness, poverty, addiction, mental illness, and lack of housing come to our doors for help. Together, we stay dedicated to feeding, clothing, and providing life-saving shelter to our guests at a time in their lives when they need it most. And, thanks to you and your support, our meals and services are free to all and full of love.
Explore Blanchet House Through the Years with Our Interactive Timeline
Today

2012

2011

2002

2001

1984

1970s-90s

1967

1962

1962

1958

1952

1948
Blanchet House pivoted to serve to-go meals during the COVID-19 pandemic. We continue to serve three hot meals a day, six days a week free to all. Blanchet House's residential housing program provides a holistic pathway from homelessness to lasting self-sufficiency. We serve all people with dignity, compassion, and without judgment.

After nearly 10 years of planning and fundraising, all the while serving those in need, the Blanchet House board was able to build and open a new building. LEED platinum certified, the new and improved Blanchet House increased our capacity to feed and house those in need. We feed nearly 1,000 people a day and house up to 50 men.

On Thursday, September 15, Commissioner Nick Fish spoke at the groundbreaking ceremony of the new Blanchet House located at 310 NW Glisan next door to the original building. The new building will provide more space including a larger kitchen and three floors of residential rooms with a central shared bathroom,

Erected in 1911, the Blanchet House, a free-standing masonry building was no longer liveable. It was not economically feasible to repair the old building so the board began an ambitious 10-year campaign to raise money to build a new Blanchet House next door. Finally, in 2009, Blanchet House reached an

Some of the original founders of the Blanchet House and their sons teamed up this holiday season to serve the traditional Christmas dinner to Portland's homeless and hungry. 

For decades, Blanchet House focused on its mission to provide life essentials for those with nowhere to go. The line for dinner during the 1980s was captured by the University of Portland Beacon. Most people found Blanchet House by word-of-mouth on the street or a peer organization.

Blanchet House co-founder, Jim O'Hanlon Sr., discovered this vintage coin collection can in his basement. In the 1960s, Blanchet House staff put these cans in Portland area bars to raise money to feed and house those in need. It's hard to believe that Blanchet House has been solely funded by individual donations since 1952. We receive no government or archdiocese funding. A small contribution goes a long way at Blanchet House of Hospitality.

Now 10 years after opening, the Blanchet House had increased the number of meals it could serve and the breadth of services it could provide thanks impart to the addition of full-time Executive Director, Al Riley, who served for 38 years.

The founders learned that there was a need for a place outside of Portland where men struggling with addiction could escape the temptations of the city.

By 1958, the Blanchet Club had raised enough money to purchase the entire building on NW 4th for $25,000. The building was christened the Blanchet House of Hospitality. 340 NW Glisan, which still stands, is an orange masonry building with a small basement for storage, the main floor that contained a public dining room, kitchen, manager's office, and bathrooms. The founders and their families cleaned up the upper floors to use as short-term housing units for men who, in exchange for room and board, would work in the kitchen and help serve.

"It took about two years of preparation to finally open the doors on Feb. 11, 1952," Jim O'Hanlon told the Oregonian in 2011. "Countless hours were spent walking Old Town to find the right facility."

Father Francis "Frank" Kennard inspired by Dorothy Day and the Catholic Worker movement to "stand up for the poor" became the advisor and chaplain to the Blanchet Club at the University of Portland in 1948. The young men of Blanchet Club were motivated by Fr. Kennard to "get out in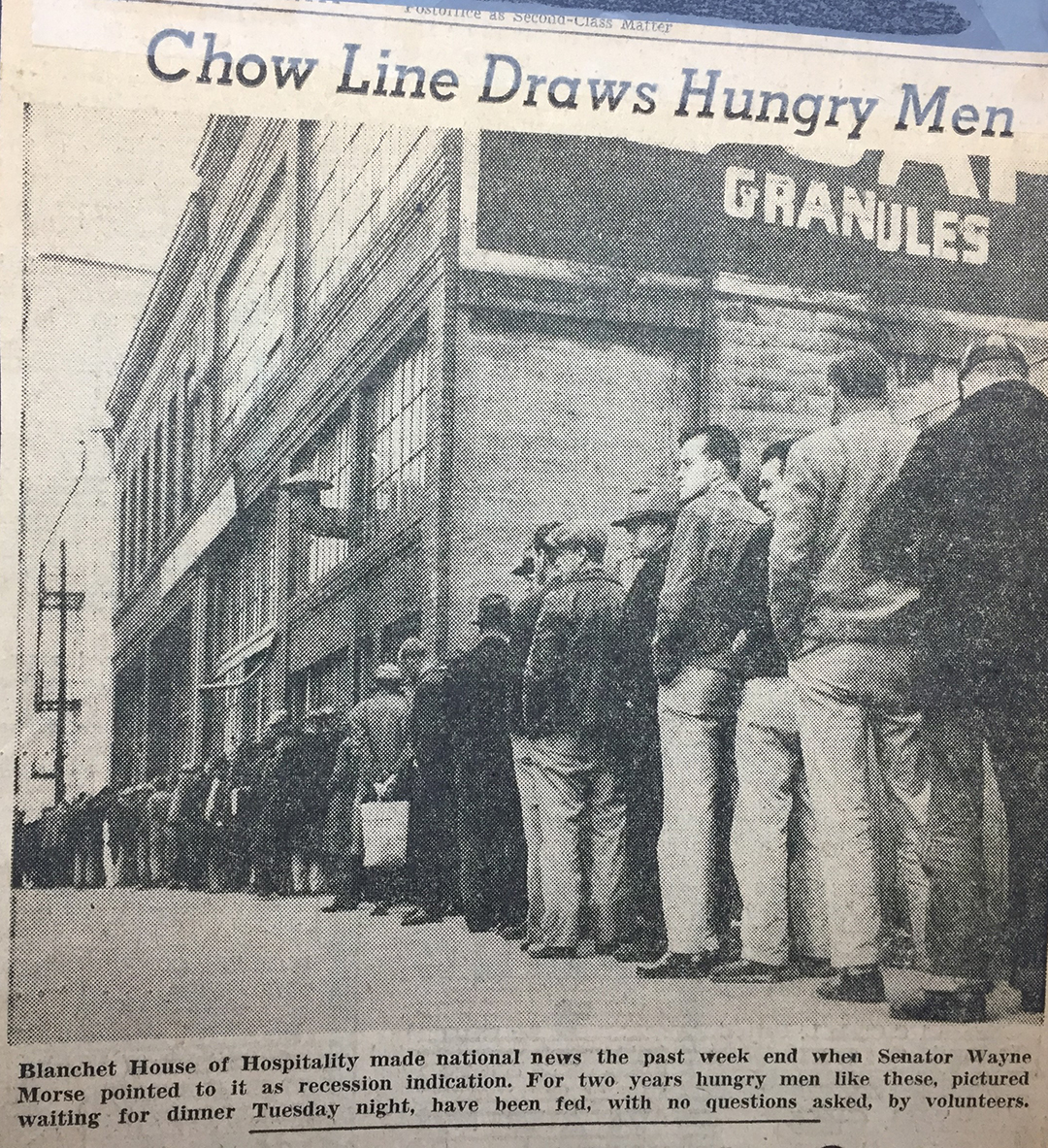 Oregon Historical Society Exhibit
March 4 – June 5, 2022 
A three-month special exhibit of Blanchet House history will be on display at the Oregon Historical Society March 4 – June 5, 2022. The exhibit will feature newly discovered photographs, news clippings, and artifacts that connect the history of Old Town/Chinatown to the venerated mission's service in the neighborhood and beyond. Visitors are invited to consider the current humanitarian crisis on Portland's streets alongside historical efforts to provide aid and relief.
A confluence of complex factors has changed the face of homelessness since Blanchet House's beginning in 1952 but the need is persistent. The exhibit recounts the organization's history, celebrating the many people and stories that led to it becoming a long relied upon relief organization in Oregon.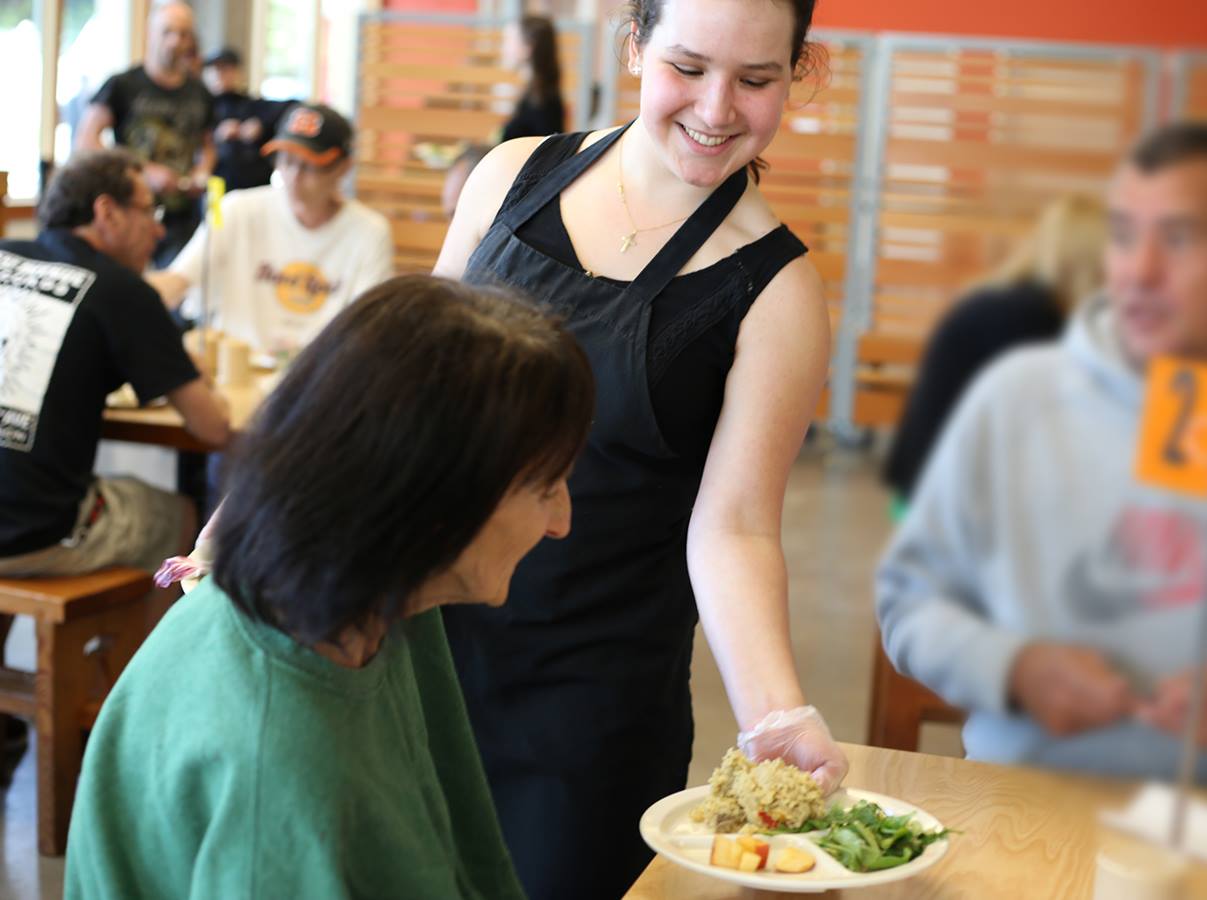 Become a 70th Anniversary Sponsor!
Blanchet House endures because the need for its services persists. We are now able to reach more people in need because of innovations in how we deliver services and an expanded community of generous supporters.
With your help, Blanchet House will continue to fill the gaps in our social safety net.
Extraordinary People Make Extraordinary History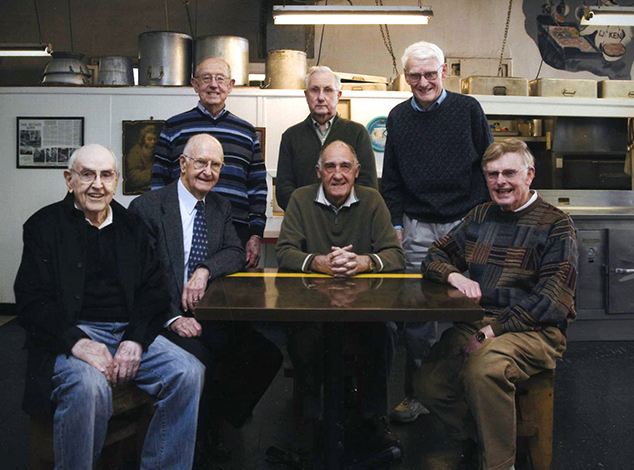 The founders of Blanchet House of Hospitality were inspired to do something meaningful for others. They and their families dedicated their lives to operating and funding its mission.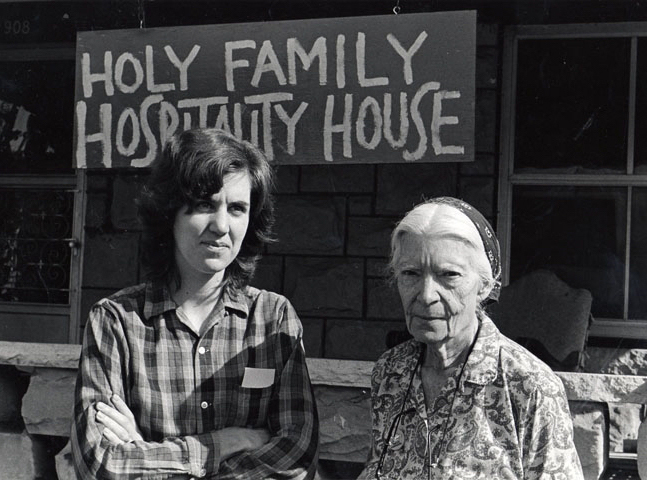 Blanchet House's model of charity was influenced by Dorothy Day the co-founder of the Catholic Worker Movement of the early 1930s.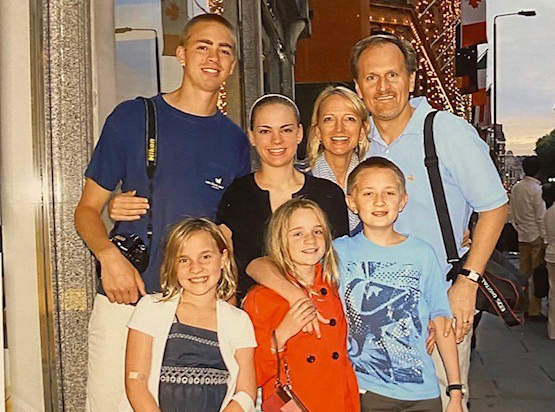 After a heartbreaking death from pancreatic cancer at age 52, the family of Rhoni Wiswall revealed that she was the founder of the Clarence Fund. Rhoni was the anonymous angel behind hundreds of good deeds.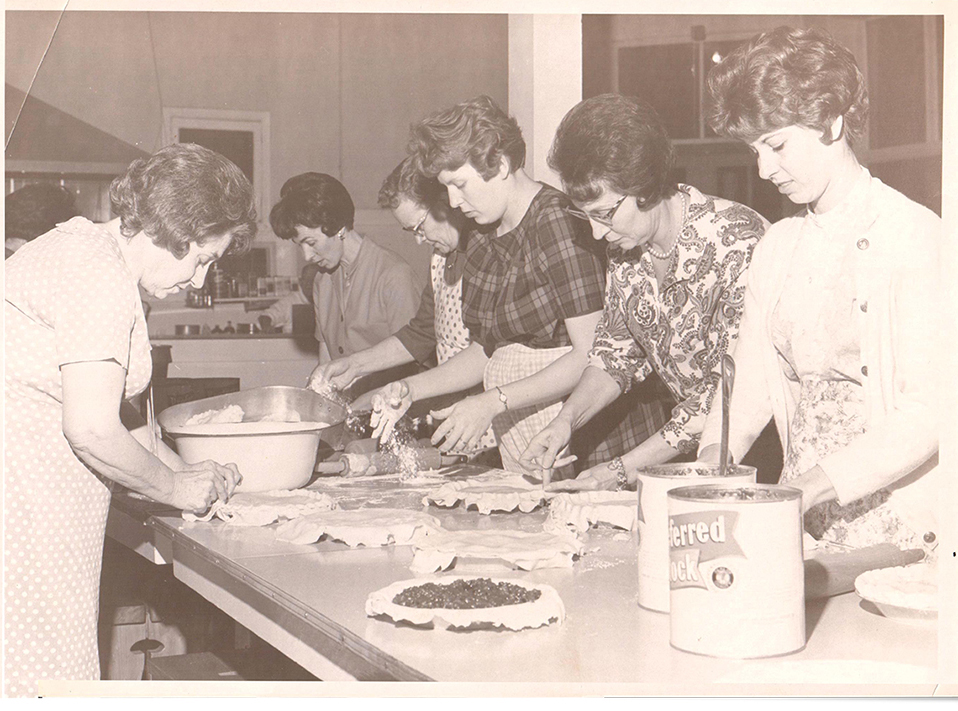 Since 1952, Blanchet House of Hospitality has offered meals to anyone in need thanks to the efforts and support of many incredible women.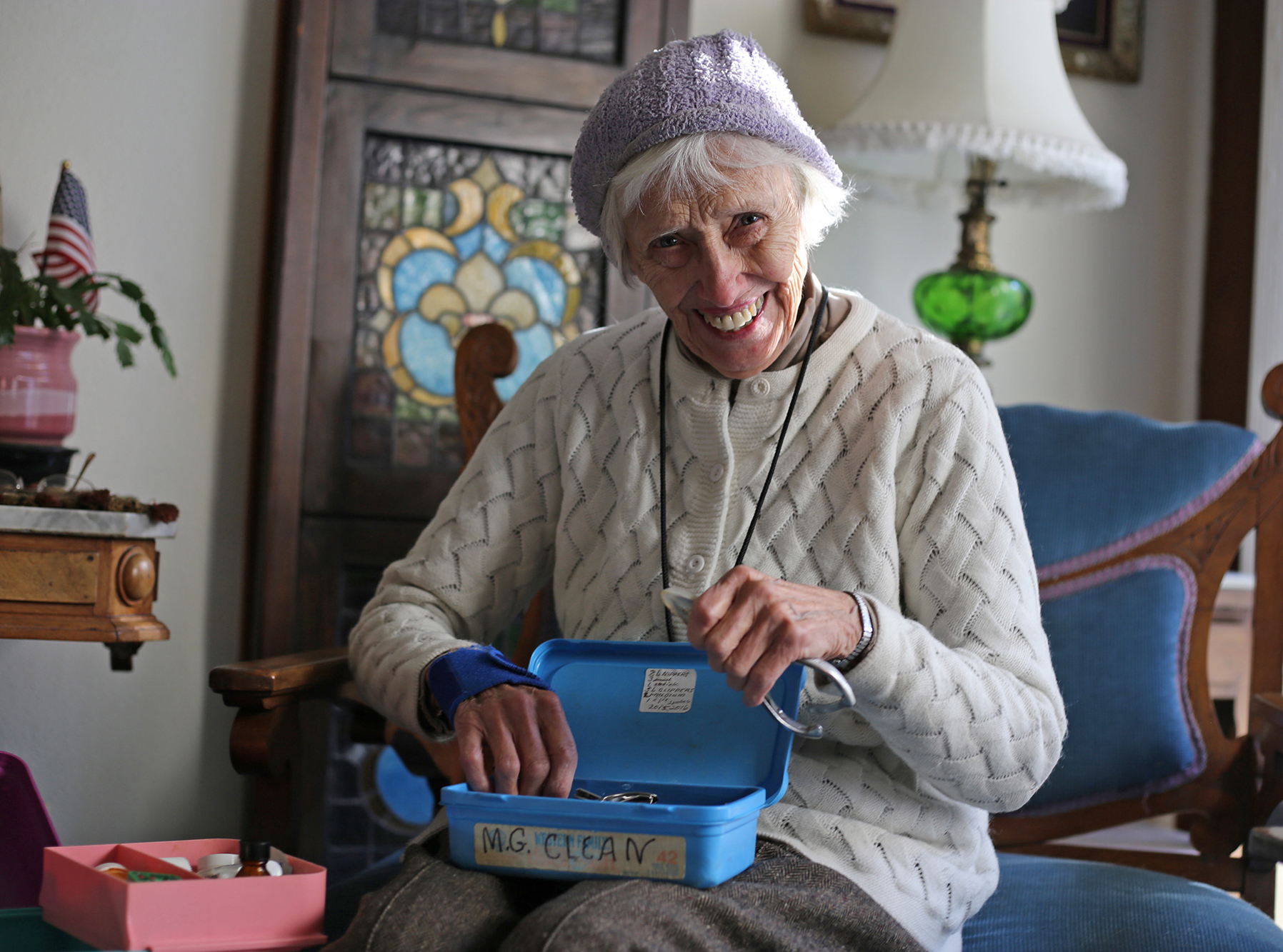 Mary Grace McDermott isn't listed on the wall of founders at Blanchet House, but her service in the early days of the organization helped make it what it is today.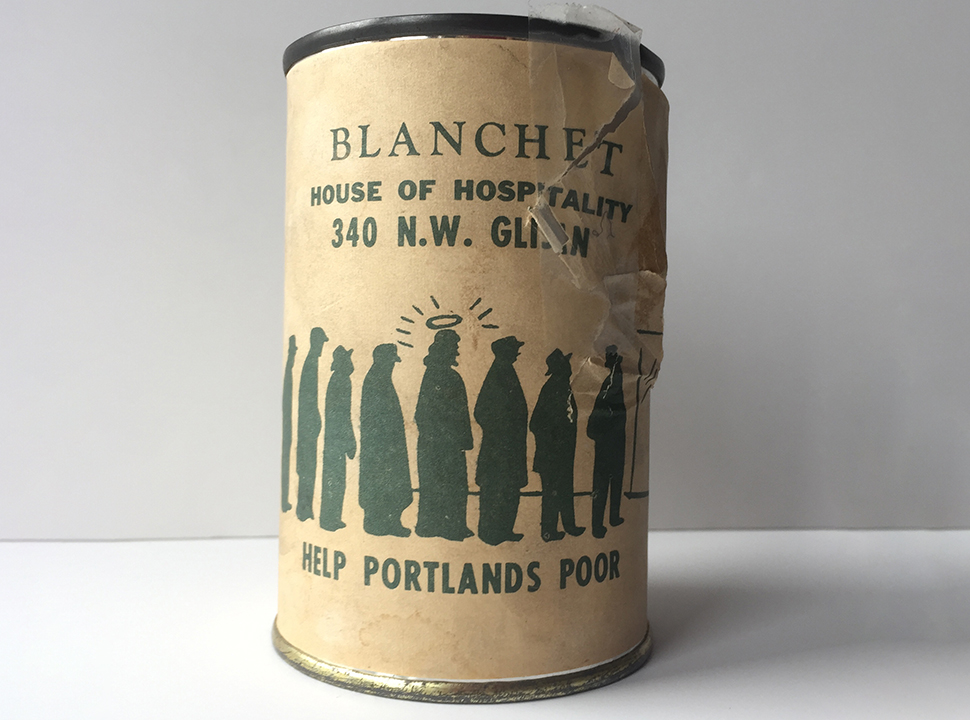 Mutual Aid: Supporting One Another
Jim O'Hanlon discovered an old coin collection can that was placed in Portland bars to solicit donations for Blanchet House during the 1960s. The charity has always been funded by the community. Learn more.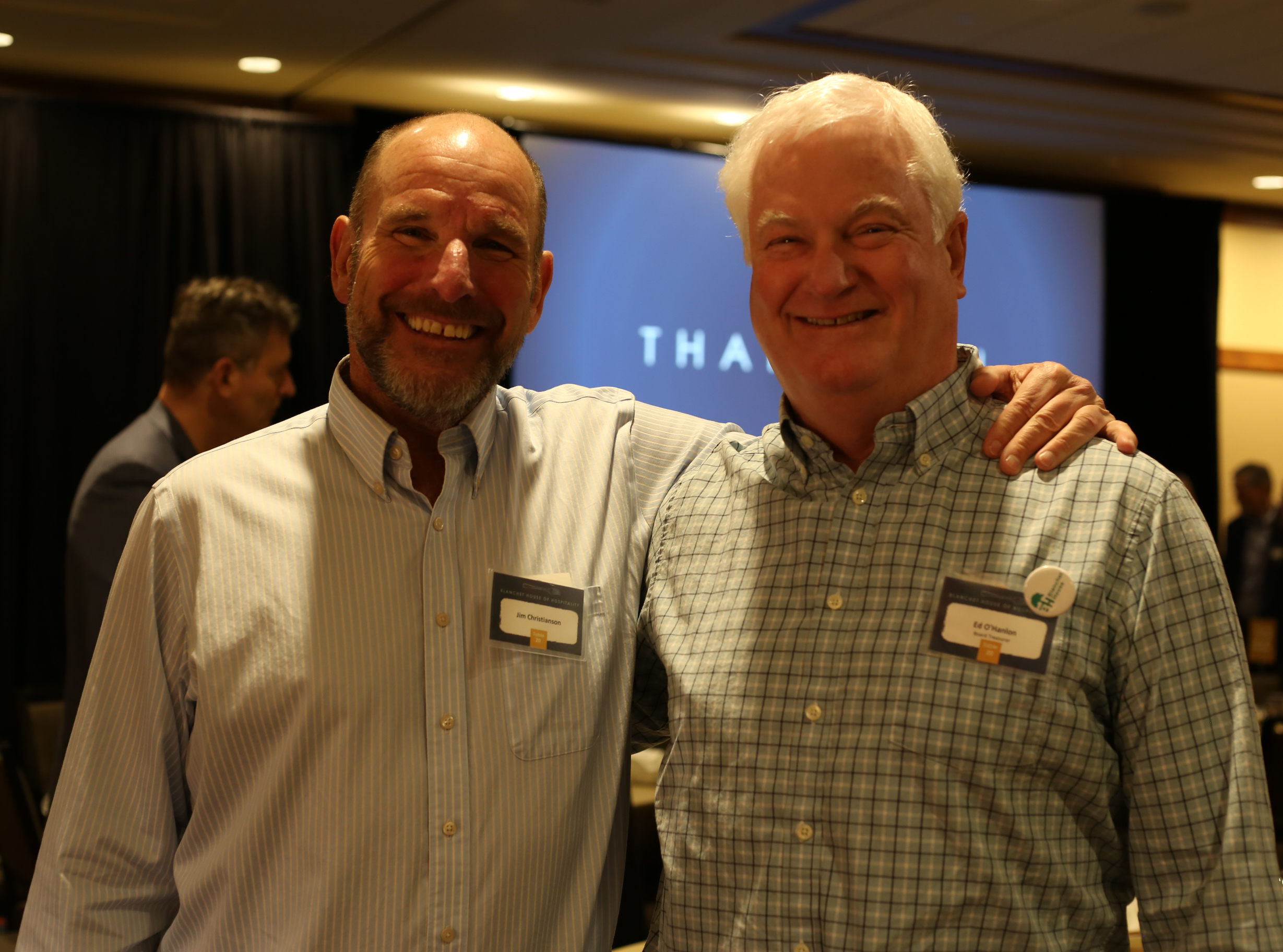 Jim Christianson and Ed O'Hanlon are both sons of Blanchet House founders and long-time stewards of the organization.
An Oral History of Blanchet House
So many people have made Blanchet House what it is today. Our history lives in every person who has volunteered, donated, worked, or been a guest of Blanchet House and Farm. Help us preserve this history by sharing a memory or story. All of the great stories submitted are available to read on our oral history blog.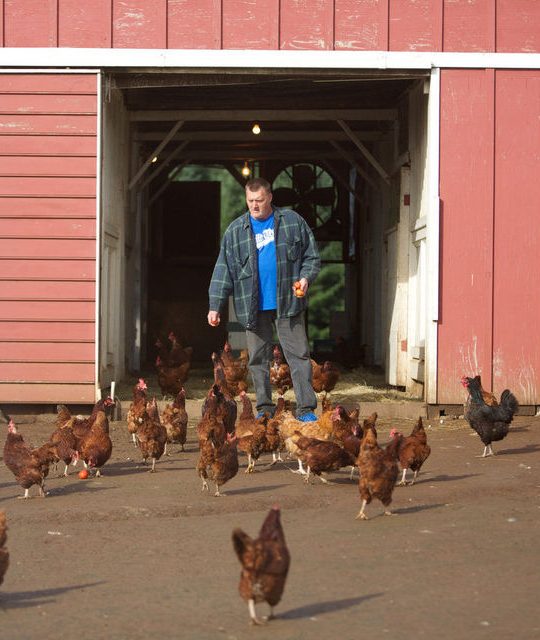 "God has blessed the Blanchet Farm and House. The reason I know that is because they took me off the street and gave me a safe place to begin to rebuild my life. That was 8 years ago and I went back to school and got a degree in addiction studies and have breached many barriers I once thought impossible. A journey of 1000 miles starts with a first step. Blanchet Farm was that first step for me and 8yrs later the journey continues in the most amazing and rewarding ways."
–Submitted by David Prescott
"I used to eat there every day when I was homeless and addicted. Now I am a union laborer and a homeowner. The level of respect and dignity you all provide for your guests is second to none. Thank you for all you do."
–Submitted by Jani Turner
Share a memory!
Tell us about your experience as a volunteer, guest, family member, or donor.