Clothing Closet
Blanchet House, downtown Portland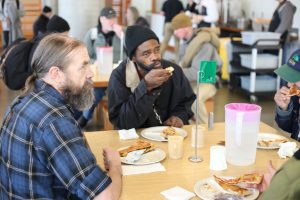 We offer all types of adult clothing and items for outdoor sleeping. Availability varies daily based on donated items received.
Hours: 2 – 4 pm
Days: Mon. – Sat.
Woodshop
Blanchet Farm, Carlton, Oregon
Men living in the Blanchet Farm Residential Program are taught woodworking from a highly skilled professional in our woodshop. The focus of the woodshop is to teach men how to use all of the tools in the shop and use the meditative practice of woodworking to aid their recovery. The woodshop produces fine wood goods that are sold to help support our mission.