Students from Portland's Sunset High School collected refundable cans and bottles using BottleDrop's Blue Bag program to help the homeless community. The fundraiser was led by Blanchet House Student Ambassador Kaylee Nguyen and her community service group Project PDX.
Nguyen started Project PDX after realizing that there were no clubs at her high school that solely focused on homelessness. Project PDX members volunteer, host drives, and assemble care kits to help organizations in Portland, including Blanchet House.
"[Homelessness] It's such a pressing issue in our community, and many of our students are directly affected by it," Nguyen said.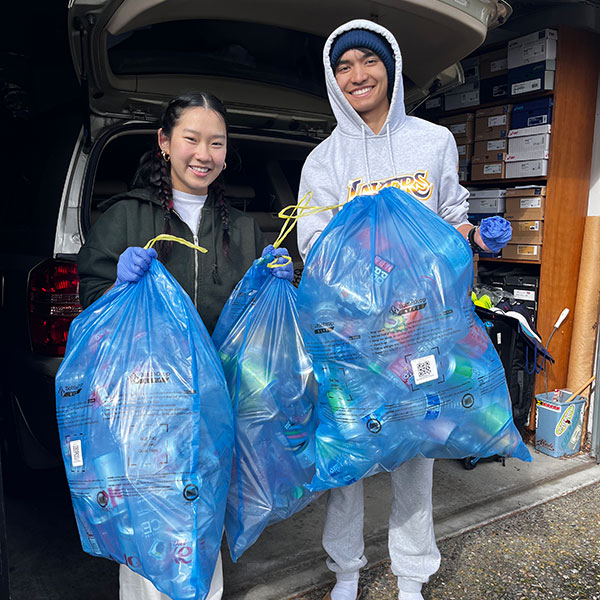 Kaylee Nguyen and a friend from Sunset High School collect refundable bottles and cans to raise money for Blanchet House.
The students realized that a BottleDrop Blue Bag fundraiser would be a great opportunity to engage the entire school in fundraising for the homeless community. Bottles are something many students discard in the school's recycling bins. Project PDX encouraged their peers to donate them instead by dropping them off at one of five blue bag locations.
Most students donated single cans, but several brought large collections of cans to Nguyen's home. One Project PDX member expanded the drive by creating a drop-off box at her dance studio.
In the end, students collected more than 285 cans, a total of eight full blue bags. The deposits will help fund Blanchet House's services to the community.
"I'm glad to know that we were able to help out Blanchet in such a simple way by recycling in a purposeful way," said Nguyen.
Blanchet House is grateful to Nguyen, Project PDX, and the students and faculty at Sunset High School for supporting this endeavor. If you're interested in coordinating your own BottleDrop Blue Bag fundraiser, you can learn more here>.