Volunteer Appreciation Week 2021
Let's shine a light on the people who lend their time to make a difference in the lives of those served by Blanchet House. The following volunteers inspire others to take action, offer kindness to people on the margins, and are a force of good in our community. Of course, there are many more volunteers to praise than appear on this page. You can join them by signing up to volunteer.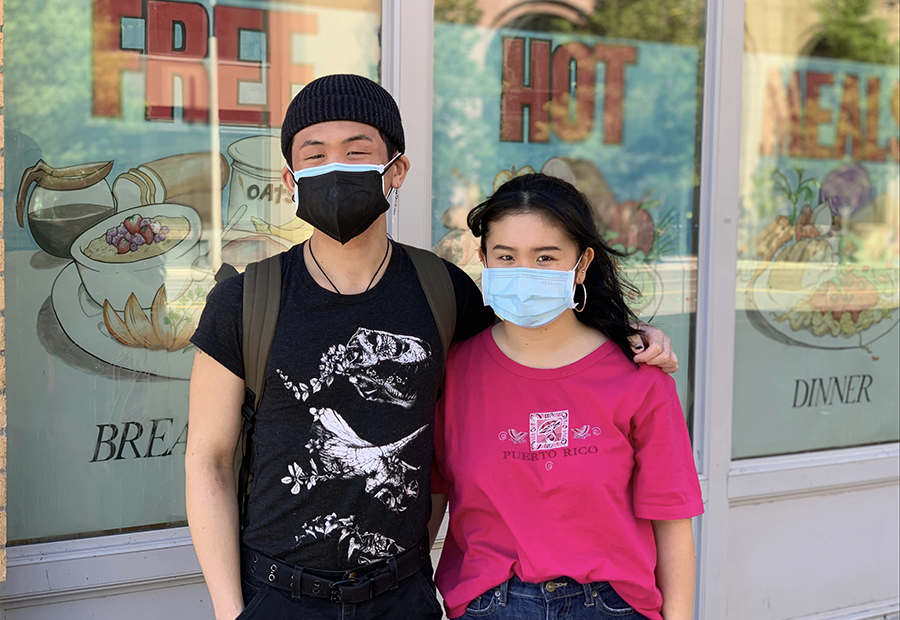 Michael and Christina
Michael is an intern at Blanchet House. He and his sister, Christina, began to volunteer at Blanchet House as of April 2021. They enjoy spending time and doing work that helps people who don't feel like they belong to a community gain this sense of belonging in one.
"We enjoy volunteering at Blanchet because it builds a sense of community for all members that walk different paths of life. We discovered the volunteering opportunities through Michael's internship, and we immediately knew that we wanted to help BHH sustain its mission."
Michael:
"Whether it means preparing food, making care packages, or organizing sack lunches, I find joy and fulfillment to support the process that helps the bigger picture. I also have found more fun in this community than I had expected. Everybody, volunteer or staff, is super approachable and has this positive vibe that is infectious. It makes me not even consider what the volunteers do as "work", but more so a fun process that helps people in need.
I believe that Blanchet House's services are essential to a community. People face conflicts and don't have their needs met for reasons that are totally out of their control; a lot of people are unfortunately disadvantaged to build a life and/or career based on their specific social identities. In this day and age, there has been a growing number of people in need, especially with the outcomes of the COVID-19 pandemic. Blanchet House of Hospitality is a wonderful sanctuary that not only feeds people and provides them resources, but it is also a culture and community that many people call home or even family."
Christina:
"I enjoy volunteering here because I not only get an opportunity to help out those who are in need and give back to the community, but I also feel a sense of community. Though I've only spent a small amount of time here, I've met outstanding people who I feel honored to be working alongside.
Community is all about others supporting others, especially in times of need. Being able to give out food through the Blanchet house ensures accessibility to hearty meals. I believe that the Blanchet house strengthens the community and shows that it is a privilege to be able to do the work that we do here."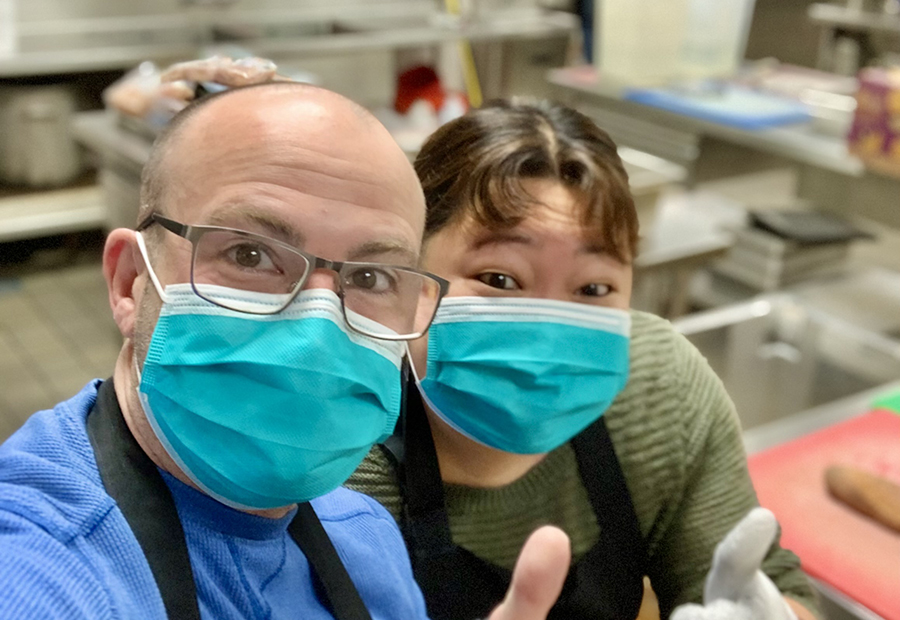 Kasi Grzebielski and Nick Barker 
Kasi and Nick started volunteering at Blanchet House this year and are now part of the regular weekly crew. 
"It's so important to have someone stick up for you. To offer you a warm coffee; to make you feel like you belong on this planet.
While volunteering, I was surprised to see so many kinds of different people coming to eat. There is such a range of people. There are people who are evidently living on the streets, and then there are people who are just hungry. It also surprised me to see how grateful people are.
People say, 'thank you for coming and serving breakfast,' and 'you guys are doing a great job!' 
It breaks my heart that there's not enough stuff to give out to those in need. When I see people's hands so dirty, I want to provide a place for them to wash up. The cafe once provided that warm safe space to come in, but we're really missing that during the pandemic. 
I think it's so easy to give back. It doesn't have to be a monetary donation. I have never worked in a kitchen before, and I'm more of a math person. The food that we're giving out at Blanchet is so meaningful, and you don't need to have a huge skillset to hand out oatmeal in the morning. 
I sit at a desk all day dealing with high-level finances, but I like doing physical work such as chopping up vegetables. On the first day of volunteering, I made 100 peanut butter and jelly sandwiches. I watched the bin container fill up with the food I prepped. I get to see the fruits of the labor. 
We feel so grateful to be able to give back to the community. It's the best way to start the day.
We run another non-profit on the side, and everything went on hold during the pandemic. We wanted to give more back to our community after talking about how grateful we were to make it through the year 2020 and the pandemic overall. We looked at our wills and decided that we should set time aside for the charities that we care about. Before discovering Blanchet House, we went online searching for an organization where we could roll our sleeves up and do some good work."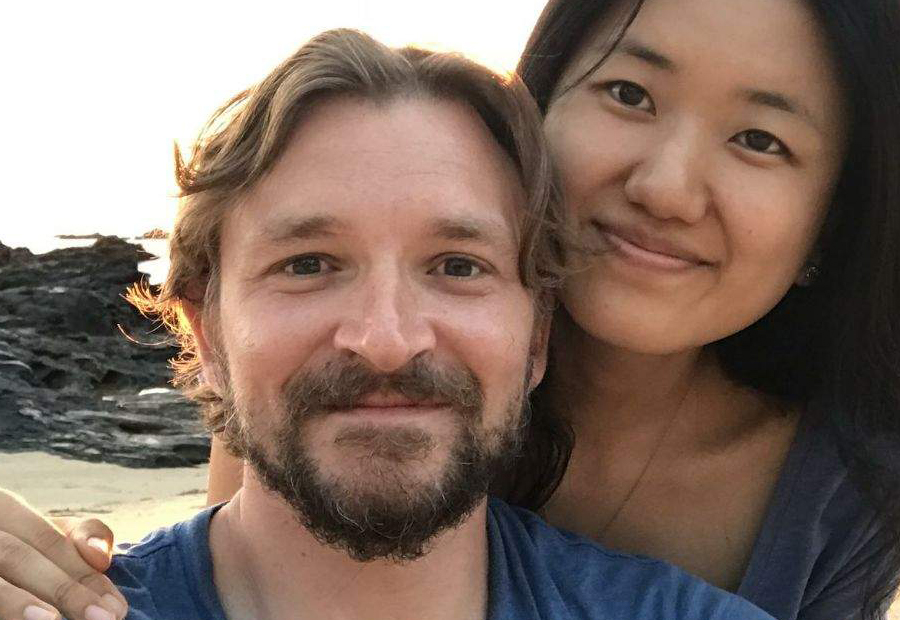 John Harrell
John started volunteering at Blanchet House five months ago after searching for an organization serving people with substance abuse and mental health issues. He prefers to serve breakfast usually arriving at 6 am to help with meal prep.
"Volunteering generally makes for a better day. I've enjoyed it quite a lot, and it's a lot more fun than people would think. You meet some pretty fascinating people while volunteering.
I have had my own addiction struggles in the past, and I grew up in a household with mental health struggles as well. I think in our paths in life you sometimes just take the wrong turn, and it's a snowball effect. We often think it's us vs them or us over them, but nobody is perfect. Everyone has problems. 
If you don't have your basic needs met it's hard to worry about bigger needs. If you have ADHD and you're starving, you can't focus on tending to your ADHD. If you're freezing, you can't focus on your anxiety. We want to think that we can tackle everything at once, but if you take the thorn out of the bottom of your foot, you can focus on other things.
I grew up in the country in Tennessee. My closest neighbors were miles away. My sense of community has always been kind of different, and this feels very pro-social. I've never done this sort of thing before like with Blanchet House. It's a unique and different environment. It's an opportunity to pass on something positive to people. With so much going on, it's even hard to listen to the news sometimes."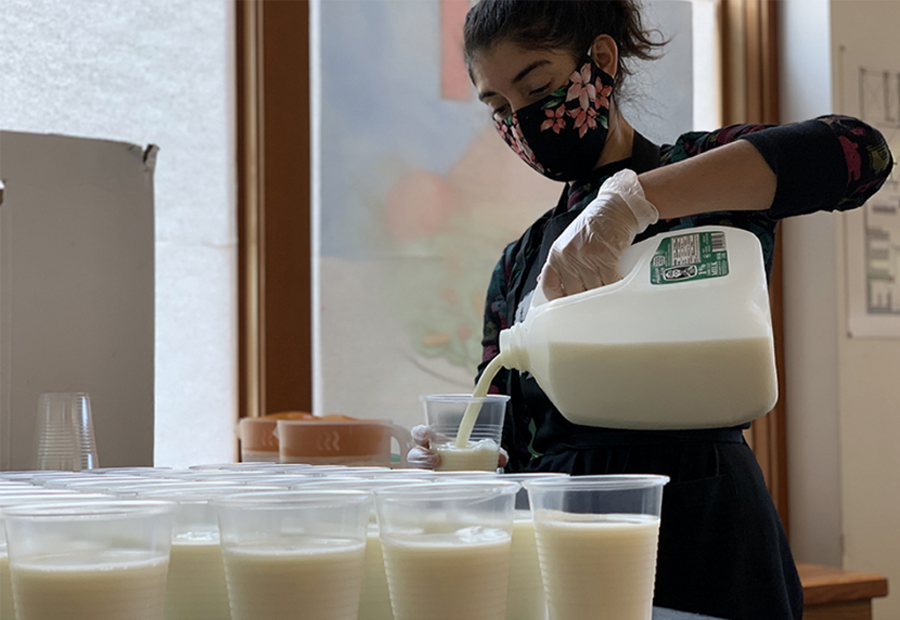 Andrea Larreta
Since August 2020, Andrea has been volunteering twice a week at Blanchet House. She usually works the drinks window handing out coffee, water, milk, and care kits.  
"I volunteer with Blanchet House because everyone deserves kindness and nutrition. Blanchet House provides a judgment-free zone for people to come together and connect over a meal. It's wonderful. Everyone deserves to feel good and we get the love back.
I like volunteering at the drinks window. I get to talk to more people that way, and I love handing out the care packages with the drinks. It's a fun extra treat for our guests and I love seeing the look of excitement or relief when they get one. I also see so much resourcefulness and gratitude in our guests. Whether it's carrying five cups without spilling or just getting excited that we're offering their favorite drink, it humbles me to see their gratitude and clever solutions.
Everyone has the same basic needs. Some people just need a little help getting their needs met. I have the time and the ability to help, so I'm happy to step in. I know how much I enjoy putting on a clean pair of socks, or a warm hat on a cold day, and how satisfying a warm meal is when you're hungry. I was raised to believe in love, compassion, and generosity, and at Blanchet House, we're able to share that every day. With the free meals and beverages, we're able to show that everyone deserves nutrition. Everyone deserves to feel good, feel appreciated, and we're able to receive the love right back.
Blanchet House is a fantastic organization. It's wonderful to see the love and care that Blanchet has for people. I am happy to help such a driven, focused, compassionate group."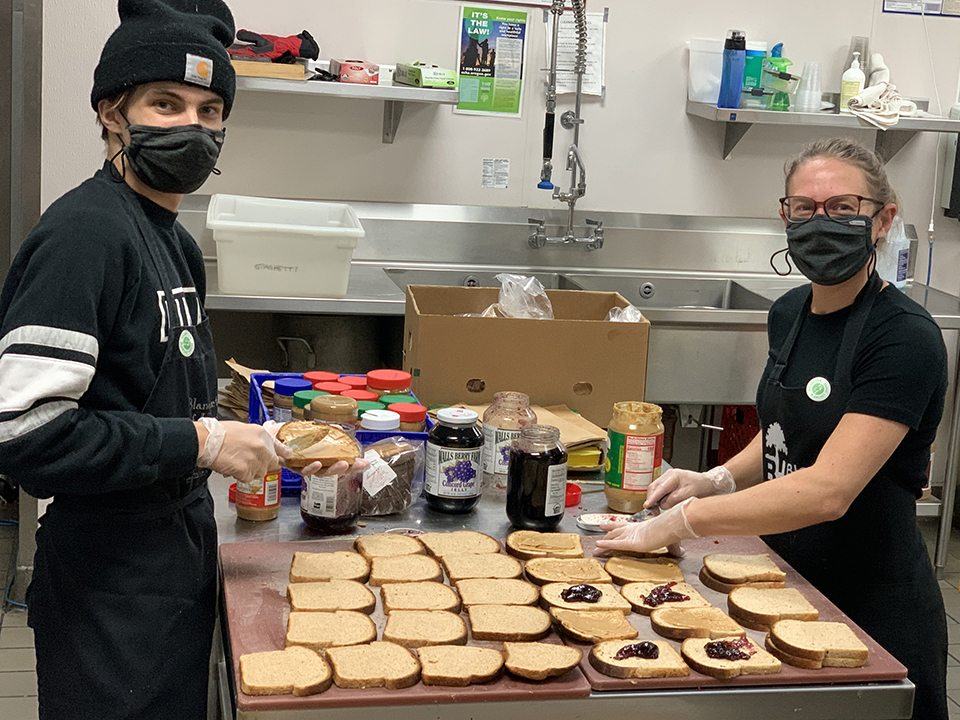 Faith Alstot and Family
Faith began volunteering at Blanchet House with her family when the pandemic hit. She enjoys the variety of volunteering opportunities that give smiles to people's faces.
"I just wanted to help people in need, especially with everything that's going on. My son, partner, and I volunteer a couple of times a month on Fridays in the morning 9 am to 11 am, and we also volunteer on Saturdays as well. While volunteering, I have made sack lunches, sorted clothes, and handed out items such as t-shirts and shoes to the guests. I enjoy interacting with them and seeing the smile on their faces. 
I met three young men outside one day who are in recovery and were looking for housing. I thought about how hard it would be to not have a home. It was remarkable to me how they faced adversity without a home, sleeping in a tent, and deciding to remain sober for all of this time. 
I think the work Blanchet House does is really important; they make all of the guests feel important too. Serving a hot meal and having a conversation with someone makes the guests feel seen and heard. I also really enjoy and get a lot out of interacting with all of the guests. It's a good way to kick off my weekend."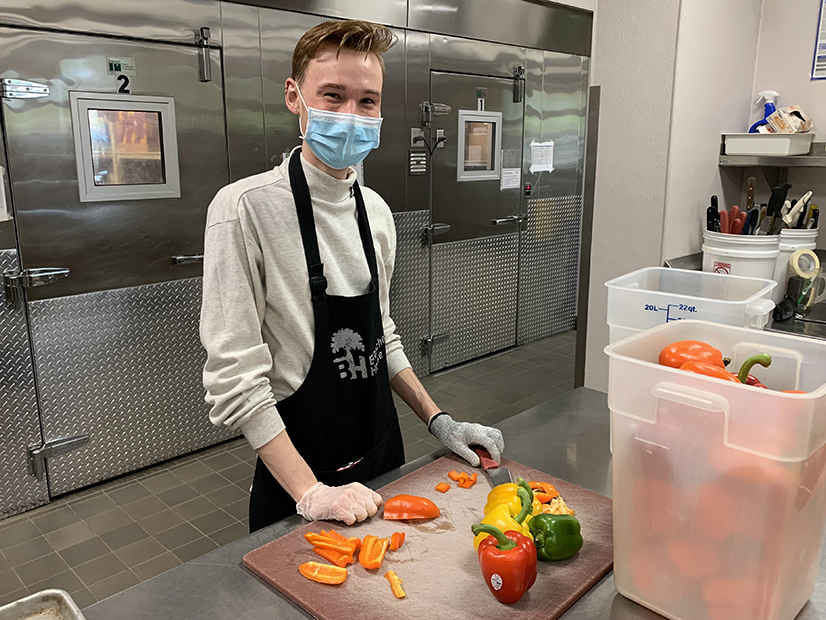 Thomas McLaughlin
Thomas has been a volunteer since the first days of the COVID-19 pandemic.
"Working in the medical field has exposed me to the many hardships that individuals who are homeless face, especially during this time of the COVID-19 pandemic. Blanchet House was the perfect opportunity for me to help this population by providing them basic necessities. Most of us are fortunate to be able to fulfill our basic needs. Our guests don't have that luxury and worry each day about meeting these needs. Providing food and clothing to people in need helps to alleviates this uncertainty.
While volunteering, I've witnessed the sense of community amongst the guests. One day, I was passing out drinks, and a guest asked if she could get an extra drink for another person who was unable to stand in line. I saw the strength of their close-knit community and how they all look out for each other. I've worked in both the clothing closet and kitchen-prep positions. However, I am the type of person who likes to clean and organize, so I am drawn towards assisting with organizing the clothing area to make it easier for volunteers to pass clothes out to the guests.
During my time at Blanchet, I have met amazing people. I always look forward to my shift because I enjoy working with the staff, volunteers, and residents. Blanchet is truly a welcoming place for all people."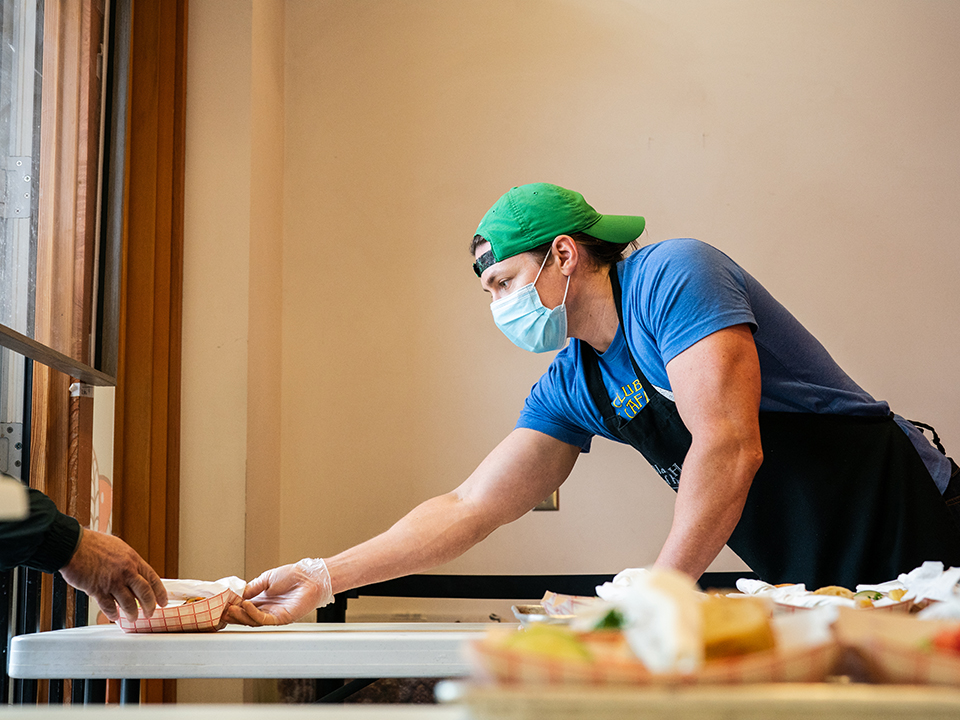 Kayne Carpenter
Kayne started volunteering at the Blanchet House in August of 2020. He served almost most every Thursday morning. 
"The issue of houselessness is something that I feel most Portlanders are aware of and concerned about. The thought of people freezing and starving on our streets is disheartening, and I wanted to do my small part to aid in the alleviation of those problems.
I like working in the kitchen because I enjoy preparing food, and I've had the opportunity to engage in conversations with people whom I may not have otherwise had the chance to meet. We all share an interest in seeing that our community supports its most vulnerable population.
I have been heartened by the number of people who make it a point to express their sincere gratitude for what we do as volunteers. Regardless, if I were to hear their "thanks" vocalized or not, I feel confident that the population we serve is grateful for our efforts.
I am aware that there are various viewpoints on what baseline level of services and infrastructure should be provided to the population as a minimum standard. Regardless of where our opinions may lay, I think most reasonable people would agree that allowing humans to starve or freeze on our streets is unacceptable.
I would just like to tell anyone considering volunteering in Portland that the Blanchet House has been nothing but a positive experience for me. It feels great to be a part of the effort helping to improve the lives of those experiencing a time of need."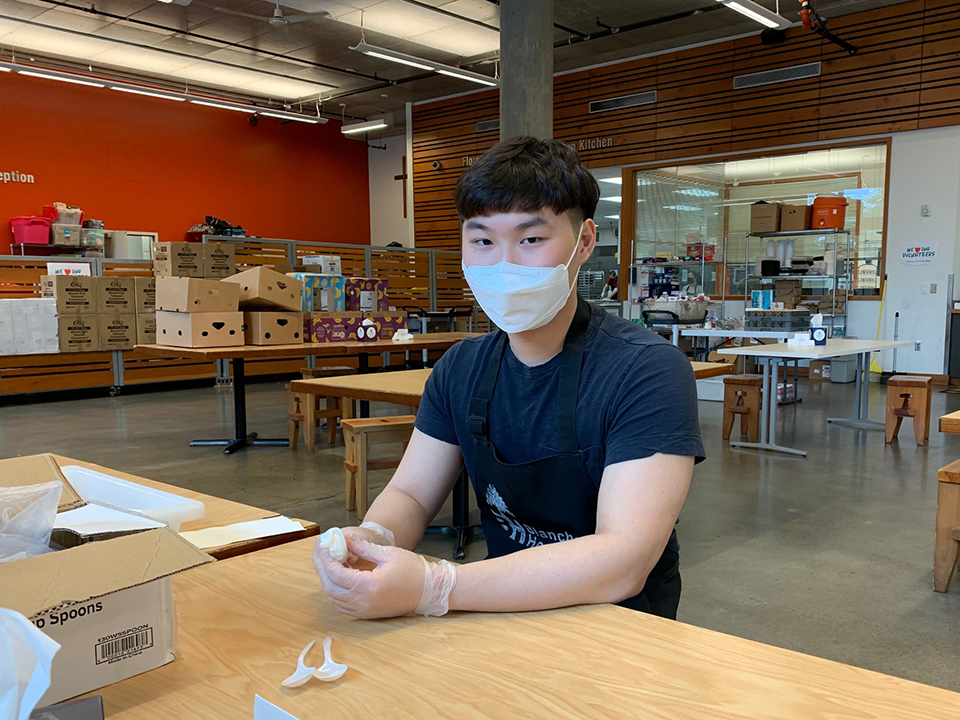 Paul Lee 
Paul discovered Blanchet House when he was in high school, and he began his role volunteering when classes went online due to the pandemic. He enjoys the rewarding and interactive role of handing out meals to the guests.
"I had heard about Blanchet House back when I was in high school, and I thought that volunteering here would be a good way to contribute to the community and to those in need. I started volunteering in September at the beginning of the school year, for I was back in Portland after my university went online. Once I started working shifts, I realized how much I enjoyed the communal atmosphere of the place. It kept me coming back!
Recently, I've enjoyed working at the food window. It's definitely one of the busier volunteer positions, but it's also quite rewarding since you play a direct role in giving meals to hundreds. I was struck by the diversity of the guests coming through Blanchet House; it highlights the impact Blanchet and similar organizations have on people from all walks of life.
During the pandemic, so many people have been displaced and had their lives uprooted. If the food and clothing services that Blanchet House provides can alleviate even some of the resulting worries, those people can gain this familiar sense of feeling important and worthwhile again."