Volunteer Week, is a time to celebrate the incredible people who give their time and energy to make our community a better place. Since 1974, National Volunteer Week has been an annual observance recognizing the vital support volunteers provide.
At Blanchet House, we rely on compassionate volunteers to serve meals in our free cafe to people who are experiencing hunger, poverty, loneliness, disabilities, and homelessness. During National Volunteer Week, we want our volunteers to know that they are appreciated. We're throwing ice cream parties thanks to generous donations from Portland's Ruby Jewel, and giving away t-shirts and hats.
Below you can learn more about a handful of our many volunteers and why they give their time to serve others. Also, find ways to get involved with Blanchet House. Thank you to all of our volunteers!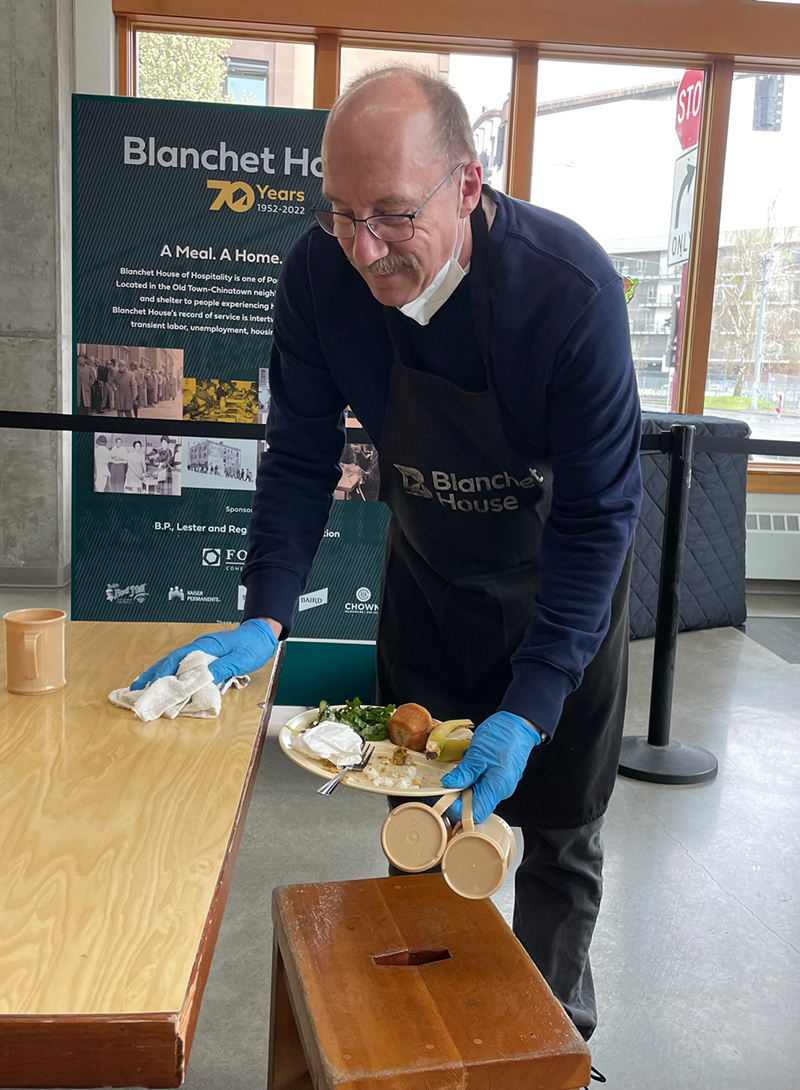 Volunteer Spotlight:
Kevin Scanlon
Kevin knows first-hand how important a free meal and welcoming space are to healing. 
"It's about giving back a little bit because the place kept me alive for years. I ate regularly at the old Blanchet House. Back then, I would get a job, and I'd mess it all up with drinking and drugs. Today, I'm over 12 years clean and sober.
There are no questions asked. Just come in the door. That's important because there's a lot of anger and shame when you're homeless. There are a lot of years I was not interested in getting clean and sober because I felt so bad.
It's very hard once you're homeless, to get back into being a productive person. There are a lot of setbacks. Life is not fair and we know that. Where would we be without places like this? What would happen to society?"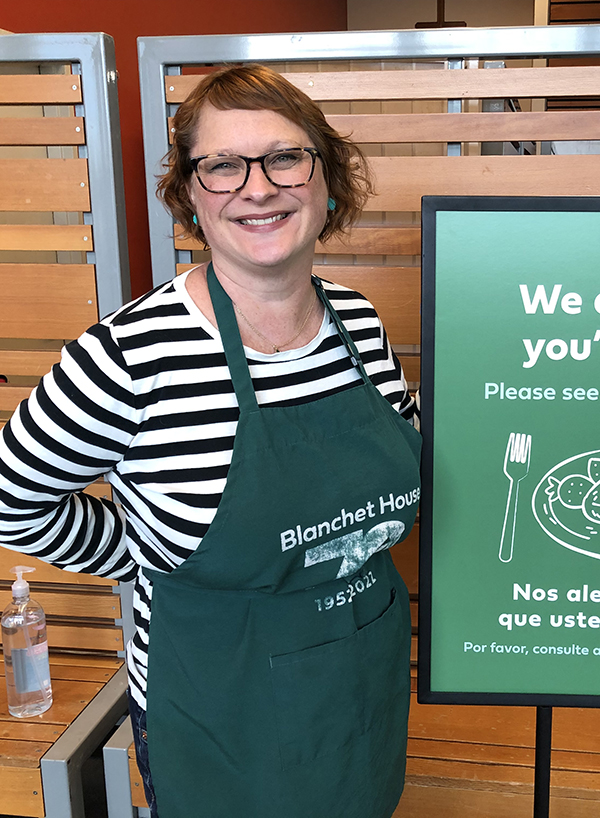 Volunteer Spotlight:
Jennifer Krazit
Jennifer volunteers to serve lunch every week.
"I found Blanchet House through a work volunteer day, and I liked it so much I started coming on my own. Volunteering at Blanchet has been one of the highlights of my year.
My employer, VMware gives full-time employees 40 hours of paid time off each year to volunteer. Employees who complete their 40 hours of service learning are eligible to direct a donation made by the company to a nonprofit of their choice. When I hit my 40 hours and I asked them to make a donation to Blanchet House. And I really wish more companies offered this benefit.
The thing I appreciate most about volunteering is that I work from home, so it allows me to connect with my local community."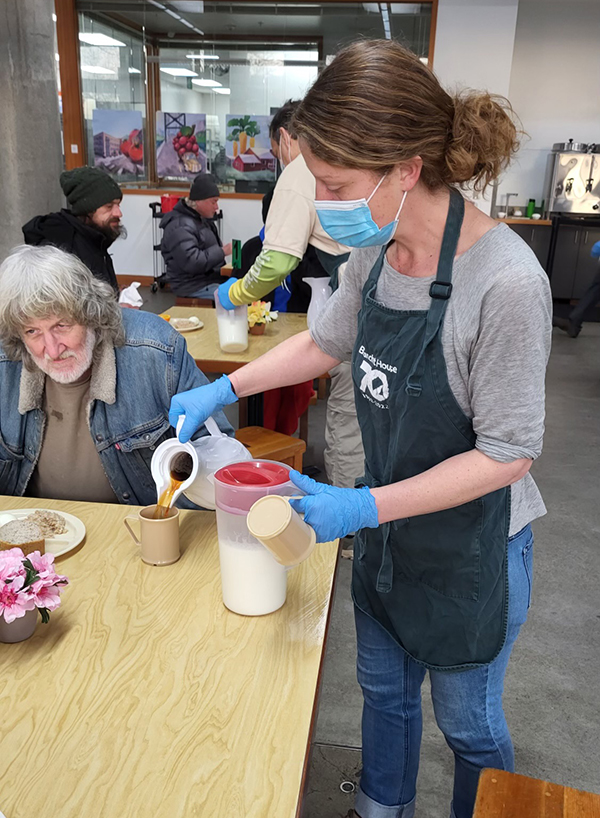 Volunteer Spotlight:
Emily Coleman
Emily gets up early to serve hot coffee and breakfast.
"I'm up early anyway and it's a perfect thing before starting work. I really value the relationships I've made in the cafe. I get to have hundreds of interactions each morning with people happy to be there.
The service Blanchet House provides is so important, mostly because it's so humanizing. It's dehumanizing to be homeless. And the way they're treated, and often ignored, can make them feel so invisible. Guests aren't just going through a cafeteria line, they're being served."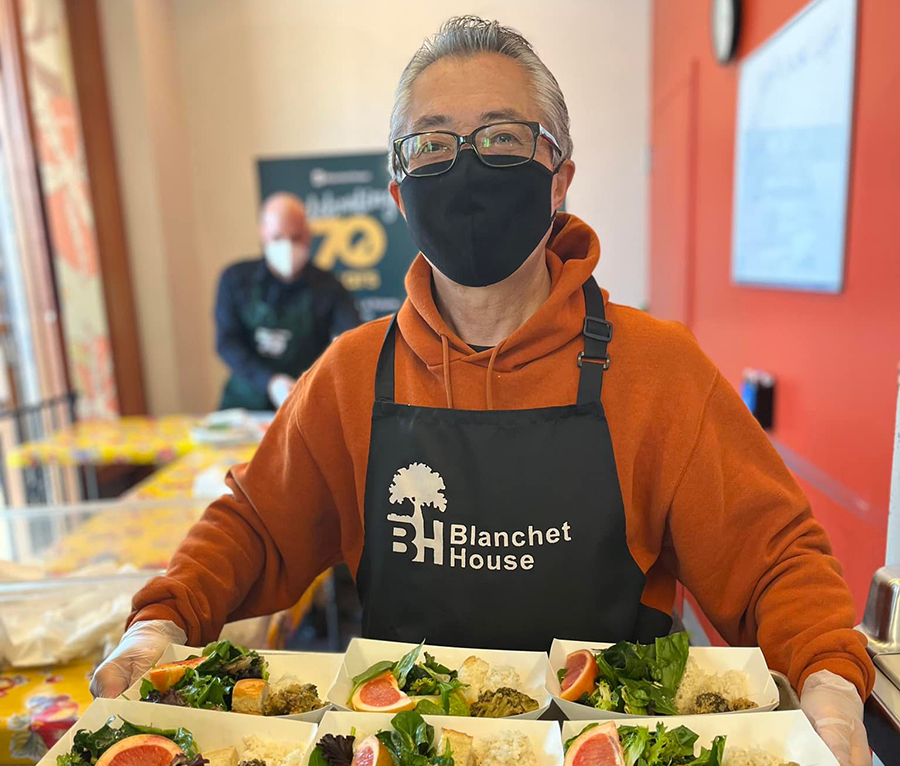 Volunteer Spotlight:
Sadao Sasaki
Sadao volunteers every Friday at Blanchet House.
"I have so many reasons why I want to volunteer. One is being from Japan so many people helped me here in America throughout my stay here. I would like to give back. Another reason is that when I volunteer I feel it gives me instant meaning to my life. If I had the brain for it I would be a doctor and help people. This is something everyone can do. This is the best investment of my time. I feel happy to be here. You see the direct result of what you're doing.
I found the Blanchet House to be not political or religious. No ideology which is why I like it. Eating here is a communal experience.
When people say thank you it really has a lasting impact on me and means a lot.
Blanchet House does so much for the community. There are so many vulnerable people and they don't know where to turn. None of us are immune to becoming homeless. For some people, they are just one paycheck or just one hospital bill away from becoming houseless. It is heartbreaking. Before the pandemic, I would see the same people but now I see all kinds of people. Different ages and from all walks of life.
Volunteer even once and you will have a great experience. You will never regret any time that you spend here."
Read about more of our special volunteers. Of course, there are so many more!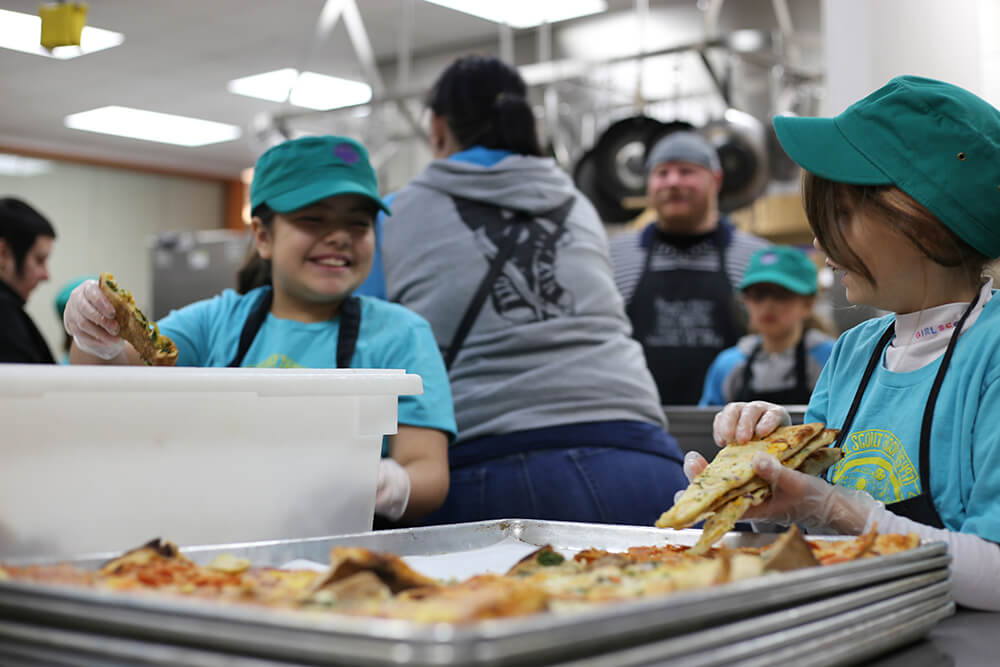 Ways to Volunteer and Get Involved
You can make a positive difference in the lives of your neighbors going through a hard time. Join Blanchet House in offering aid to anyone who comes to our doors by volunteering onsite or from home. There's never been a better time than now to get involved!
Care Kits
Pack a bag with essential items like hygiene products and socks from home with your friends and family. Learn how.
Sack Lunches
Make sandwiches to fill brown bags that can be easily handed out to our meal guests for a portable lunch. Learn how.
Donate Clothing and Sleeping Essentials
Living without access to a washer and dryer makes it difficult to keep your clothes clean and maintained. Blanchet House offers adult-sized clothing, shoes, and sleeping basics daily. Learn how.
Volunteer
Blanchet House needs volunteers Monday-Saturday to help prepare and serve meals. Choose from one of many 1-3 hour shifts throughout the day. Sign up to serve or prepare meals onsite.