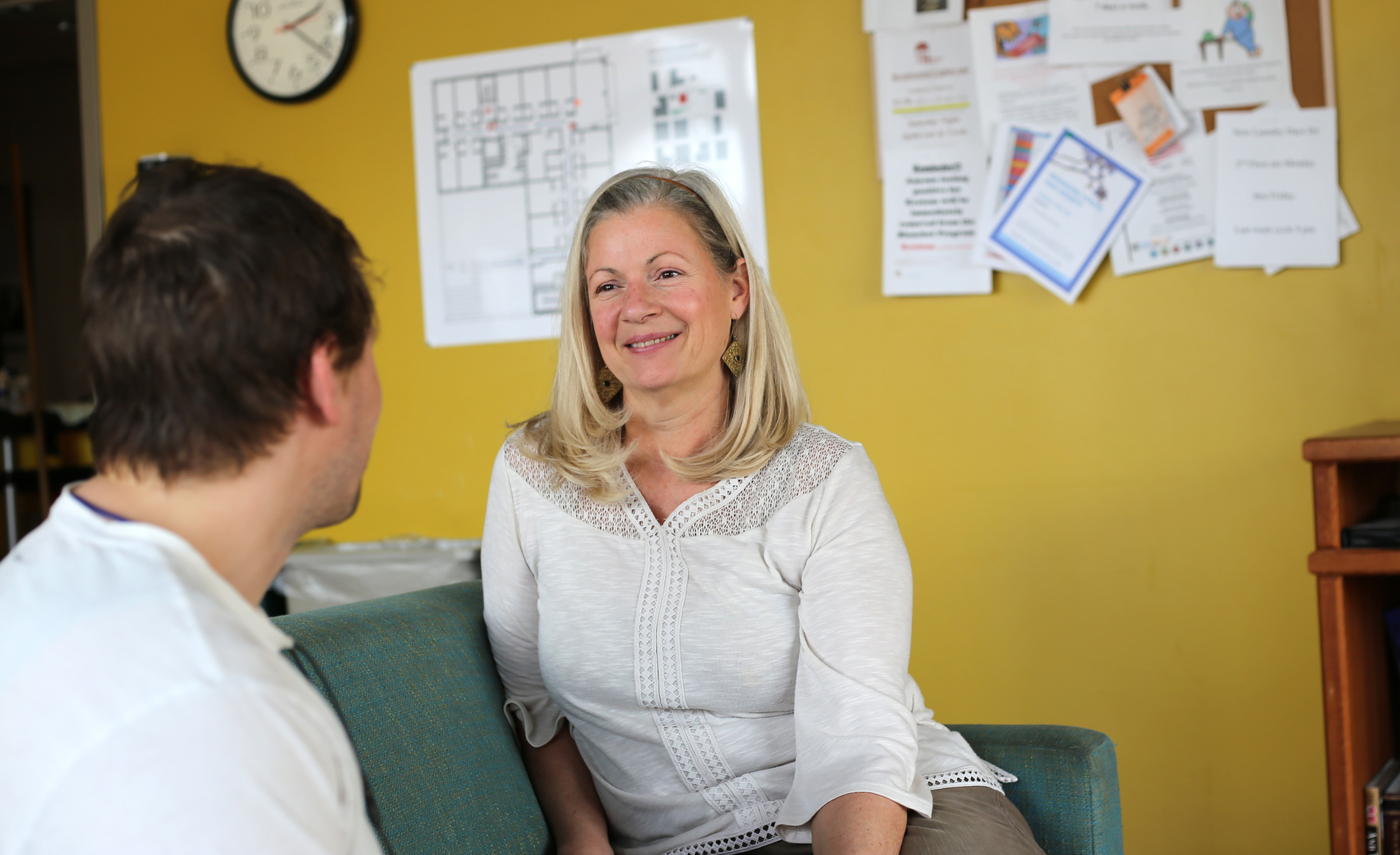 It is 8 am on a Friday morning and Kristi Katzke, one of the case managers at Blanchet House, sticks her head out the building's front doors. 'HEY, HEY, Jim [name changed], come on in and see me sometime!' she says to a man hurrying down NW Glisan Street. Jim says 'hello!' and after a quick exchange he's off again with a spring in his step headed to work. Jim, who's been living at Blanchet House for a year, says he misses speaking with Katzke – he isn't on her caseload anymore. It's not out of the ordinary for Katzke to check-in with past clients to see how they're doing, to see how life is going for them. She says it's a struggle for her to let some of the guys go onto a next step in their lives.
"It's not required but you invest a lot into these guys. Even after they leave, I want to know what the heck they're doing. They'll text me if they're in trouble or having questions, or they'll text me to let me know how they're doing. I like staying connected," says Katzke.
Katzke is one of two case managers at the Blanchet House. She's a certified Drug and Alcohol Counselor and works with men there aiding them in recovery, finding housing, jobs, and long-term stability through a weekly case management program. She works with them to create a life plan that requires setting – and meeting ­– achievable goals.
You Might Be Deceived By What You See
"People are out of touch with what homelessness is. The majority of people suffering from homelessness are mentally ill, with a unique set of traumas and don't know how to navigate the world," says Kristi, who emphasizes that one of the biggest misconceptions she sees is housed people believing that having a job equates having a place to live.
Katzke describes a young man who works in downtown Portland and commuted – everyday ­– from Gresham, where he lived in a tent. She says this man realized that he wasn't going to get out of his current predicament without changing something in his life.
"What Blanchet House offered him was an opportunity to get off the street, work in our kitchen and learn how to save money," says Kristi. He moved into his own place at the beginning of March.
Another misconception that frustrates Kristi involves how some people view the intersections of mental health and houselessness. "There is high mental health acuity and the callous disregard for this is stunning," she says.
Getting in to Blanchet House
If Katzke's phone rings in the morning, it's usually from someone who is in need of help ­– and help, now, especially with finding housing. The first thing she does is ask what the individual knows about the Blanchet House program, and provides them a quick synopsis of the program and who is served at Blanchet House.
Katzke may tell the caller they need more specific treatment before coming to Blanchet House; she wants to make sure that individuals are set up for success before they enter the program because Blanchet House is not a detox or medical center.
Looking Forward
Katzke wants to see the future of the Blanchet House grow into offering programs for women –– she says women are under served in the city of Portland 10-to-1, and that the fastest growing population of individuals experiencing houselessness are senior women.
Katzke advocates for all individuals within the Blanchet House community. Housing, she feels, needs to be the number one priority. "It's hard to stay on mental health meds or to stay sober and connected to support systems when you're sleeping on the street or in a shelter," she says.
Relationship Building
Katzke works to gain trust with the men she interacts with by finding ways to connect with their life experiences. She tries to normalize the experiences of the men so they don't leave her office or their exchange feeling like something is wrong with them or that they're isolated in their struggle. She reminds them to take a breath and look around at the Blanchet House community. "Everyone here is struggling with something," she tells her clients.
Katzke doesn't consider herself a friend of those she works to help. At times she can be stern and tells the guys things they may not want to hear, but even with this demeanor, Kristi is someone who the Blanchet House community trusts –– she exudes a type of comfort, a type of feeling that makes a person want to sit with her and talk for hours. She has men coming in and telling her things about their lives on a weekly basis, coming in to chat and explain how work went that day or how their family is. Kristi is a person that they can speak to, a person who offers stability through her case management, and treats all the men that find their ways to her office with dignity, respect, and active listening.
Ellena is a freelance writer and researcher living in Portland, Oregon. Her work has appeared in many publications including Street Roots and Willamette Week.