Updated: August 17, 2022
Blanchet House is preparing to offer water, clean clothes, and heat relief items to people unable to find adequate shelter in Portland this summer. Volunteers will hand out cold drinks, single-use water, reusable water bottles, water misters, care kits, and t-shirts Monday – Saturday to help people survive the heat and stay hydrated. Anyone who comes to Blanchet House's doors can receive water bottles or refills for themselves and their pets during three daily meal services.
Help with Heat Relief
Donate Water or Cold Treats
Single-use water bottles, refillable water bottles, and cold treats like popsicles are needed. We will fill refillable containers for our guests. Drop off Mon-Sat, 8-10:30 a.m. or 1:30-4 p.m. at 310 NW Glisan St. CLOSED SUNDAY
Donate T-Shirts and Socks
New or gently used clean t-shirts in adult sizes XL and up can be mailed or dropped off. Adult-sized socks are also welcomed. Drop off Mon-Sat, 8-10:30 a.m. or 1:30-4 p.m. at 310 NW Glisan St. CLOSED SUNDAY
Make Care Kits
Care kits containing sunblock, a bottle of water, a t-shirt or socks, and other survival items can be made and handed out at Blanchet House. Learn how to make them from home.
Donate to Fundraiser
Hundreds of people will be welcomed inside our air-conditioned cafe for relief, food, water, and shelter referrals during the heat wave. Most of the people we serve are suffering from mental illness, physical disabilities, addiction, poverty, and inadequate housing. They need us.
It takes staff and resources to stay open six days a week, 6 a.m. – 6 p.m., in order to help our most vulnerable community members. You can help by donating to our heat relief fundraiser. Thank you.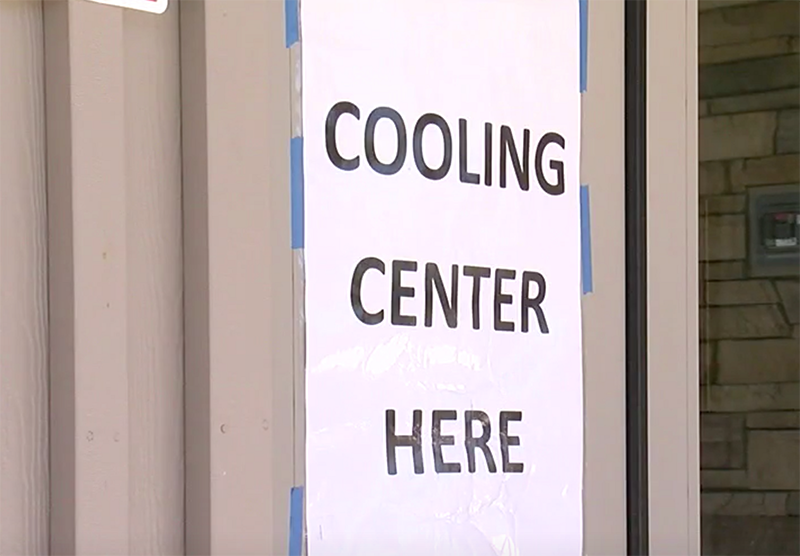 Cooling Centers in Portland 
Updated: 8/17/2022
Capitol Hill Library
10723 SW Capitol Hwy
10 a.m. – 6 p.m.
Central Library
801 SW 10th Ave.
10 a.m. – 8 p.m.
Gresham Library
385 NW Miller Ave
10 a.m. – 8 p.m.
Kenton Library
8226 N Denver Ave
10 a.m. – 8 p.m.
Holgate Library
7905 SE Holgate
10 a.m. – 8 p.m.
Hollywood Library
4040 NE Tillamook
10 a.m. – 8 p.m.
Midland Library
805 SE 122nd Ave
10 a.m. – 8 p.m.
Northwest Library
2300 NW Thurman
10 a.m. – 6 p.m.
Other Ways to Help with Heat Relief
If you can:
Keep portable water with you to offer someone.
If you see a person outside in the heat of the day who looks disoriented or confused, don't assume that person is intoxicated. Those could be signs of heatstroke. Offer to help them move to a cooler space and dial 9-1-1.