"Which came first, the chicken or the egg?" Clint asks while reflecting on his journey to sobriety.
For Clint, and for thousands like him, his addiction stems from both a genetic predisposition and past trauma.
"I had a dysfunctional family. My mom suffers from schizophrenia. She had a schizophrenic break when I was three years old. I lost my caretaker. The story develops from there," he said.
After losing his mom, he bounced around to homes of different family members. To numb his pain, Clint started drinking and smoking cigarettes and weed at age 11. By the time he was 13 years old, he was both using and dealing hard drugs. At age 19, Clint was no longer selling drugs because his life had become consumed by his addiction.
Science of Addiction
Too often, addiction is stigmatized. People assume that addiction occurs only with the "weak-willed" or indolent. However, addiction is much more complex than that stereotype portrays. No one chooses to be an addict, just as no one would choose to experience trauma. According to a peer-reviewed study in the Psychiatric Quarterly over 40 percent of people with post-traumatic stress disorder (PTSD) also suffer from substance abuse.
Substance abuse issues are even more likely to occur in people who experienced trauma as a child. As a little kid, your brain is constantly growing and forming to retain new information, this is called plasticity. Trauma will have lasting impacts on the brain, even physically changing it.
Dr. Gabor Mate, an addiction expert, and best-selling author, explains, "Studies show that early stress affects the nerve cells in the brain and the immune system, making people more susceptible to addiction as adults. If you look at brain circuits used in impulse, stress, or emotional self-regulation, all are impaired in those struggling with addiction."
I've never had confidence or self-esteem. I've always had to use a drug to get it." -Clint
This science of the brain is something to keep in mind the next time you are wondering why it is difficult for someone, like Clint, to maintain their sobriety. There is a lot more to it than meets the eye, as Clint will tell you, "I am now seeing a trauma therapist to try and work through some of the reasons why I've never had confidence or self-esteem. I've always had to use a drug to get it. I never had it on my own. So, I think that is a direct result of my trauma."
Facing Mistakes to Move Forward
Clint's lifelong battle with trauma and addiction took a lot from him. He was arrested for a DUI and sentenced to nine months in jail. During that time his wife started using methamphetamine again. The state of Idaho took his five daughters away and he was not in a position to fight for them. He hasn't been able to speak with them in 10 years.
"I have a big fear that my daughters don't want me in their life. It has almost been easier to be addicted, to be homeless, to put them out of my mind. When I think about it, I want to cry because I love them so much," Clint said. "And I think about it and ask myself, 'what father wouldn't talk to their kids for 10 years?' but it is just circumstances."
It has almost been easier to be addicted, to be homeless, to put them [his daughters] out of my mind. When I think about it, I want to cry because I love them so much." -Clint
Clint wanted to change his life, so he came to Oregon with the mission to stay sober. "After 20 years of attempts, 15 different treatment centers, different church groups, all these missions, jail, and prison, I just couldn't stay sober," Clint said. "I left Idaho for Oregon and my main goal was to get sober. I entered CODA treatment recovery first. My roommate said there was a place called Blanchet House that I would like after treatment. I said I needed a place with structure because I haven't been able to have one year of sobriety in 42 years. Blanchet House has been a godsend. It has been the first time in my life that I've had over a year of sobriety."
Building Self Worth Through Service
Clint serves as the Blanchet House breakfast cook. He awakes every morning at 4:00 a.m. to begin meal preparations. He puts love into his food by adding special spices and sausage to the grits. It's important to Clint that his diners feel like they are getting a great breakfast. Because of his efforts, the number of breakfast guests has significantly increased.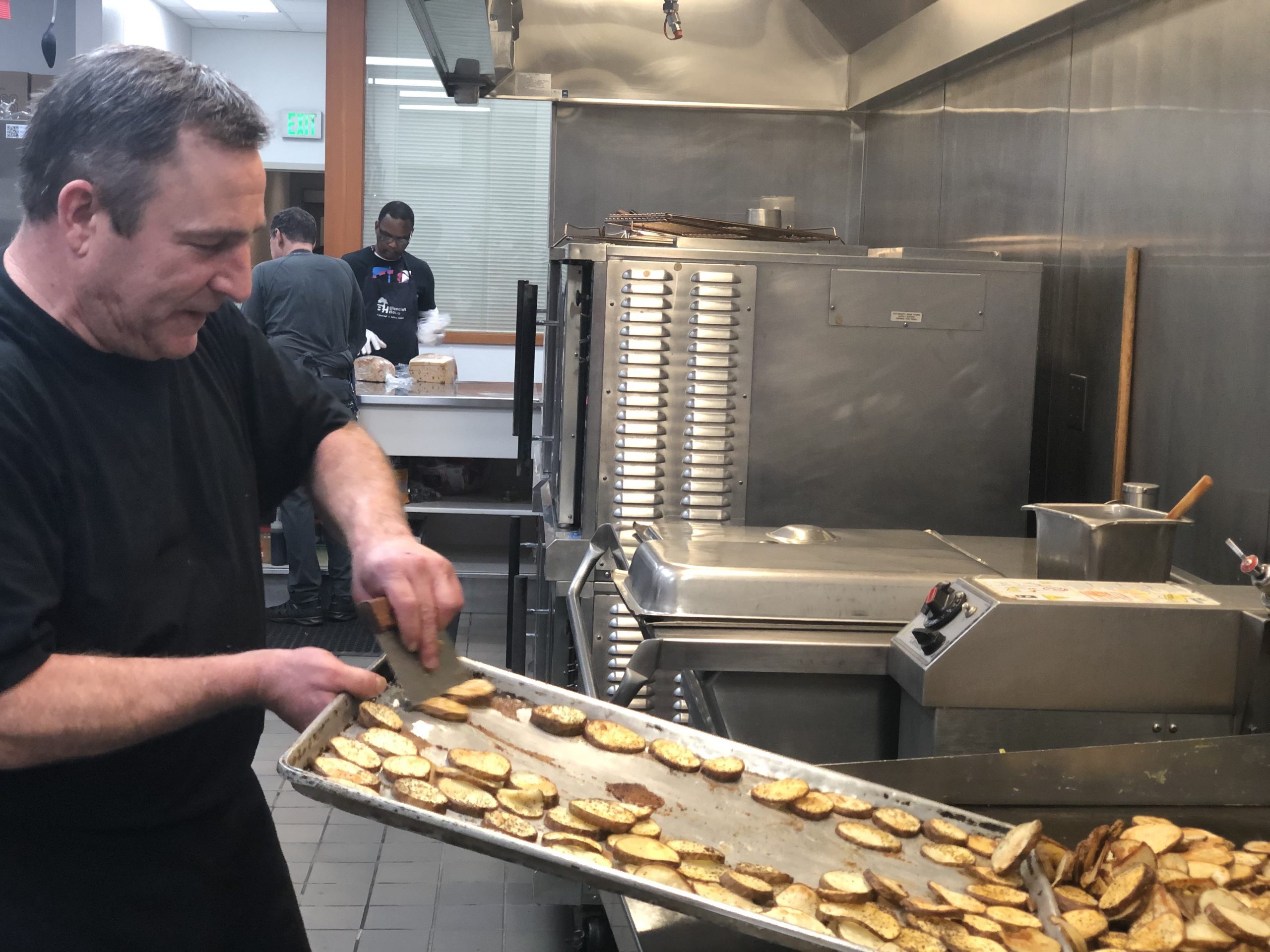 "It is rewarding working here," he says. "That is why I don't worry about getting paid or what is in it for me. That was my whole life. But now it is different. Now that I have found sobriety my life is getting better and better. It is nice to be able to give back. And it is rewarding to hear that those were the best grits we've ever had or that was a great breakfast."
The Blanchet House work-renewal housing program is unique in that residents are the staff operating the kitchen and running the meal service. In exchange for a free room, meals, clothes, and case management, residents spend their first 90 days working full-time preparing meals, cooking, cleaning, serving, and driving. This important offers a pathway to regaining self-worth in a safe space where they can focus on building new healthier lives.
"The best thing Blanchet House has given me is the time to work on myself. That is such a gift. I never thought this type of time in a safe place would do so much. It has given me time to see a therapist. To get my medicine right. It has allowed me to get involved with AA. These are life-changing things for me. I'm just really grateful to be here. Not only does it give me confidence, but I've also worked here for six months as a cook. I really enjoy it. It is a lot of fun."
Written by Brittany Brock.