It's National Volunteer Week, a week to celebrate and thank the incredible people who give their time and energy to make our community a better place. Since 1974, National Volunteer Week has been an annual observance recognizing the vital support volunteers provide. Over the past year, the tremendous response by volunteers during the COVID-19 pandemic has been nothing short of heroic.
"We are living in a moment that calls for hope and light and love. Hope for our futures, light to see our way forward, and love for one another. Volunteers provide all three," President Joe Biden wrote of National Volunteer Week.
The COVID-19 pandemic presented unexpected challenges to carrying out our mission and to our guests experiencing homelessness and food insecurity. Many local social service providers temporarily closed during the pandemic which increased the need for Blanchet House's free meals and the volunteers needed to provide them. Blanchet House was able to quickly pivot and continue daily meal services thanks to the many volunteers who came out to help.
Monday to Saturday, volunteers show up as early as 5:30 am to help prepare coffee and food for the day's three meal services. For many of our guests experiencing homelessness or living alone, a Blanchet House volunteer may be the only friendly face that they see during their day. Our volunteers witness first-hand the joy and relief that their service provides.
We want to make our volunteers feel appreciated this week so we're throwing ice cream parties thanks to generous donations from Ruby Jewel, giving away t-shirts, tote bags, and Columbia Sportswear gift cards and coupons too.
Thank you to all of our volunteers!
Volunteers Who Give With Their Hands and Hearts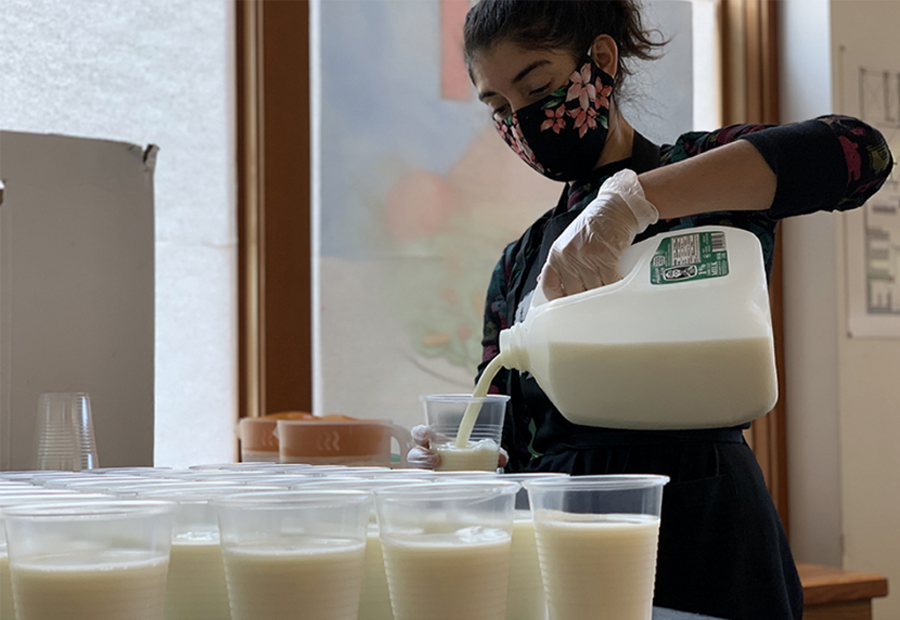 Andrea Larreta
Since August 2020, Andrea has been volunteering twice a week at Blanchet House. She usually works the drinks window handing out coffee, water, milk, and care kits.  
"I volunteer with Blanchet House because everyone deserves kindness and nutrition. Blanchet House provides a judgment-free zone for people to come together and connect over a meal. It's wonderful. Everyone deserves to feel good and we get the love back.
I like volunteering at the drinks window. I get to talk to more people that way, and I love handing out the care packages with the drinks. It's a fun extra treat for our guests and I love seeing the look of excitement or relief when they get one. I also see so much resourcefulness and gratitude in our guests. Whether it's carrying five cups without spilling or just getting excited that we're offering their favorite drink, it humbles me to see their gratitude and clever solutions.
Everyone has the same basic needs. Some people just need a little help getting their needs met. I have the time and the ability to help, so I'm happy to step in. I know how much I enjoy putting on a clean pair of socks, or a warm hat on a cold day, and how satisfying a warm meal is when you're hungry. I was raised to believe in love, compassion, and generosity, and at Blanchet House, we're able to share that every day. With the free meals and beverages, we're able to show that everyone deserves nutrition. Everyone deserves to feel good, feel appreciated, and we're able to receive the love right back."
There Are So Many Ways to Volunteer and Get Involved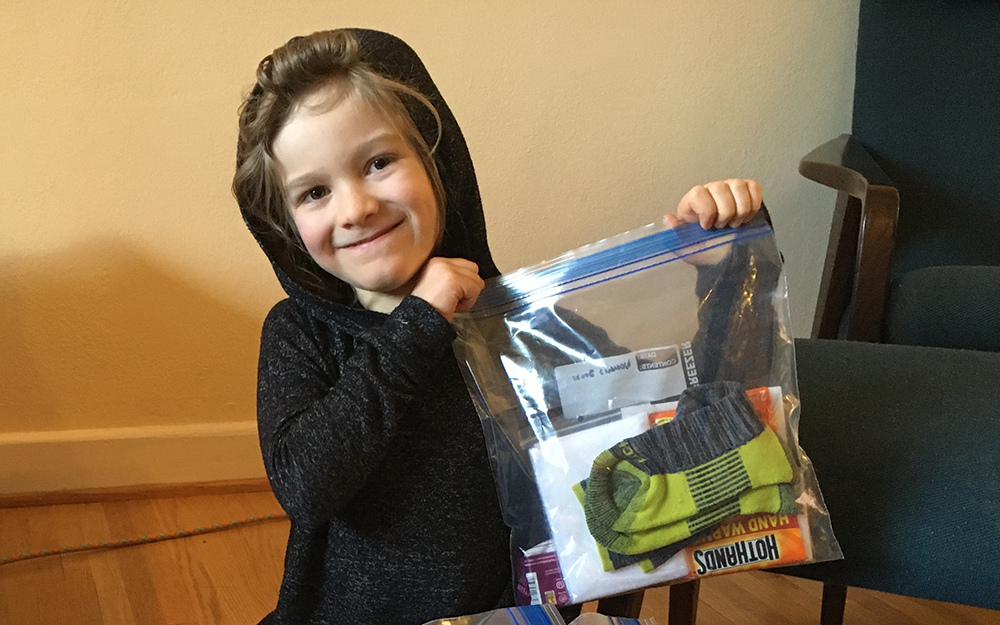 You can make a positive difference in the lives of your neighbors going through a hard time. Join Blanchet House in offering aid to anyone who comes to our doors by volunteering onsite or from home. There's never been a better time than now to get involved!
Care Kits
Pack a bag with essential items like hygiene products and socks from home with your friends and family. Learn how.
Sack Lunches
Make sandwiches to fill brown bags that can be easily handed out to our meal guests for a portable lunch. Learn how.
Donate Clothing and Sleeping Essentials
Living without access to a washer and dryer makes it difficult to keep your clothes clean and maintained. Blanchet House offers adult-sized clothing, shoes, and sleeping basics daily. Learn how.
Volunteer
Blanchet House needs volunteers Monday-Saturday to help prepare and serve meals. Choose from one of many 1-3 hour shifts throughout the day. Sign up to serve or prepare meals onsite.