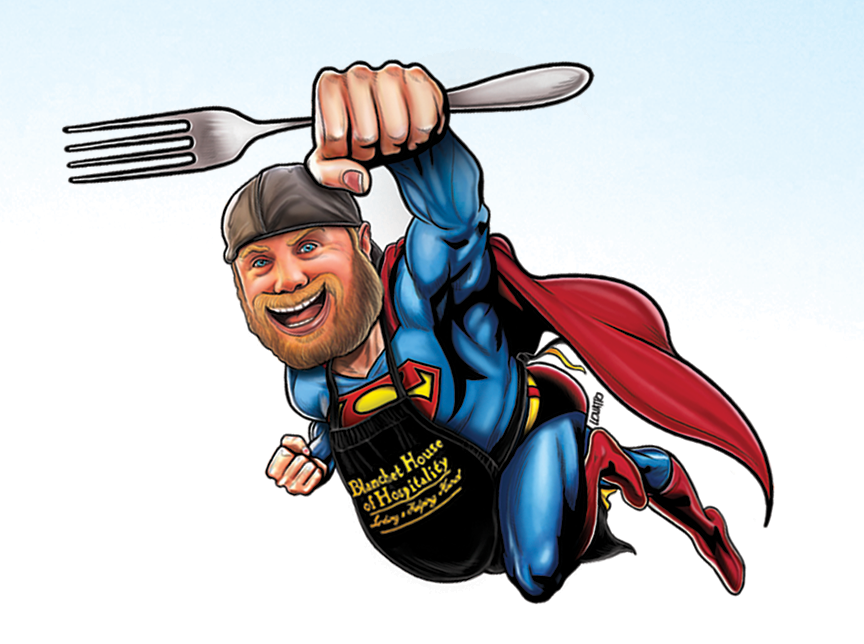 As Jay steps on to the host podium at the entrance to the Founders Café at the Blanchet House, he assumes the identity of SuperJay. His blue eyes scan the room as classical music plays from speakers, and guests line up inside for a free meal. Jay is the first person a guest will speak with after entering the café's doors. He warmly greets each person, says "hello," hands them a fork, a napkin, a smile and always a sincere: "Enjoy your meal." Jay knows which guests are new to the café, who are regulars, who needs assistance because of a disability, and who's under the influence of drugs or alcohol. He knows how to handle problems in the dining room quickly and calmly – if they arise. Jay is our Man of Compassion. He carries out the Blanchet House mission to restore dignity and offer compassion to all who enter.
If Jay knows the name of someone who's coming to sit and eat, he addresses them by it and asks how they are – but only if they've offered up this information. "Waiters don't ask questions, so we don't either. Treat them like regular cause that's who they are," he says.
As Jay directs people from his podium, he notices an older man enter with a cane. He steps down to guide the guest to his table. He tells the man that when he's ready for a second plate of food, he just needs to raise his fork. Two other guests enter the café, this time a father pushing a young child in a stroller. After they are seated, Jay rushes to the kitchen, grabs a jug of grape juice and some cupcakes, and gives them to the father to take with him. "Enjoy your meal," he says.
"You never know what's hidden under the layers of a person."
Jay came to live and work at the Blanchet House after he lost his job running a food cart in Portland. He wasn't able to make rent and found himself needing to make difficult choices. "It's the best decision I ever made. The amount of hopelessness they saved me from is huge," he says.
Jay knows the folks that come in daily to eat, and keeps facts about them filed away in his speedy-quick brain. He knows the older man who has a hard time seeing, always placing him at a close-in table. He also knows the siblings who come in and how they like to sit with each other, and he looks forward to seeing his friend Ray so they can talk sports.
Jay enjoys his job at Blanchet House and explains the importance of never judging a book by its cover. "You never know what's hidden under the layers of a person."
He enjoys the triumphs of his Blanchet community. "You can enjoy someone's successes just as much as you can enjoy your own. Hearing about a guy moving into his own place after living on the streets for years – watching that weight come off him is the best feeling. Or finding a job that he wants, or when they're getting sober," he says.
Towards the end of the lunch hour, Jay steps from behind the host stand to let a young volunteer from a local middle school try out the job of orchestrating the Founders Café. He shows her the process of handing out forks, napkins, and directing guests to a clean table to sit. Even as he trains the student volunteer, his eyes scan the café, looking for guests who may need help, confused volunteers, or a table that needs bussing.
"There are many victories in this war and many people leave this building in a way better place than they would have ever dreamt – a job, a house, security," says Jay.
You can help men like Jay get a second chance at success by donating to Blanchet House here.
Illustration by Lovatto.