The Story of Blanchet House
I. Inception (1938-1952)
The origins of Blanchet House begin in 1938 on the campus of the University of Portland where a group of students organized a social and service club, named after the first Catholic Archbishop of the Oregon Territory, Archbishop Frances Norbert Blanchet. Designed to raise money for the poor, the group held car washes, raffles, dances and various other fund raising activities. World War II brought a temporary halt to the club's activism but after the war ended a new wave of students, armed with similar enthusiasm and principles, sought out other avenues to help the needy of the community.
II. Founding The Blanchet House of Hospitality (1952)
Under the guidance and prodding of the late Fr. Francis Kennard, eight University of Portland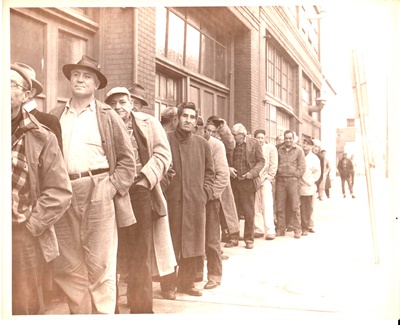 graduates searched for a location in downtown Portland to carry on their mission of service.  At the corner of NW 4th Ave. and Glisan they found their building and quickly went to work cleaning. Once they paid their first month's rent of $35 they were ready to open.  On February 11, 1952 they offered their first free hot meal, a simple offering of beans, bread, butter and coffee. Inspired by Dorothy Day's Catholic Worker Movement in New York City, the name was officially changed to the Blanchet House of Hospitality.
The building that became the Blanchet House was constructed shortly after 1905.  The Blanchet Club purchased the entire building in 1958 for a total of $25,000 and a deed burning party was later held to celebrate this most fortuitous event.  The three story red brick building had a basement that was used for storage, a main floor which consisted of the dining area, kitchen, manager's office and bathrooms.  Shortly thereafter, work began in earnest of the second and third floors and these turned into short term housing units for men who, in exchange for room and board, would work in the kitchen and eating area on the first floor.
III. The Riley House (1958)

In this same year, a second house was purchased on NW 18th Avenue. This property was designed to house men on a longer term basis so they might have a better opportunity to seek employment.  The house became known as the Riley House, named after the longtime manager of Blanchet, Al Riley.  Al Riley became the manager of Blanchet in 1960 and served in that post for 38 years, until his passing in 1998.
IV. The Blanchet Farm (1962)

In 1962, a 40 acre prune farm in Yamhill County was purchased by Blanchet.  The farm was developed into a working farm to help men in recovery from alcohol and later drug addiction.  Additional land purchases adjacent to the farm were made and by 1972 the farm increased in size to 60 acres.
During the many years after 1960, Blanchet increased the number of meals it served and the breadth of services it provided.  It became an important institution in the social fabric of downtown Portland.
V. Blanchet Turns 50 (2002)
In 2002, the 50th Anniversary of Blanchet was celebrated.  A transition took place when the original board members turned the organization over to a largely new group of board members, however ties between the two groups of individuals remained strong.
In 2004, Brian Ferschweiler was named Executive Director of the Blanchet House and help that position until 2013.  During Brian's nine plus years in that leadership position, the Blanchet House expanded the number of meals served, increased food donations to record levels and reached out and attracted many new volunteers.  On May 1, 2014 the Board of directors welcomed Greg Baker as the new Executive Director of the Blanchet House of Hospitality.
Today, Blanchet serves between 29,000 and 33,000 meals each month.   In 2013 alone, 341, 557 meals were served to the hungry and homeless of Portland, making BHH one of the largest feeding sites in the State of Oregon.  It has been estimated that since its inception, Blanchet has served over 15,000,000 meals to those in need.  Blanchet employs an Executive Director, a Development Director, a Communications Director, a Building and Food Services Manager, a Resident Program and Transitional Housing Manager, a Farm Manager, two full time case managers, and a full time executive assistant.  In 2013 over 19,000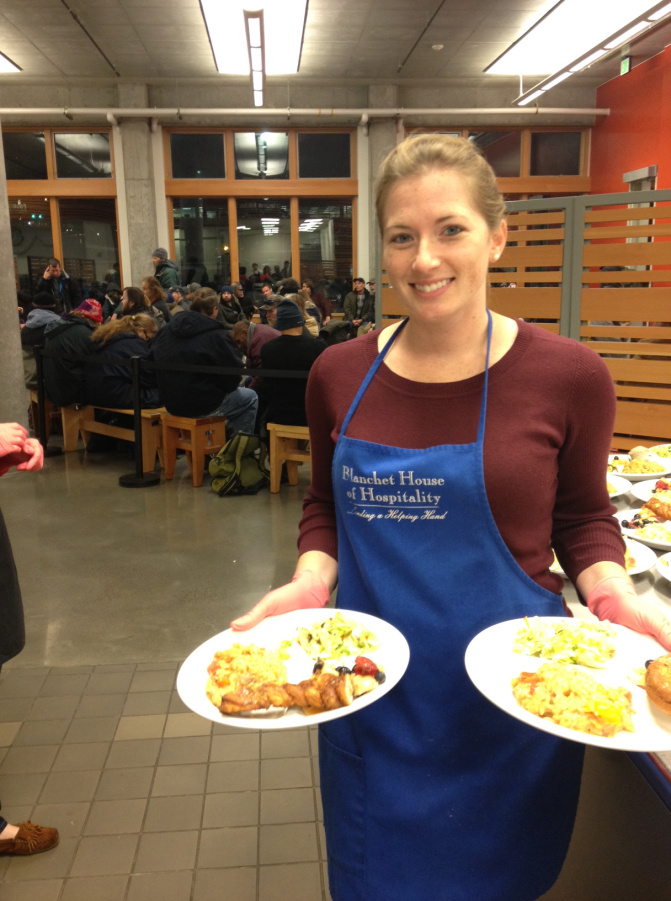 volunteers devoted their time and talents to support the mission of the Blanchet House of Hospitality.  Many of those volunteers were high school students, learning at an early age the importance of service to others.
VI. Blanchet Capital Campaign (2009)
In February of 2009 the Portland Development Commission passed Resolution 6563, stipulating that Blanchet House would receive a 9,500 square foot parcel of land on the corner of NW 3rd Avenue and Glisan in exchange for the land and building at 340 NW Glisan.  The exchange of property prompted the Board of Directors to begin the fundraising for a much needed new building. Generous gifts from the City of Portland, several philanthropic foundations and generous donors of all levels raised the $13,200,000 needed to build the 4-story building we proudly call the new Blanchet House of Hospitality.  The new commercial quality kitchen, dining area and living quarters for over 50 men received LEED Platinum honors as a sustainable facility.  The grand opening and dedication of our new building took place on September 20, 2012 in the presence of the remaining founders and their families.
If you are interested in learning more about the Blanchet House and its history, please contact Executive Director, Greg Baker at 503-241-4340 or email him at gbaker@blanchethouse.org.
[spacer px="60″]