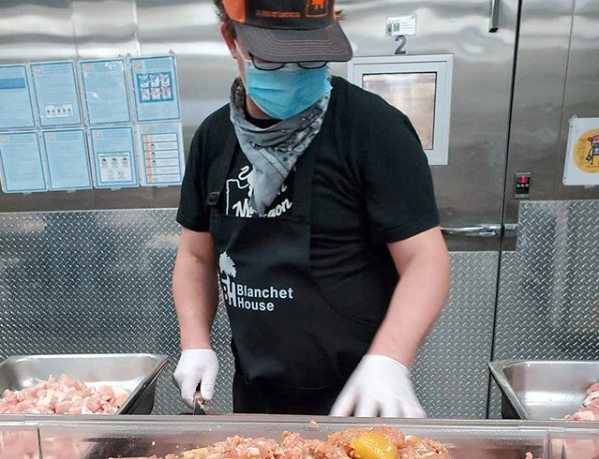 Devon Malone, Volunteer Chef
Devon, a chef at Urban Farmer steakhouse, volunteers his time in Blanchet's kitchen while restaurants are shut down because of COVID19.
"I was homeless for a while when I was young. I found myself struggling to find food pretty often. I was bitter with society and fed up. It caused me to put myself in dangerous situations all across the country. I wasn't lost in substance abuse but I was lost in depression and lack of self-worth. When you get that far away from society it almost becomes impossible to integrate back in. It was a struggle to get a job without an address and to get an address without a job.
If we can't as one of the wealthiest societies in the world find a way to use our government to help people struggling then we need to support places like the Blanchet House. No person is an island. No individual has attained any amount of stability without someone else just as no one can help themselves off the streets alone. Each person out there is tangled in their own trap. They need assistance to find ways to loosen those tangles that knot up their mind. I'm thankful for the help I got when I was tangled and lost. I'm thankful that I was able to find a way to be helpful while the Covid-19 pandemic has been upon us. Volunteering] has been a very positive experience."
Sign up to volunteer.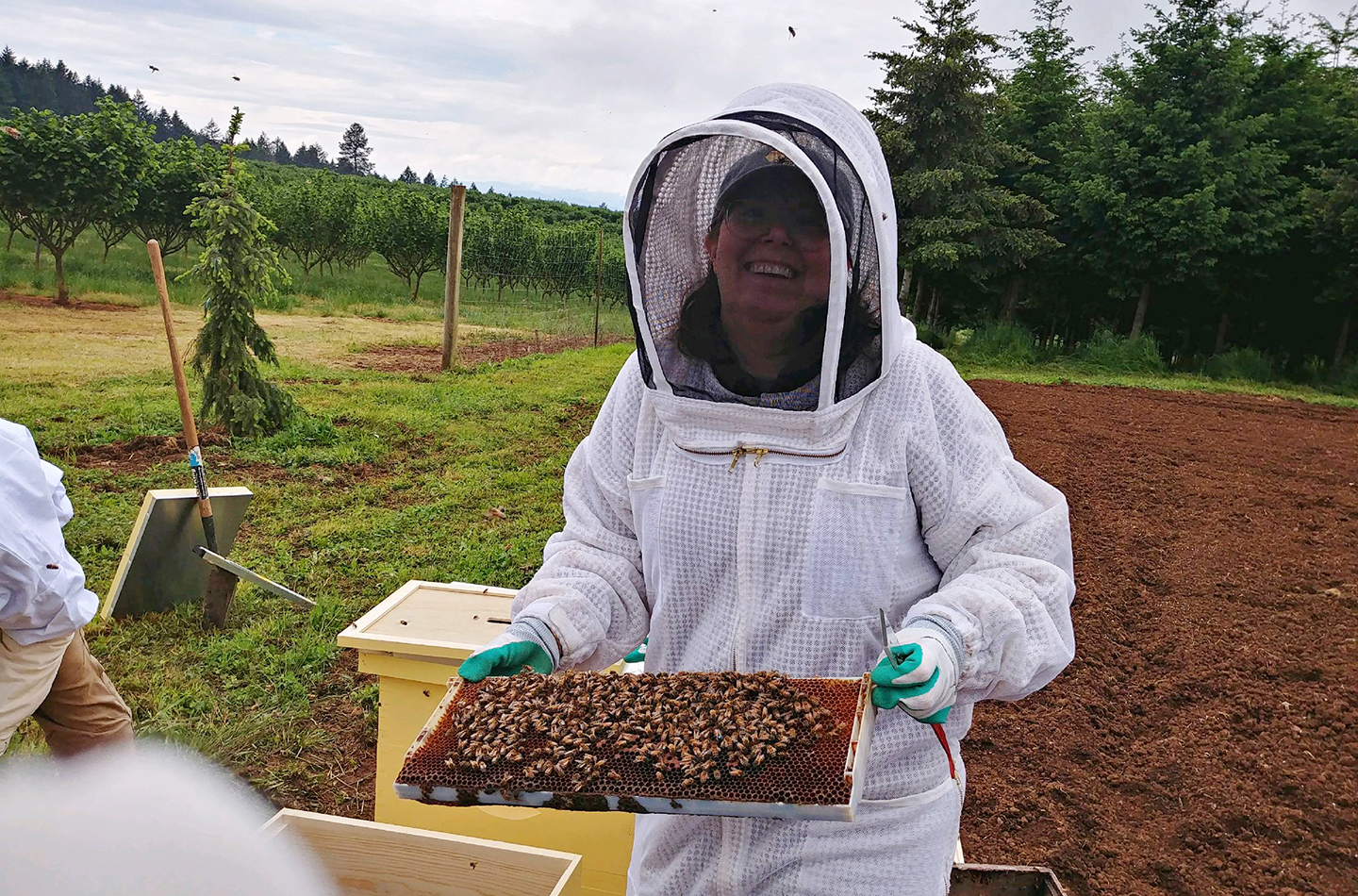 Katy Fackler, Volunteer Beekeeper 
"Learning new skills, being present in nature, and doing meaningful work are core reset and recovery tools for all of us," Katy says.
Bees bring hope and healing to Blanchet Farm thanks to master beekeeper Katy Fackler. The delivery of four handmade yellow bee boxes and hundreds of live bees has been months in the making, due to coronavirus slowing things down. The goal of the new beekeeping program is to offer the men at the farm a productive activity that will build soft job skills, self-worth, and generate extra income for the farm. Beekeeping is a relaxing hobby that is beneficial to both those in recovery and the environment. There is a large body of research that shows the benefits of beekeeping to people with mental health problems such as stress, anxiety, and depression. Some even call the pasttime "beekeeping therapy."
"I'm very glad we kept going on this project despite the pandemic. Faith in the future and for better times is the only way we are getting past this," Fackler says. "For me, [the delivery of the hives] felt like a celebration after months of planning. I am so excited to finally get to the FUN part of the project."
Read more about the new beekeeping program.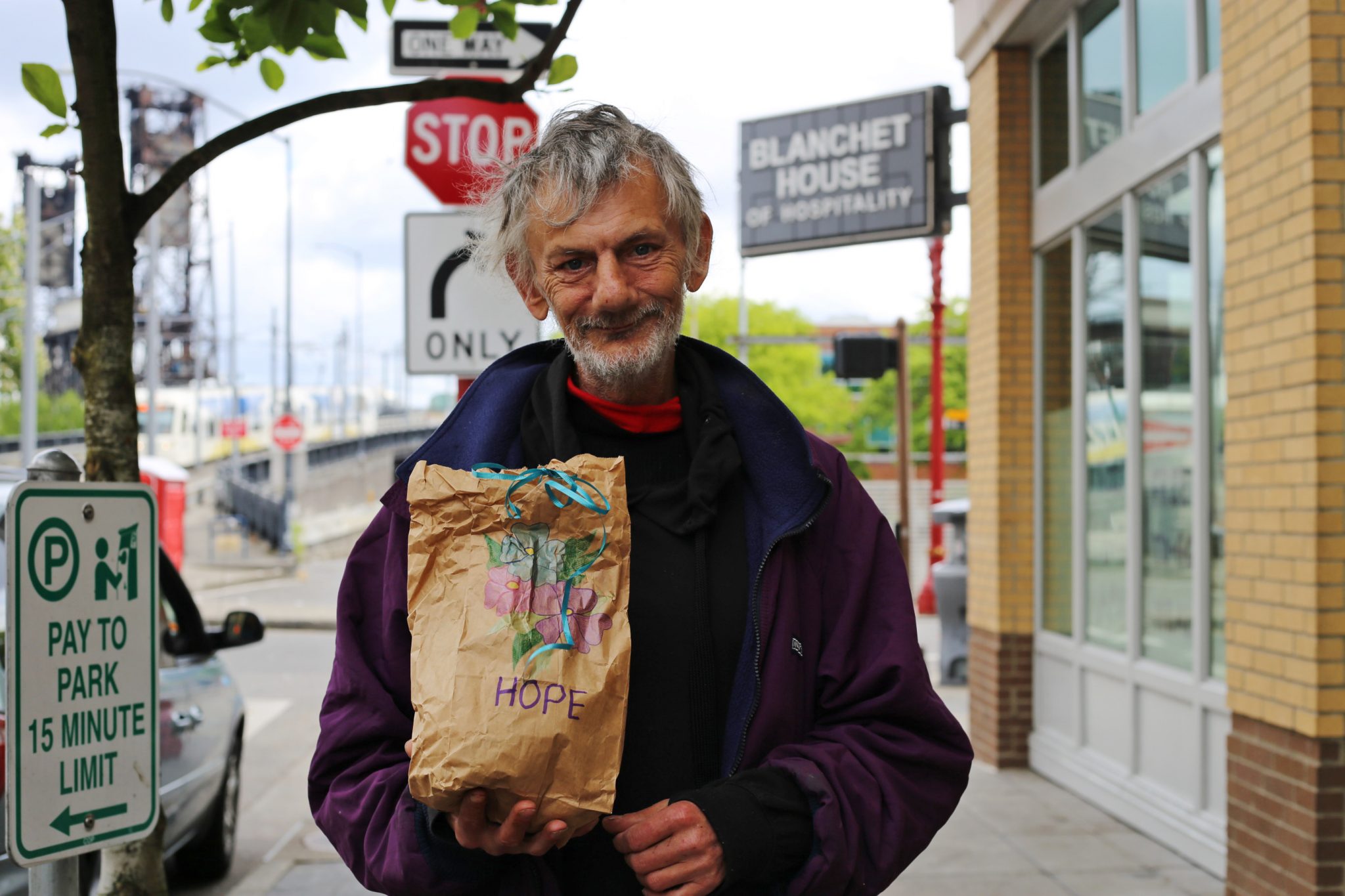 Michael "Angel," artist and meal guest
"My girlfriend and I are collecting these lunch bags with beautiful designs and sayings on them to make a collage. We love the sayings that are on the bags because they give us a ray of hope. For a child to actually go through and draw and put these sayings on these bags for people like me is amazing. They don't know is how showing one ounce of kindness is going to make someone feel.
I was once told that if you can change one person's life it's like a rippling effect. You can be one pebble in a pond sending positive ripples to affect someone's life. The more stones you throw in like these bags then sooner or later you will touch the shore of someone's life. Instead of having all the negative things in someone's life, you're giving them something positive. Thank you we love them."
Support our meal program so people like Michael will have something positive in their lives.
Rebecca and John Seibert: Peace Corps Alumni Serve the Homeless and Hungry During the COVID-19 Crisis
Rebecca Seibert and her husband Jon can be found nearly every day in the doorway of Blanchet House handing out to-go meals to people waiting in a long line stretching three city blocks. Service to others has been part of Seibert's' relationship since meeting in northern Malawi while stationed there with the Peace Corp. They are a few of the unsung heroes during this time of crisis. 
Quite suddenly last month, many organizations ceased operations because of serious health risks related to the COVID-19 (coronavirus). Seibert's regular volunteer gigs were canceled. 
"When a co-worker mentioned that Blanchet House had emailed her asking for more volunteers we were grateful for the opportunity to help," Rebbeca says. "It's been really hard to see services shut down and see people lose jobs," she says. "As we take in all this loss it's easy to feel overwhelmed by the suffering and disparity. I can't tell you how lucky we feel to go to Blanchet House and do something immediately positive. After every meal served we feel lighter and more hopeful.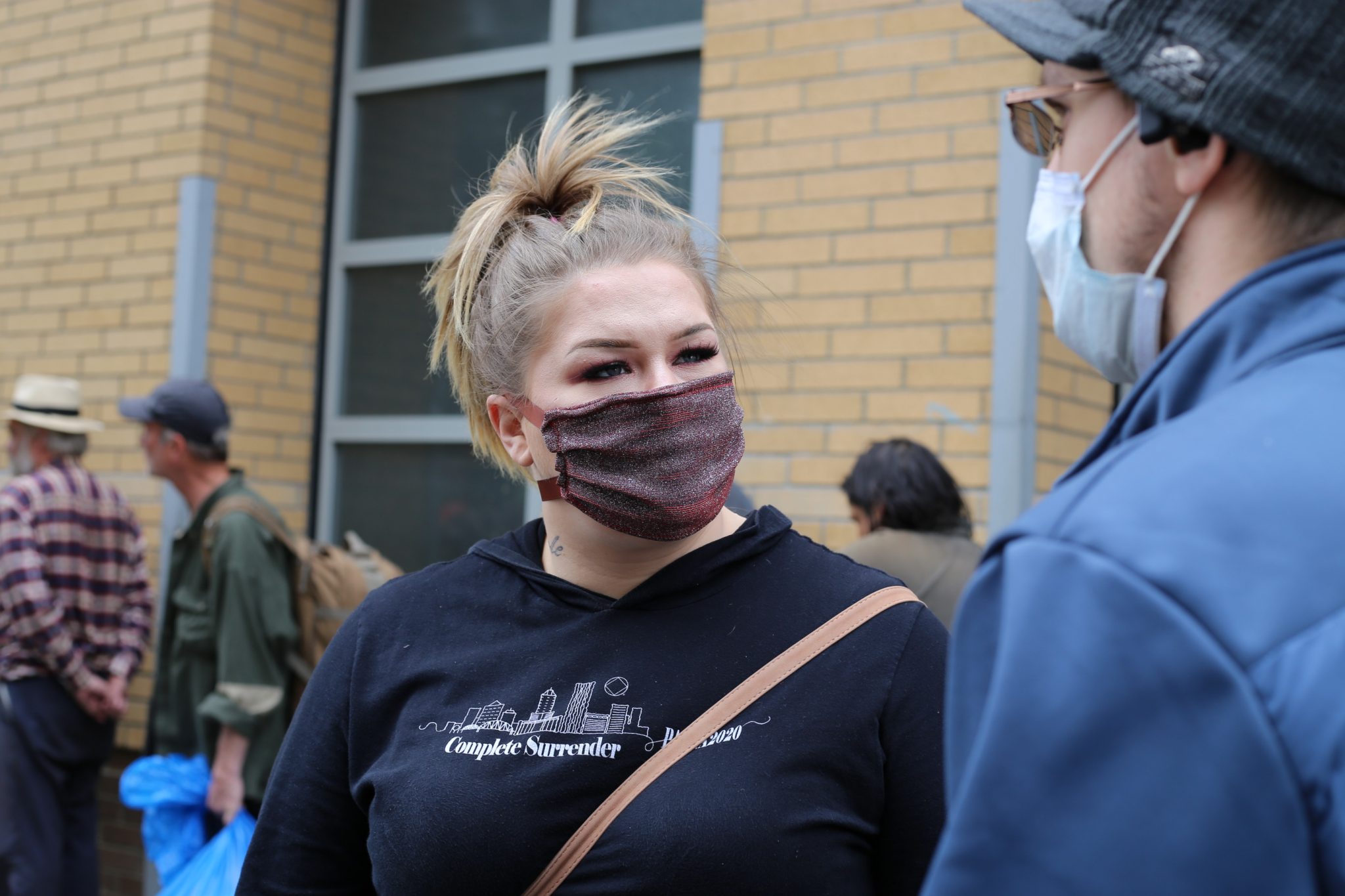 LaRae Miller, Peer Support Specialist with MHAAO
LaRae Miller specializes in helping people addictions, specifically opiate addiction, find resources and support. She spends a few days a week speaking to Blanchet House meal guests waiting in line.
"I interact with people while they wait in line for food, answer questions the best I can, and see if I can I provide resources. I really love getting out and interacting with people, just listening to the laugh, providing them with any information they might need or want.
Honestly, I love the whole experience. Most everyone waiting in line for food is very polite and wanting to engage in conversation, I absolutely love it.
These are people too. They are probably some of the nicest, most interesting people I've ever met. Remember to treat everyone with kindness."
Support our efforts to alleviate suffering.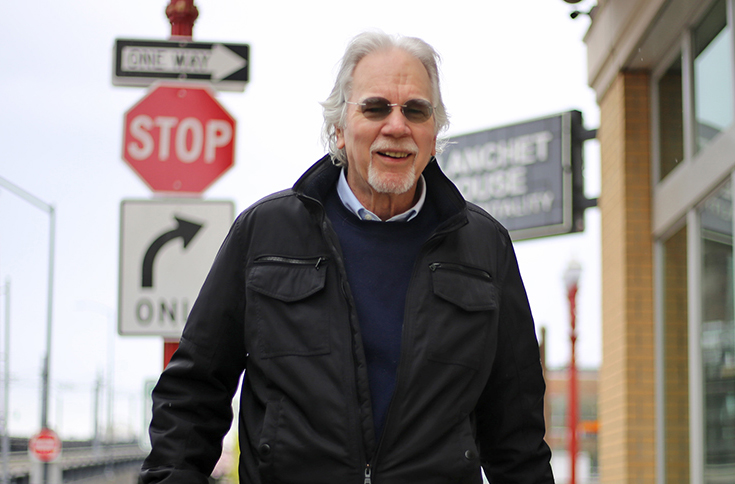 Father Gary Smith, Jesuit
Father Gary, as he's called around Blanchet House, stays onsite two nights a week to offer a listening ear to our residents building new lives. He reminds us that the purpose of our charity is to "restore visibility to the invisible." We are here to serve the "invisible people" who live on the edges of our society.
He asks himself, "What can I do. What do I have in my arsenal of human qualities that I can share with people?"
Fr. Gary's words reflect our mission to affirm the essential humanity in each person we serve. This is what we strive to do each day at Blanchet House. And our work has never been more important as people suffer greatly due to the public health and economic crisis of this pandemic.
Please join us in restoring visibility to the people we serve by supporting our work in ways that you can.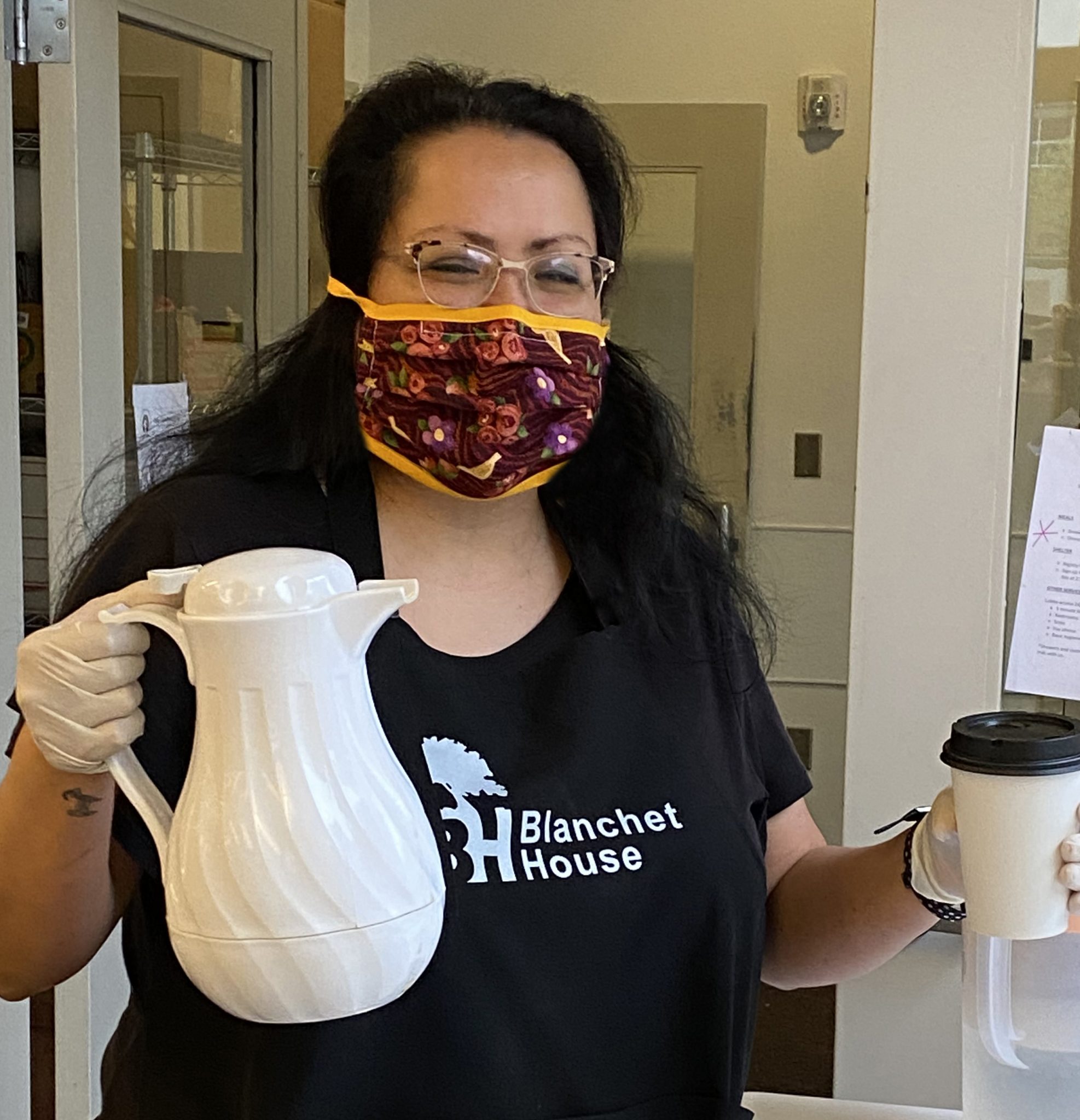 Stacee Scott, Volunteer 
"​I serve coffee and water just about every morning. When time permits, I come multiple times a day. I'm a special ed teacher although I've been on a short break. I love working with students but it can be quite taxing on the soul outside of the classroom. I look forward to returning to the classroom once schools open up again. 
​I'm concerned for the people we serve. Everything is shut down. Where are they going to get water? A warm beverage on a chilly morning, food, clean clothing, etc? I'm a big cheerleader for people who are often "set aside" or otherwise overlooked. 
​I really enjoy serving breakfast in part due to the higher need for volunteers in the morning. There are a lower number of volunteers so early in the morning but I also really like the dedicated breakfast crew that come in. I like seeing and chatting with the diners first thing in the morning. Breakfast is calmer and coffee is so important.  I came to volunteer at Blanchet House through Hands On Portland. Back then, it was a twice a month gig. I loved it so much that I signed up for all available shifts. Once the pandemic hit, I dove head first to helping out every day. 
Meal guests tell me, 'I appreciate you being here for us.' ​ 
So often it's me who feels appreciative to have the opportunity to help a large group of people that might otherwise not have many options to get a great cup of coffee. It it really good coffee!  It's an honor that I personally hold in great esteem to be able to help out our community in this way. 
​We all have the same basic needs. We all have value. People end up on the streets for a myriad of reasons but we all have something that we add to the world. There are some amazing people that I have gotten to know through the coffee line and I really look forward every morning to seeing them."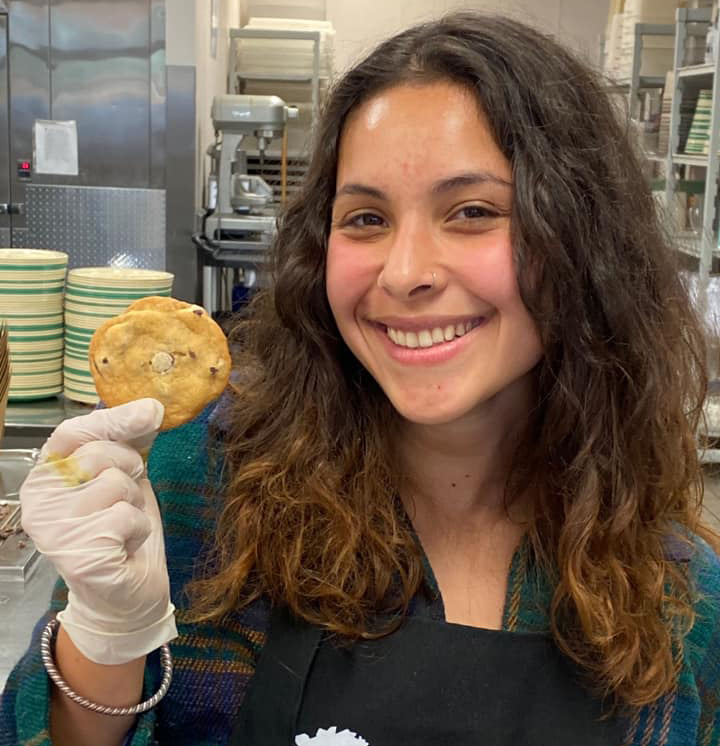 Analis Rivasplata 
"I have been volunteering for the dinner shift every day that Blanchet is open, because I love spending time getting to know the residents. I have a temporary job planting trees on a farm, and I love ending my days with the dinner shift at Blanchet House because of the endless stories I get to come home with afterward. Some nights I go running with some of the guys who live at Blanchet House and we push one another to go further and faster as often as we can. Other nights, it's a matter of rolling silverware with Tony, who always has a sweet tooth, and a few words of wisdom for me. There are so many stories I gain from passing out milk or meals to the folks who come up to the doors, but I think my current favorite is the person a few nights ago who came through the line to get milk several times.
The first time around he thanked us, the second time around he blessed us, and the third time he came back he said, 'Man, you know they talk about the land of milk and honey, but this? This is it.' 
It was a pretty beautiful moment for me, because I realized he was right. In a time when so many people are afraid to leave their homes, those without housing, food, water, or proper protection from the virus are just grateful for a glass of milk and another day to be alive. And that is what keeps me coming back.
Every person I've met through this organization has taught me something new and beautiful about the world. From Connor who works hard every day to make sure that everyone in line gets what they need and still makes time to talk to his kid on the phone every morning, to Mike, the man who always comes to get milk from us with a grin and an extra enthusiastic thank you. When I'm there, serving dinner in the land of milk and honey, the pandemic is just a side thought. I don't feel the need to worry so much about it because Blanchet is my medicine. It's my reminder that there doesn't have to be so much fear, death, oppression, and sadness. My reminder that even when things feel dark and desolate, life persists."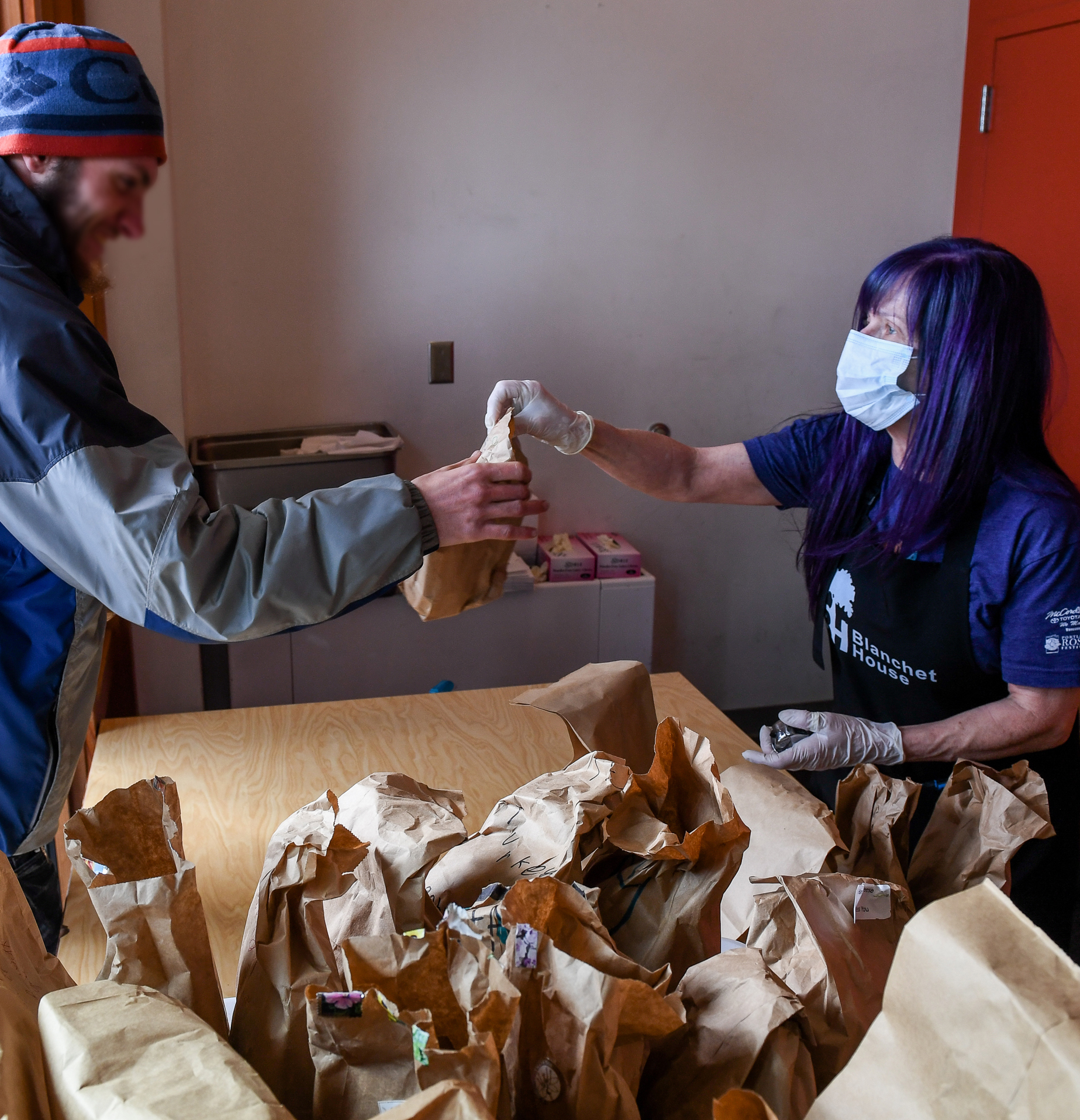 Josi Whitney
"I'm a self-employed hairstylist so my business has been shut down.
I've been volunteering at Blanchet House since the beginning of the cafe closure [due to the governor's stay-home order] on March 17th. I received an email that the Blanchet House needed help, and since my regular volunteering in Vancouver has been canceled, I was available! I usually volunteer for lunch.
My favorite quote from a meal guest is, 'Last night we were all talking about how much we appreciated everything all of you do for all of us. It means the world to us, thank you.'
The people served here are very grateful, especially now. We are definitely seeing a lot of new faces. I feel fortunate to be part of such a wonderful place and group of people to work with, I truly look forward to being there."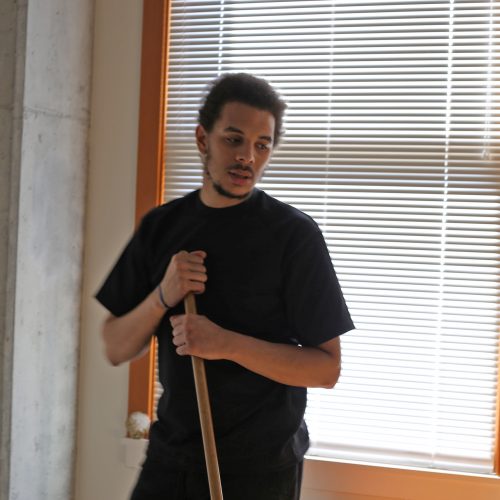 Christian G., former residential guest 
"You can end up in a bad position pretty fast.
"I was living in a tent in Gresham. Sometimes, when I was hungry, I stole food from stores. I got caught a few times.
One time a cop had me in handcuffs and asked me why I was stealing. I had no record so he was confused. I said I was hungry.
He said, 'Why don't you go to Blanchet House?" I had never heard of it. So, I went to eat there and found out that they have housing programs too. I've been living here for 8 months. After working for three months in the Blanchet kitchen I was able to get a full-time job washing dishes at a restaurant."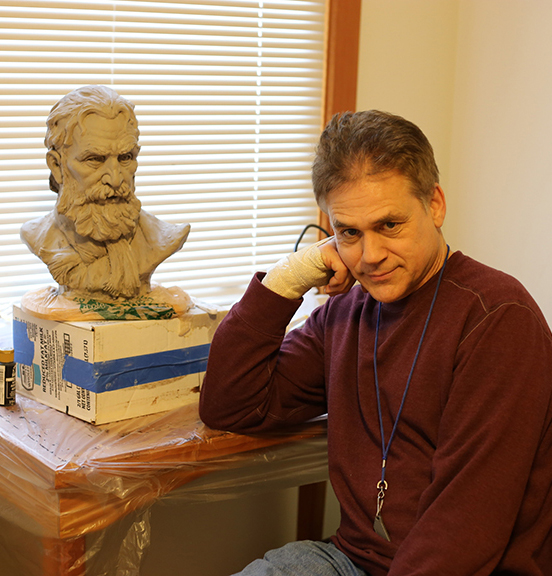 Richard Lithgow, artist and resident
From a closet he converted into a studio in his small 400-square foot room at Blanchet House, which he shares with one other man, Richard has been creating collections of paintings that he hopes to start selling in galleries. He first began painting when he was a junior in high school in Long Island. Also a talented wrestler, he won a scholarship to Cornell University. But after one semester, he decided to quit in order to teach himself how to paint.
"I wanted to live in the country and send my paintings to the galleries," he says.
For three years he lived in New York City, successfully selling his art at outdoor shows around the state. But drinking began to make painting and paying rent difficult. He was around the age of 23 when he began drinking.
Carmen G, meal guest
As a House of Hospitality we want everyone who enters our doors to feel welcomed. Our meal guests, like Carmen G., share in creating an atmosphere of peace and enjoyment. Carmen, who frequents our cafe, is beloved by staff and guests for her sweet disposition.
"I like the people here. It's kind of like going to a really fancy hotel for a meal," she said one evening. "It makes me feel good. It makes me feel like Blanchet cares more."
Carmen is currently homeless and often sleeps on the bus or MAX at night to stay safe and warm. After suffering a stroke as a child she was left with a disability that keeps her from being able to work. She is looking for housing but her income is restrictive. "I want to find something that is long term but it's tricky," she said.
Support our meal program. $10 will pay for 30 plates of food. >>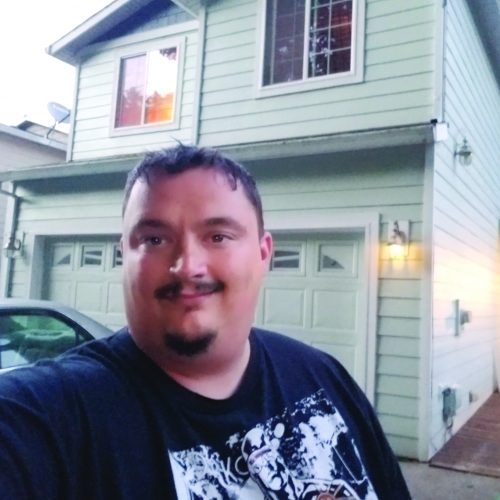 Shanon, former residential guest 
A life lived in foster care left Shanon with no family support upon turning 18. He sank into alcoholism and eventually homelessness.
A friend living on the street told him about a mysterious place in Portland where men were given free room, food and a chance to rebuild their life.
Shanon made his way to Blanchet House where he lived and work for the past year. At Blanchet House, Shanon was able to pursue a certificate in database management, earn a full-time job and work at sobriety.
We will miss Shanon's gentle, smiling face around the House but are so happy for his success!
Curtiss, cafe supervisor and resident
"I get a lot of satisfaction out of what I'm doing here," says Curtiss.  "I do more than what is asked of me. I can relate to the other men working on sobriety. I can be an example and learn from them. I know there are a lot of different personalities and work ethics. I don't put people down when they're not doing a great job. I work with them. That makes me feel good."
Curtiss supervises our Founders Cafe which includes greeting all meal guests, running sandwiches out to people who missed our meal service, managing a staff of fellow residents and being a positive role model to all.
For the future, Curtiss hopes to get a job where he can continue to serve this population. But for now, he says, "I feel I'm doing what God's put me here to do. I was led here to help others."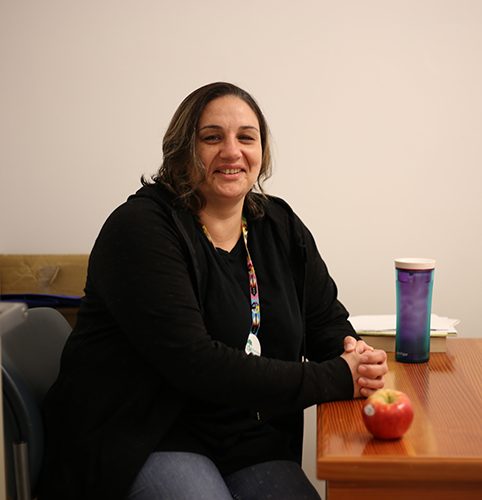 Jessica Carroll, Project Coordinator at MHAO
"Here I am providing service at a place where I once received service."
It was the early 90s. Jessica had a mohawk, a methamphetamine addiction, and most nights slept under the SW Clay St. overpass. 17-years-old, homeless and hungry she would often eat at the Blanchet House.
"Blanchet was a place I could always go to eat."
Things are very different now. She is a graduate of Portland State University's McNair Scholar program and now studies at Lewis & Clark College, completing her master's degree in Professional Mental Health Counseling with a focus on addictions. She now volunteers to counsel men at Blanchet House.
Read more here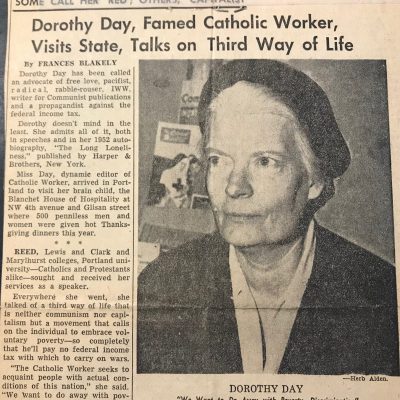 Who: Dorothy Day
From: New York City
Age: 1897-1980
Occupation: Journalist, Catholic Activist
"We want to do away with poverty and discrimination."
Dorothy Day is one of the architects of Houses of Hospitality and the Catholic Worker movement. She practiced and preached radical charity. Day came to Portland in 1963 to visit her "brainchild" Blanchet House of Hospitality to meet the young founders she inspired.
A house of hospitality provides food, shelter, and clothing to those who need it. Originally part of the Catholic Worker Movement, houses of hospitality has been run by other organizations, including organizations that are not Catholic or Christian. Founded on principals of Christian anarchism, the houses provide hospitality without charge and without requiring religious practice or attendance at services.[
In explaining her decision to live among and serve the poor, Day said, "By fighting for better conditions…for the rights of workers, the poor, the destitute…we can, to a certain extent, change the world; we can work for the oasis, the little cell of joy and peace in a harried world. We can throw our pebble in the pond and be confident that its ever-widening circle will reach around the world."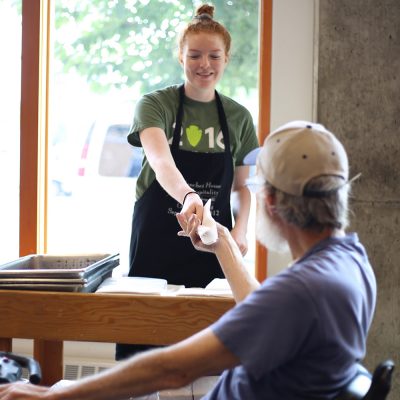 Emily Reiling, Development and Community Engagement Coordinator
Until a month ago, I had never been to the Northwest. It called to me as a distant concept—the mountains and coast, the coffee culture and music scene, the quirkiness and earthiness (even before I knew I was moving to Portland, my ideas of the region were decidedly Portland-centric). It offered such a distinct contrast to the places I have called home for the past 22 years, a change of pace and mind.
By the time senior year of college rolled around, I had long decided that I wanted to commit my first postgraduate year to service. Working with marginalized populations suffering from systemic injustices and inequities could have taken many different forms in different places, but for me, it meant serving people experiencing hunger and homelessness. It meant remaining in the United States with care to neither impose upon nor burden a community I intended to aid.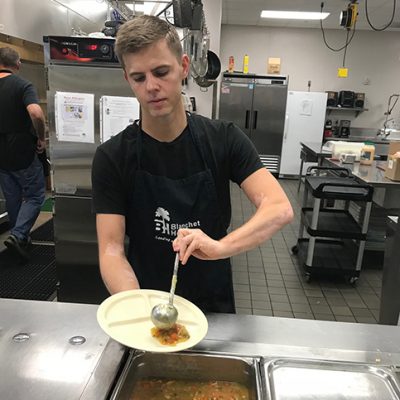 Janus Hoem, volunteer
"I'm visiting from Copenhagen because I met a beautiful woman from Portland.
I actually didn't have an intention to volunteer at Blanchet House. But after having stayed in Portland for a while and witnessing the homelessness situation downtown, I felt like volunteering would be a good way to put to use some extra time I had on my hands.
Coming here, I actually didn't have an intention to volunteer at Blanchet House. But after having stayed in Portland for a while and witnessing the homelessness situation downtown, I felt like volunteering would be a good way to put to use some extra time I had on my hands.
I think Blanchet House is a really extraordinary place. The program directly involves people from the streets – some of them former meal guests from Blanchet House itself. It is a major stepping stone for those who are brought in to the program to live and work.