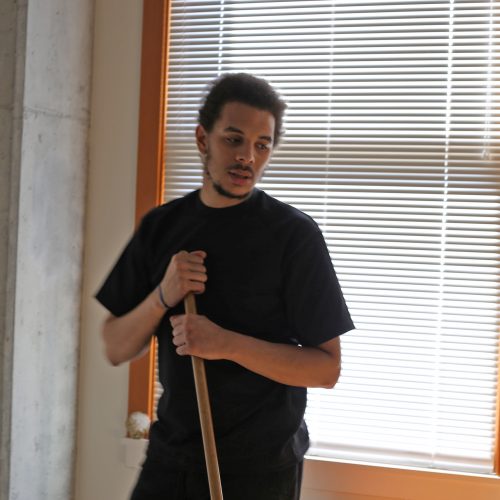 Christian G., former residential guest 
"You can end up in a bad position pretty fast.
"I was living in a tent in Gresham. Sometimes, when I was hungry, I stole food from stores. I got caught a few times.
One time a cop had me in handcuffs and asked me why I was stealing. I had no record so he was confused. I said I was hungry.
He said, 'Why don't you go to Blanchet House?" I had never heard of it. So, I went to eat there and found out that they have housing programs too. I've been living here for 8 months. After working for three months in the Blanchet kitchen I was able to get a full-time job washing dishes at a restaurant."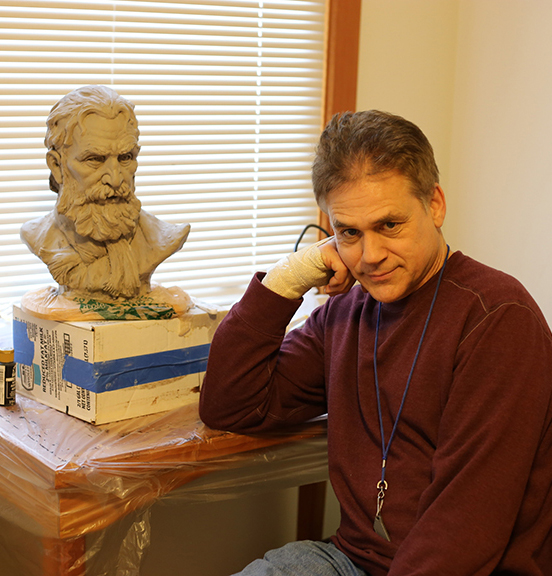 Richard Lithgow, artist and resident
From a closet he converted into a studio in his small 400-square foot room at Blanchet House, which he shares with one other man, Richard has been creating collections of paintings that he hopes to start selling in galleries. He first began painting when he was a junior in high school in Long Island. Also a talented wrestler, he won a scholarship to Cornell University. But after one semester, he decided to quit in order to teach himself how to paint.
"I wanted to live in the country and send my paintings to the galleries," he says.
For three years he lived in New York City, successfully selling his art at outdoor shows around the state. But drinking began to make painting and paying rent difficult. He was around the age of 23 when he began drinking.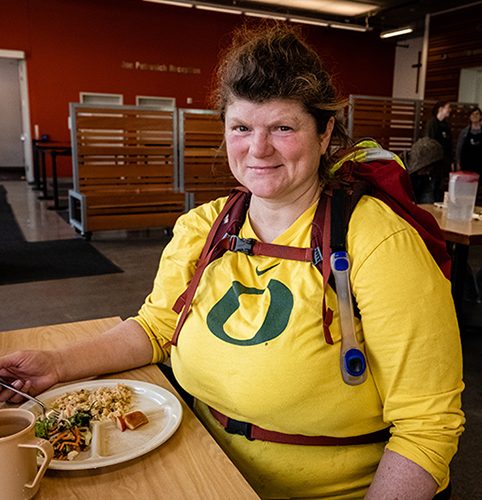 Carmen G, meal guest
As a House of Hospitality we want everyone who enters our doors to feel welcomed. Our meal guests, like Carmen G., share in creating an atmosphere of peace and enjoyment. Carmen, who frequents our cafe, is beloved by staff and guests for her sweet disposition.
"I like the people here. It's kind of like going to a really fancy hotel for a meal," she said one evening. "It makes me feel good. It makes me feel like Blanchet cares more."
Carmen is currently homeless and often sleeps on the bus or MAX at night to stay safe and warm. After suffering a stroke as a child she was left with a disability that keeps her from being able to work. She is looking for housing but her income is restrictive. "I want to find something that is long term but it's tricky," she said.
Support our meal program. $10 will pay for 30 plates of food. >>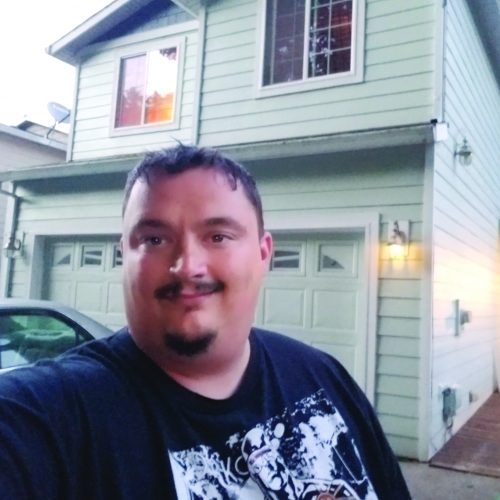 Shanon, former residential guest 
A life lived in foster care left Shanon with no family support upon turning 18. He sank into alcoholism and eventually homelessness.
A friend living on the street told him about a mysterious place in Portland where men were given free room, food and a chance to rebuild their life.
Shanon made his way to Blanchet House where he lived and work for the past year. At Blanchet House, Shanon was able to pursue a certificate in database management, earn a full-time job and work at sobriety.
We will miss Shanon's gentle, smiling face around the House but are so happy for his success!
Curtiss, cafe supervisor and resident
"I get a lot of satisfaction out of what I'm doing here," says Curtiss.  "I do more than what is asked of me. I can relate to the other men working on sobriety. I can be an example and learn from them. I know there are a lot of different personalities and work ethics. I don't put people down when they're not doing a great job. I work with them. That makes me feel good."
Curtiss supervises our Founders Cafe which includes greeting all meal guests, running sandwiches out to people who missed our meal service, managing a staff of fellow residents and being a positive role model to all.
For the future, Curtiss hopes to get a job where he can continue to serve this population. But for now, he says, "I feel I'm doing what God's put me here to do. I was led here to help others."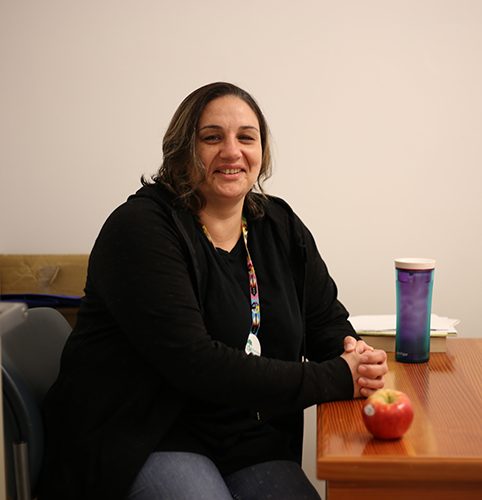 Jessica Carroll, Project Coordinator at MHAO
"Here I am providing service at a place where I once received service."
It was the early 90s. Jessica had a mohawk, a methamphetamine addiction, and most nights slept under the SW Clay St. overpass. 17-years-old, homeless and hungry she would often eat at the Blanchet House.
"Blanchet was a place I could always go to eat."
Things are very different now. She is a graduate of Portland State University's McNair Scholar program and now studies at Lewis & Clark College, completing her master's degree in Professional Mental Health Counseling with a focus on addictions. She now volunteers to counsel men at Blanchet House.
Read more here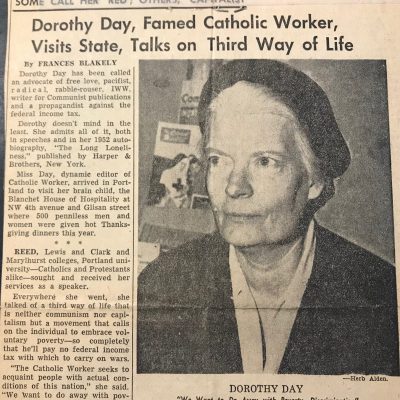 Who: Dorothy Day
From: New York City
Age: 1897-1980
Occupation: Journalist, Catholic Activist
"We want to do away with poverty and discrimination."
Dorothy Day is one of the architects of Houses of Hospitality and the Catholic Worker movement. She practiced and preached radical charity. Day came to Portland in 1963 to visit her "brainchild" Blanchet House of Hospitality to meet the young founders she inspired.
A house of hospitality provides food, shelter, and clothing to those who need it. Originally part of the Catholic Worker Movement, houses of hospitality has been run by other organizations, including organizations that are not Catholic or Christian. Founded on principals of Christian anarchism, the houses provide hospitality without charge and without requiring religious practice or attendance at services.[
In explaining her decision to live among and serve the poor, Day said, "By fighting for better conditions…for the rights of workers, the poor, the destitute…we can, to a certain extent, change the world; we can work for the oasis, the little cell of joy and peace in a harried world. We can throw our pebble in the pond and be confident that its ever-widening circle will reach around the world."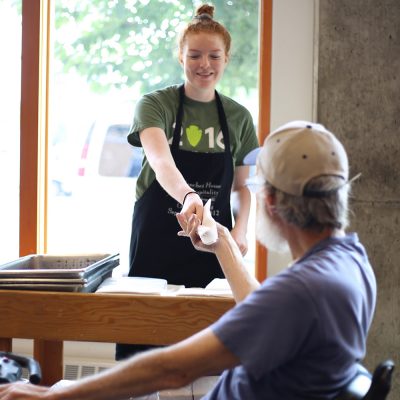 Emily Reiling, Development and Community Engagement Coordinator
Until a month ago, I had never been to the Northwest. It called to me as a distant concept—the mountains and coast, the coffee culture and music scene, the quirkiness and earthiness (even before I knew I was moving to Portland, my ideas of the region were decidedly Portland-centric). It offered such a distinct contrast to the places I have called home for the past 22 years, a change of pace and mind.
By the time senior year of college rolled around, I had long decided that I wanted to commit my first postgraduate year to service. Working with marginalized populations suffering from systemic injustices and inequities could have taken many different forms in different places, but for me, it meant serving people experiencing hunger and homelessness. It meant remaining in the United States with care to neither impose upon nor burden a community I intended to aid.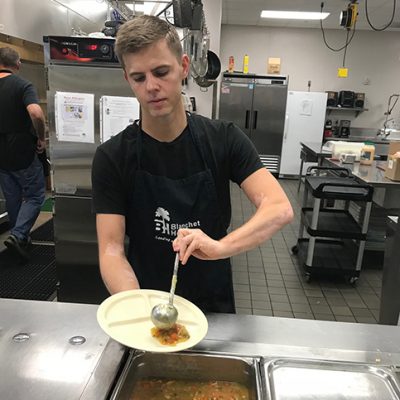 Janus Hoem, volunteer
"I'm visiting from Copenhagen because I met a beautiful woman from Portland.
I actually didn't have an intention to volunteer at Blanchet House. But after having stayed in Portland for a while and witnessing the homelessness situation downtown, I felt like volunteering would be a good way to put to use some extra time I had on my hands.
Coming here, I actually didn't have an intention to volunteer at Blanchet House. But after having stayed in Portland for a while and witnessing the homelessness situation downtown, I felt like volunteering would be a good way to put to use some extra time I had on my hands.
I think Blanchet House is a really extraordinary place. The program directly involves people from the streets – some of them former meal guests from Blanchet House itself. It is a major stepping stone for those who are brought in to the program to live and work.