We are open for all meals! 
Blanchet House volunteers and staff continue to follow all health department recommendations for wearing masks, social distancing, and monitoring our health for COVID-related symptoms.
Volunteer Safety Protocols
Updated 08/19/21
COVID vaccinations are required to volunteer on-site at Blanchet House.
As a recognized critical services provider with hundreds of people depending on our aid, Blanchet House of Hospitality continues to provide food, clothing, and shelter during the COVID pandemic. With health and safety of utmost importance to our organization, we require everyone onsite to follow CDC guidelines to lessen the spread of the virus and its variants.
We are grateful for any volunteer support that you can lend to our mission during this time.  All volunteers must follow our COVID-19 protocols.
Clothing and In-Kind Donors
We will continue to accept donations including
clothing
,
sack lunches,
and 
care kits

.
 Please keep your donation in your trunk or car then knock on the door on the 310 Glisan St. entrance to let us know you are here. Once we have acknowledged you, return to your car so we can retrieve your donation in a contact-less manner.
Food Donors
Unfortunately, many restaurants and businesses needed to close due to restrictions. We can collect or receive unexpired food or other supplies that will help us continue to provide meals to our houseless and food insecure guests. Please email  info@blanchethouse.org to let us know. More information on our food rescue page.
Thank you for your passionate support for the people we serve. We wish you and yours the best of health and friendship.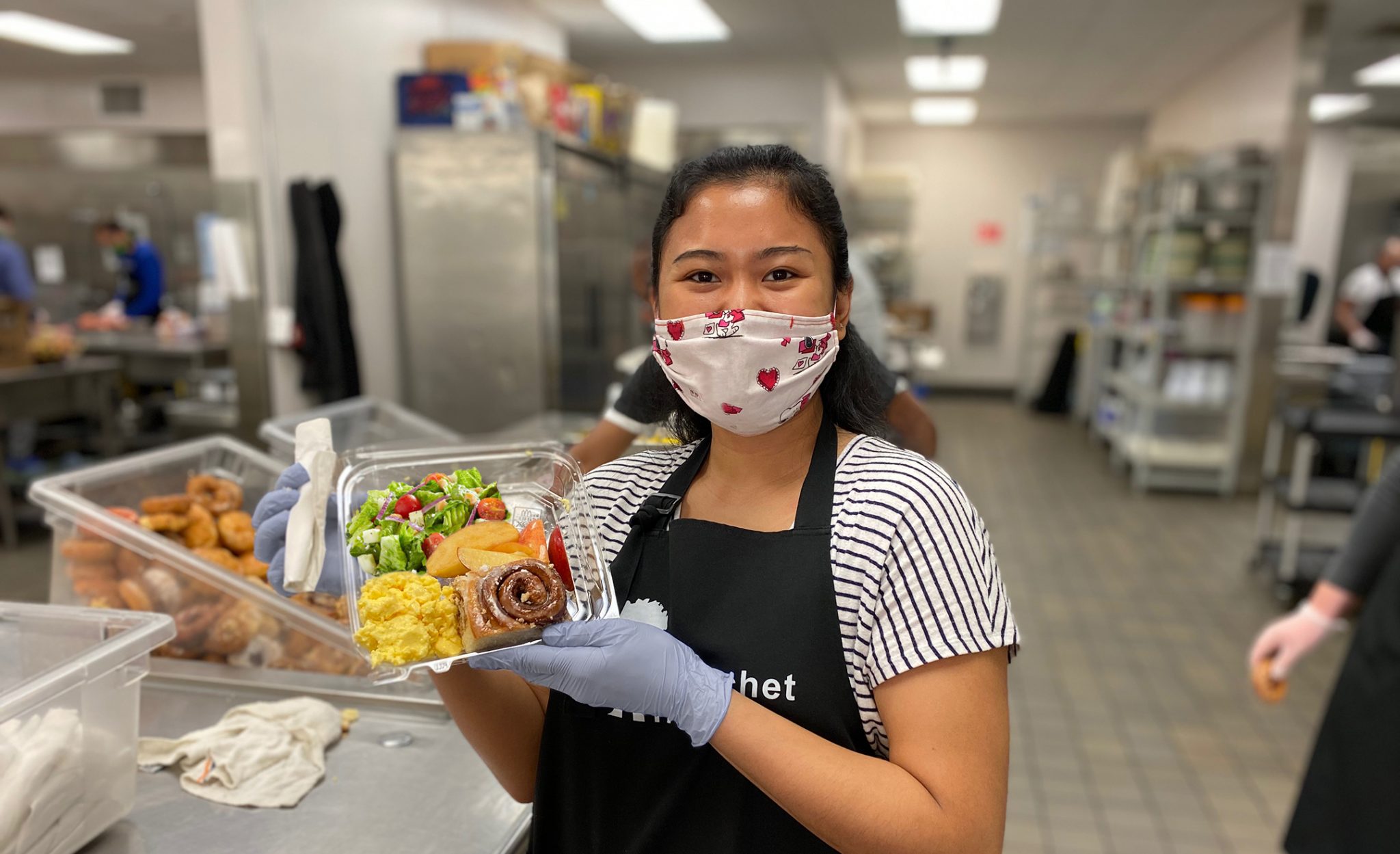 Blanchet House continues to meet the needs of the city's most vulnerable residents during the COVID-19 pandemic
Blanchet House volunteers and staff have developed an innovative takeaway meal service that ensures everyone in need of a meal can receive one safely and quickly during the COVID-19 pandemic.
We still prepare and serve hot meals three times a day, six days a week. However, serving to-go style during COVID-19 presents a whole host of challenges. It's a miracle of hard work, ingenuity, and selfless commitment by volunteers to serve those suffering that we are able to meet the increased need for our services. We served a record 2,000 meals a day in 2020.
Health & Safety Protocols
We are taking every precaution possible to continue our services while keeping everyone safe and healthy. All volunteers and staff members must be vaccinated, wear masks and gloves to protect themselves and others. Anyone exhibiting symptoms of illness must stay home or in their room if living in the residence. A mental health and drug counselor speaks to people in our meal lines to answer questions about the pandemic and encourage guests to stay six feet apart.
Protocols include activities to:
prevent and reduce transmission among volunteers, staff, residents, and guests,
and maintain a healthy work environment following CDC guidelines.
We can use your help to continue our essential services during this difficult time in the following ways:
Help us to prepare and serve meals onsite. Volunteer Safety Protocols
The economic crisis caused by the COVID-19 pandemic increased our budget dramatically. There is now the added expense of buying to-go containers, paying overtime costs, hiring temporary staff, and purchasing more food for the growing line of guests. Every dollar helps alleviate suffering and funds our programs. Give here.
Make Care Kits, Sack Lunches, or Donate Clothing
You can help support our efforts from home.