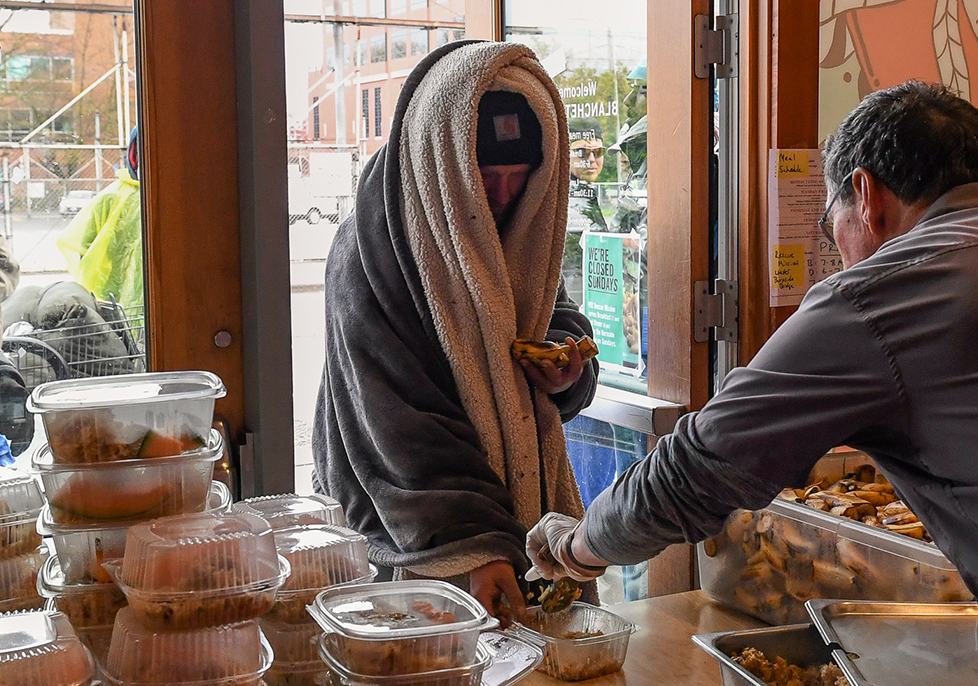 2,000 To-Go Meals Served Daily During COVID-19 Pandemic
Here at Blanchet House of Hospitality we welcome anyone in need of a meal to come in and be served as a guest in our café. More than a meal, our staff and volunteers offer a respite from the rain and cold, a place to sit and feel human again.
On March 16, 2020, for the first time in our history, we ceased to serve meals indoors. Oregon Gov. Kate Brown ordered all indoor meal services to stop. In less than 24 hours we pivoted and began serving to-go meals and drinks out our doors. It's really a miracle of hard work, ingenuity and selfless volunteers' commitment to serve those suffering that we continue today.
During this time many volunteers and staff were forced to stay home because of serious health risks related to the COVID-19 (coronavirus) pandemic. As people's ability to volunteer decreased the need for our free meals escalated. New and old volunteers answered our desperate calls for help. On March 31, we handed out 2,052 bagged or boxed meals—a 50% increase from 2019. A record number of meals served since Blanchet House's opening in 1952.
"If not us, then who?" asks our executive director Scott Kerman. "We will not abandon those depending on us for food and clothing. There are so many new faces in line. I'm seeing more women and young people than ever before."
We are taking every precaution possible to continue are essential meal service while keeping everyone safe and healthy. Volunteers wear masks and gloves to protect themselves and others. A mental health and drug counselor speaks to people in line, answering their questions about the pandemic and encouraging guests to keep six feet apart. It's very difficult for some to comprehend why Blanchet can no longer serve meals indoors. There have been a few dangerous and difficult encounters in the line recently. People are suffering and tensions are high.
In only a few weeks, the economic crisis caused by the COVID-19 pandemic increased our budget dramatically. There is now the added expense of buying to-go containers, paying overtime costs, hiring temporary staff, and purchasing more food for the growing line of guests. We need your support in the way that works for you. Learn more at www.BlanchetHouse.org/Get-Involved.
We need your help to continue feeding people.
1.     Volunteer Help pack to-go meals and serve them from our doors. Email us at volunteer@blanchethouse.org if you want to help.
2.     Donate Money The added expense of to-go containers and the need to purchase large quantities of food is straining our capacity to help. Every dollar helps alleviate suffering.
3.     All the ways to Get Involved.
4.    Collect Clothing We need warm adult-sized clothes to give to our meal guests. Shop our Amazon wish list.
Hand Sanitizer Drive!
Our homeless meal guests are unable to wash their hands at will. Please drop off or mail individual use, small pump or to-go wipes (60% alcohol or more) to Blanchet House at 310 NW Glisan. We ideally need individual sizes to hand out to our meal guests.
You can also donate to help offset the cost to our organization.