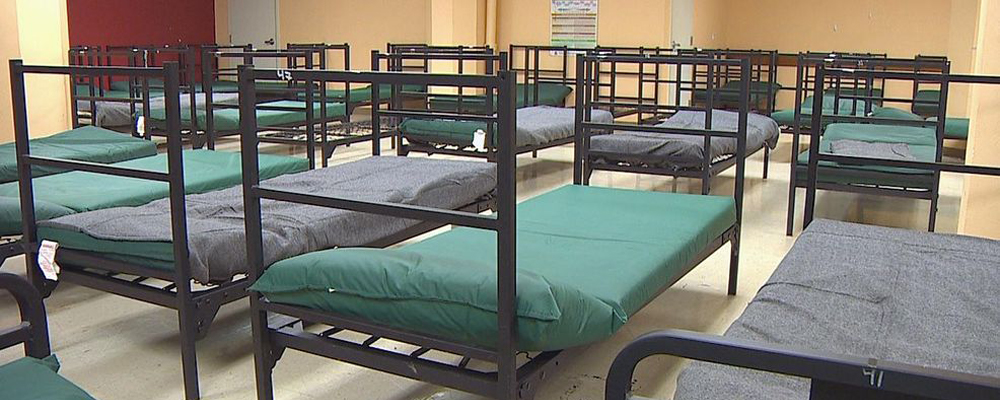 Homeless Shelters in Portland
With winter comes colder weather and increased exposure to the elements, which are life-threatening conditions to someone experiencing homelessness. Here's information on where people can find shelter.
Winter Shelters
Winter shelters are open 24/7 late fall to early spring. Individuals must make a reservation for a shelter bed by calling 211.
Winter Weather Shelters:
Arbor Lodge – at North Lombard Street and Denver Avenue
Greyhound Station – 550 NW 6th Ave.
Janus Youth – 1635 SW Alder Street
Walnut Park – 5411 NE Martin Luther King Jr. Blvd.
Severe Weather Shelters
Severe weather shelters are open day by day as conditions dictate. On nights when severe weather is declared the beds will be walkup, and no-turn-away. Transportation to the shelters will also be provided.
Severe Weather Shelters:
East Portland Community Center – 740 SE 106th Ave.
Imago Dei Church – 1302 SE Ankeny St.
Mt. Scott Community Center – 5530 SE 72nd Ave.
Portland Building – 740 SE 106th Ave.
Salvation Army Moore Street – 5325 N. Williams Ave.
Sunrise Center – 18901 E Burnside St
Multnomah County together with the City of Portland will open additional shelters across the county as the need dictates to meet its no-turn-away commitment.
Winter & Severe Weather Shelter FAQs
Can people stay for an extended period of time or do they need to sign up each night? All year-round and all-winter shelters let individuals have a space until it is no longer needed. No one will have to sign up night or night to hope they get in. Severe weather shelters are a bit different, in that they open day by day as conditions dictate.
Can people stay during the day or must they leave in the morning? During the winter, all of our year-round and all-winter shelters are open 24/7. No one should have to line up at night to come back in, nor will they have to leave in the morning if they would not like to.
Can people seeking shelter bring their belongings and pets? Pets and personal belongings are very welcome at the shelters.
Do people have to be sober to stay at a shelter? Except for a few legacy shelters, people who need shelter do not have to be sober or be part of a particular program to stay.
Are there spots available for couples? Yes, there are spots for couples throughout the shelter system.
Information about Multnomah County's winter and severe weather shelters was provided by Denis Theriault, Communications Coordinator, Multnomah County, A Home for Everyone, and Joint Office of Homeless Services.
Multnomah County Shelters
Multnomah County provides shelter to individuals experiencing homelessness in Portland. All year-round homeless shelters are referral/reservation-based.
To access shelters, folks can:
Visit Transition Projects' Day Center aka Bud Clark at 650 NW Irving or call 503-280-4700
Call Do Good Multnomah at 503-490-0285 or 503-358-0519
Contact a C3PO site:

BIPOC Village at 971-380-7594
Queer Affinity Village at 971-380-7592
Old Town Village at 971-380-7596

Call 211 or go to 211info.org to get connected to a referral
Private Shelters
In addition to the county shelters, there are private homeless shelters located throughout Portland. The majority of them require individuals to stand in line, register or get a referral.
More shelter options:
Bybee Lake Hope Center – 971-333-5070
Portland Rescue Mission – 111 W Burnside St., 503-906-7690 (men only)
Salvation Army Safe Harbor Program – 30 SW Second Ave, 503-227-0810 (women only)
Information about additional shelters and other services in Portland can be found at streetroots.org.