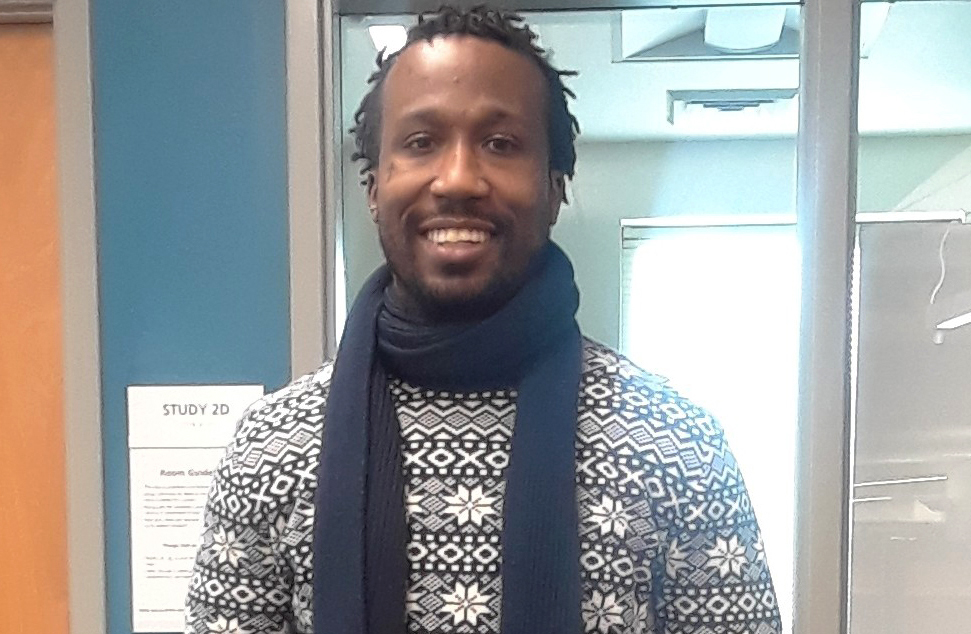 From Homeless to Helping Others Build New Lives
Kenneth Prescott Jr. arrived in Portland with nowhere to stay but determined to make a new life for himself. He was able to put the pieces together while living at Blanchet House.
By Julie Showers
Kenneth Prescott Jr, 32, an Overnight Peer Support Specialist at Blanchet House in downtown Portland.
What's your role at Blanchet House?
I think it's really special because I used to stay at Blanchet House. I know how to assert myself but give people the space that they need. I'm a good listener. I get a chance to really form relationships with a lot of different people. I had to ask someone to lead me in a direction to get on the right path and if I can do that for other people then that's great. Times can be difficult. To be that extra person to help. It's really just networking. 
How did you first learn of Blanchet House?
In 2017, I had come from Los Angeles. I wanted to do something different. I wanted to go somewhere I'd never been. I didn't come with money. I was homeless at the time. I was getting high and drinking. Those were my priorities. A lot of people won't say that their problems are drugs and alcohol. If you didn't spend money on drugs every day you would have that money. You would be in a position to allocate your money in a different place. I believe I was just walking downtown near Union Station. I saw a bunch of people standing outside Blanchet House and asked what was going on there. I got in line. I started eating there. I eventually asked if I could speak with the housing manager. They gave me an interview. Blanchet really helped me. I honestly didn't have a place to sleep. Some nights I would go to the Rescue Mission and sign up at 5 pm but then you have to leave in the morning. I'd get up and go to work. I worked for People Ready and if you sign up they will pay you the same day. I'd save up a couple hundred here. On days without work, I'd just be walking around. 
What was it like living at Blanchet House?
It gave me an opportunity to really get my life together. I was able to remain sober for the 10 months I lived there and I was able to save up money. I also learned how to eat. I honestly didn't know about eating three meals a day. It wasn't part of my life. I was the kind of person who just ate chips until I felt full. Smoking marijuana, drinking alcohol, eating junk food, I wasn't eating consistent meals. 
Are you in recovery?
I am in recovery. You gotta make the decision to stop. You gotta want to stop. I know there were times I didn't want to stop. There were times that I would say I'm not going to use today and I would still use. I was telling myself that there was something wrong with me that I told myself that I wasn't going to use and then I would. I kept telling myself not to use. You need to be sincere about stopping.
How did you become a Certified Peer Support Specialist?
I graduated from Portland Community College in 2020 and started searching for jobs. I wanted to build a career. I went through the Evolve Peer Support training at the Mental Health and Addiction Association of Oregon (MHAAO). They help you learn what you need to learn.
What advice do you give to someone struggling to stay sober?
Change your location is number one. I tell that to everybody. I think that if I would still be living in California I wouldn't be sober. You have to change the people that you hang out with. Change your crowd. You gotta search for what you like other than drugs. Remember at one point in your life, as a kid, you weren't using drugs. Tap into that mind space. What kept you excited at that time? Me, I like to go to the gym and I like to eat. I go to the boxing gym across the street from Blanchet. I don't think a lot of fighters use too many drugs. And if I can get three meals a day I'm so much happier. That's one of the things that has kept me from relapsing. Instead of purchasing drugs, I can purchase meals. 
Do you have plans for the future?
I was accepted to Portland State University and will start in the fall. If the government will give you a grant then it's a mistake not to go. At first, I was going to major in Criminology but Management and Leadership will fit me better.
Learn more about Blanchet House's Transitional Housing Programs.