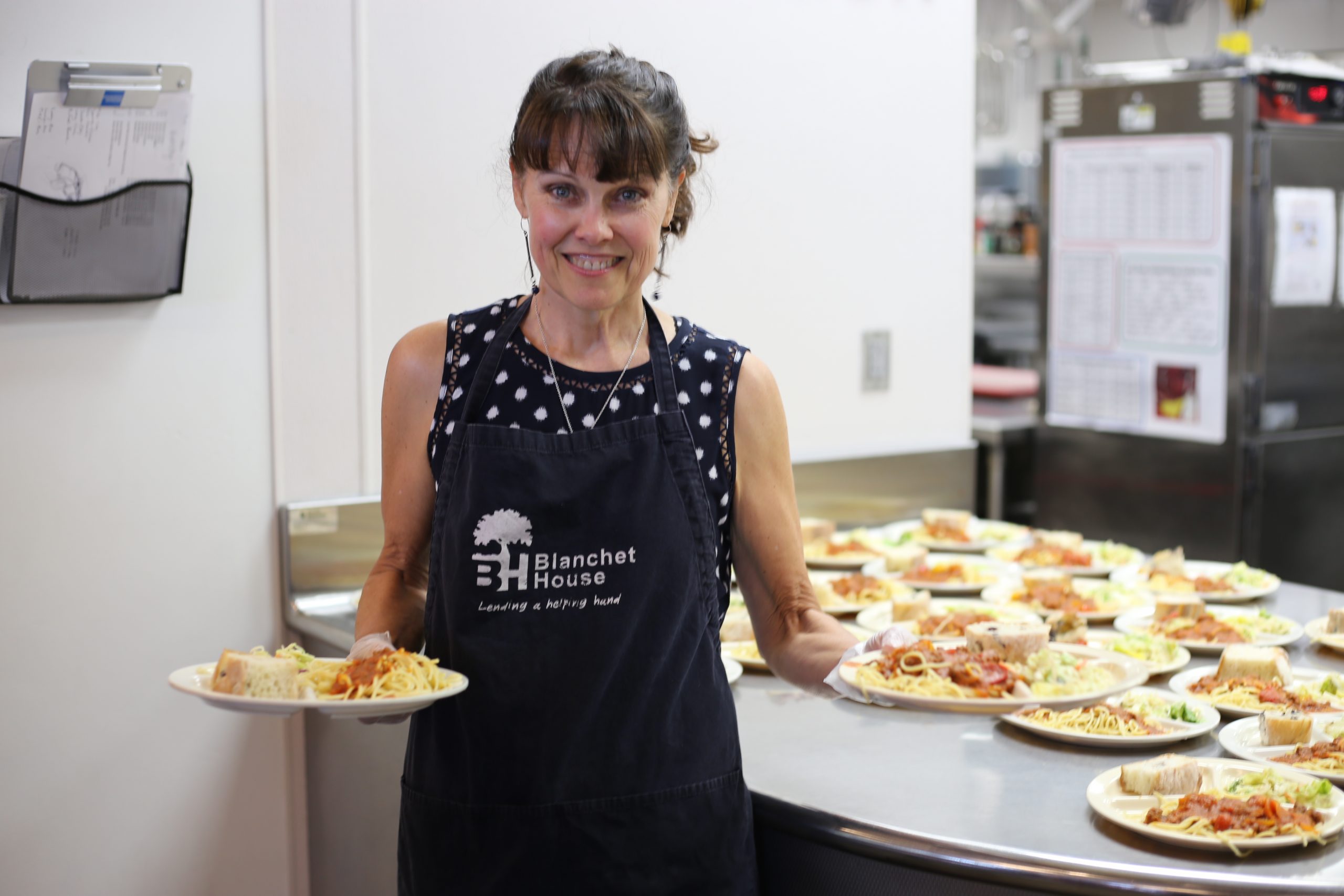 Of the eighteen meals Blanchet House serves every week, only two are always the same: spaghetti for Wednesday dinners and pizza for Saturday lunches. These meals are consistently the most-attended of the week, with guests coming from near and far to dine on Blanchet House's homemade red sauce and pizza from local restaurants.
Equally consistent as spaghetti night are its volunteers. Every Wednesday, Rebecca Cranor and two of her sisters arrive at Blanchet House ready for the busy night ahead. As other volunteers sling spaghetti and scoop sauce, Cranor weaves through the café in her role as a busser, expert in her eleventh year as a Blanchet House volunteer.
"I absolutely love volunteering here. It's one of the few things I do for myself during the week."
"I absolutely love volunteering here," said Cranor. "It's one of the few things I do for myself during the week." During the day, Cranor works as an HR analyst for the Multnomah County Sheriff's Office. Her boss knows that on Wednesdays, she takes off a few minutes early to make it to Blanchet House before dinner service begins.
Cranor learned about Blanchet House through her daughter, who volunteered with Central Catholic High School.
"When she graduated from high school," said Cranor, "She told me 'you'd really like volunteering at Blanchet. I think you should give it a try.' She was right – that was in 2008, and I've been doing it ever since."
Like many long-term diners and volunteers, Cranor recalls the days when Blanchet House served its meals down the block before the current location on 3rd and Glisan opened in 2012.
"It's like coming into a new age – you were so cramped. There were inches to sneak through the tables. From where the plates were to the tables, it might have been ten feet. Now, it feels a lot more like you are going out to eat rather than a homeless person coming out for a meal. It's classy – it would make someone feel happy to come have dinner here."
When Cranor volunteers, she plays a role in sparking that happiness in guests on Wednesday evenings. She can be found often engaged in conversation and banter, recognizing that sometimes folks need a compassionate ear more than a plate needs to be cleared.   Even on the busiest of dinners, she always manages to share eye contact and a smile—and it's reciprocated.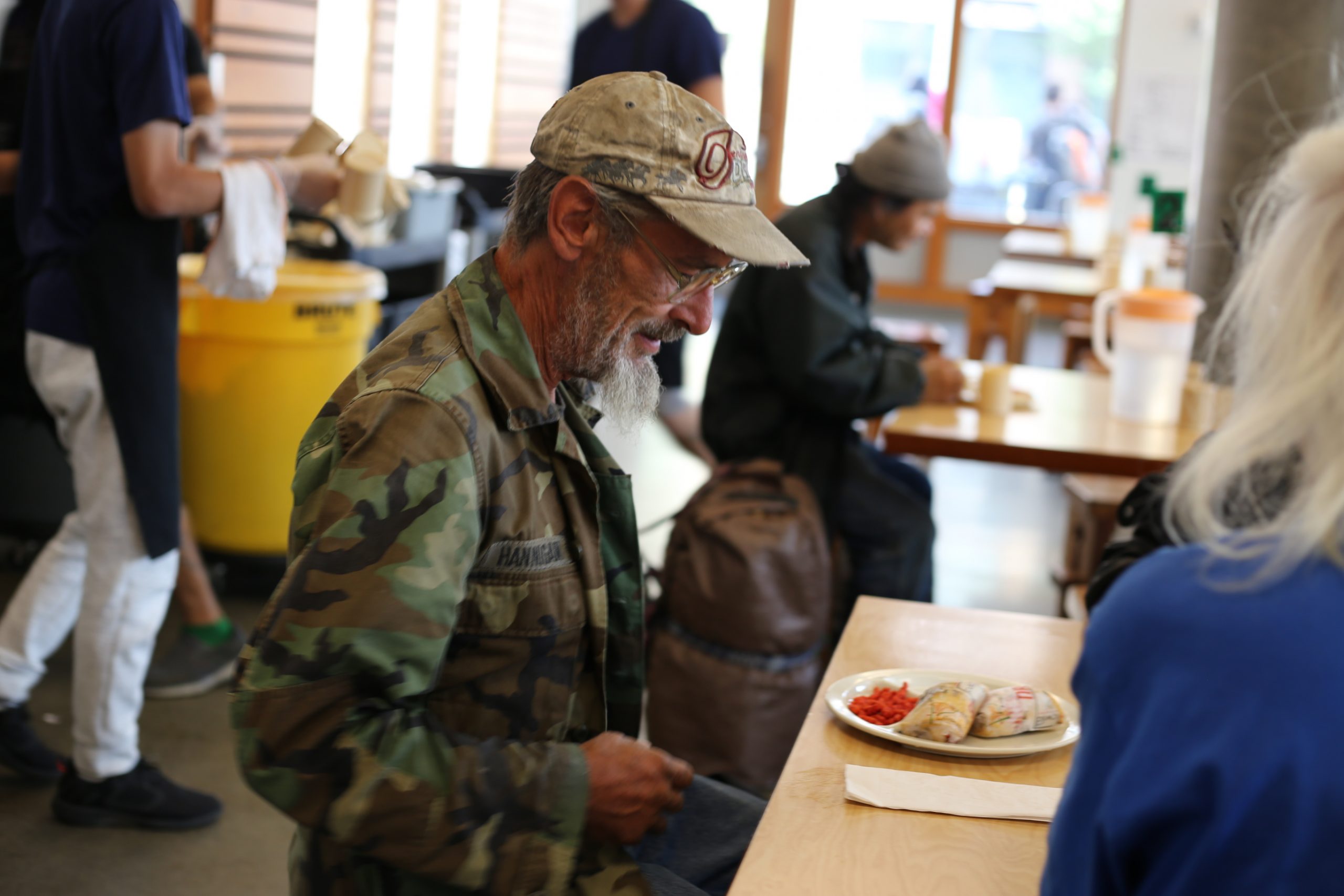 "You're serving a lot of people, and sometimes someone will just say something really kind. Of course, many say 'thank you for that,' or 'I appreciate it,' that kind of stuff, but one man was quoting scripture and he said 'I'm just blessed to be here and I thank you all for making my life better. I'm trying, I'm on a path to do what I'm supposed to.' Things like that, they touch your heart."
Cranor also keeps up with the Blanchet House residents volunteering alongside her, men who are giving back in the cafe while working to rebuild their lives. She continues conversations from previous weeks and asks about residents who have since moved on. Her steady presence allows for trust and a mutual respect built upon dodging errant spaghetti sauce and a call to welcome all in for a meal.
"Not only do I get to feel like I'm helping, but you always get more out of it than you give," said Cranor. "I get to have dinner with a community of people that I never would have met otherwise – the volunteers, the men, the people that come through the door.
We continue to do it every week because we enjoy it – talking to the gentlemen who live upstairs, it's remarkable—what they've been through, what they're trying to do with their lives, it's inspiring. This is serving a real purpose."
-Written by Emily Reiling.
To volunteer at Blanchet House, visit www.blanchethouse.org/volunteer.