Raffle rules:
Must be 18 years or older to enter

Minimum donation of $10

Multiple entries are permitted

All entries received between Tuesday, August 11th and Thursday, August 20th will be considered
Winner will be notified by 5pm on Friday, August 21st via email

Prize value is $200.00. Taxes on prize are the sole responsibility of the winner.
Support Artists
ON THE LEDGE is a virtual art show and fundraiser benefiting local artists and Blanchet House. Prints on sale now through August 24th.
Sack Lunches Offer Hope with Art and Positive Messages
"The sayings on these bags give me a ray of hope. I was told that if you can change one person's life it's like a rippling effect. Like a pebble in a pond. Sooner or later you'll touch the shore of someone's life. The more stones you throw in the more people you will touch."
Because of the increased need for our meals and the shortage of donated foods we created a sack lunch program that also activates our student communities. Students and families from local schools like Jesuit, Central Catholic, Lincoln, and more are making sack lunches from the safety of their homes during the COVID19 pandemic for Blanchet's homeless guests. Learn more.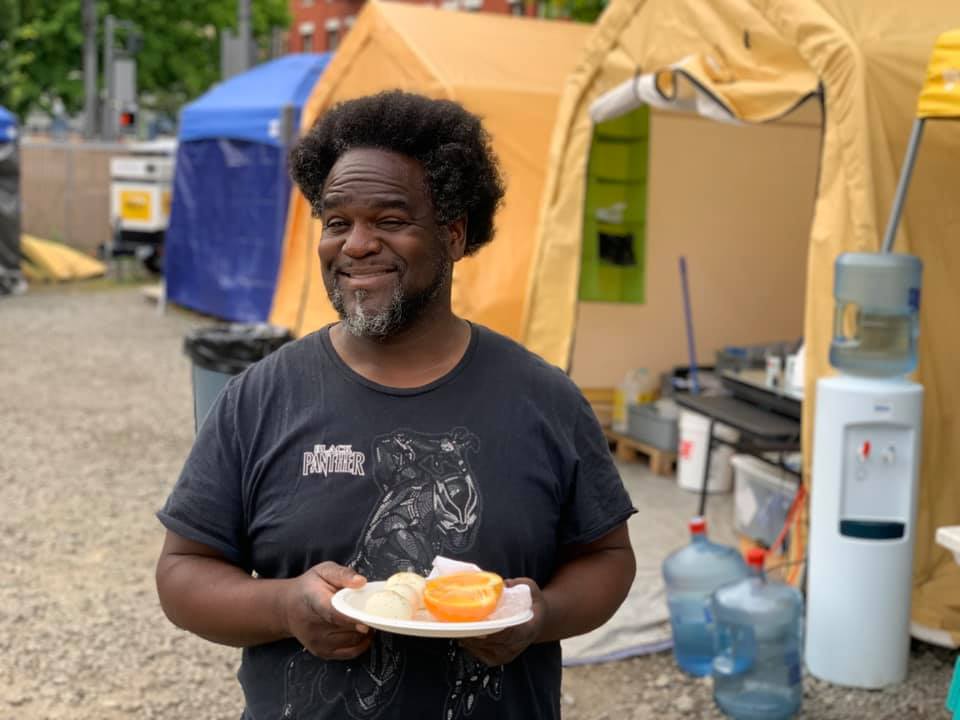 Emergency Shelter Meals: Blanchet House partners with Catholic Charities, Multnomah County, and JOIN 
WATCH: Inside look at breakfast delivery
"The breakfast is wonderful." –Tosh, an outdoor shelter resident.
Your donation helps us continue our expanded meal services to the county's outdoor shelters. In the last 100 days, we've started delivering meals to 175 people daily thanks to a new partnership with Multnomah County and Catholic Charities. Most of the residents at these new temporary shelters are employed but cannot find affordable housing. They greatly appreciate the services offered like meals, showers, and laundry. Your support during COVID19 is helping us serve more people and make their day better! #100DaysCOVID19