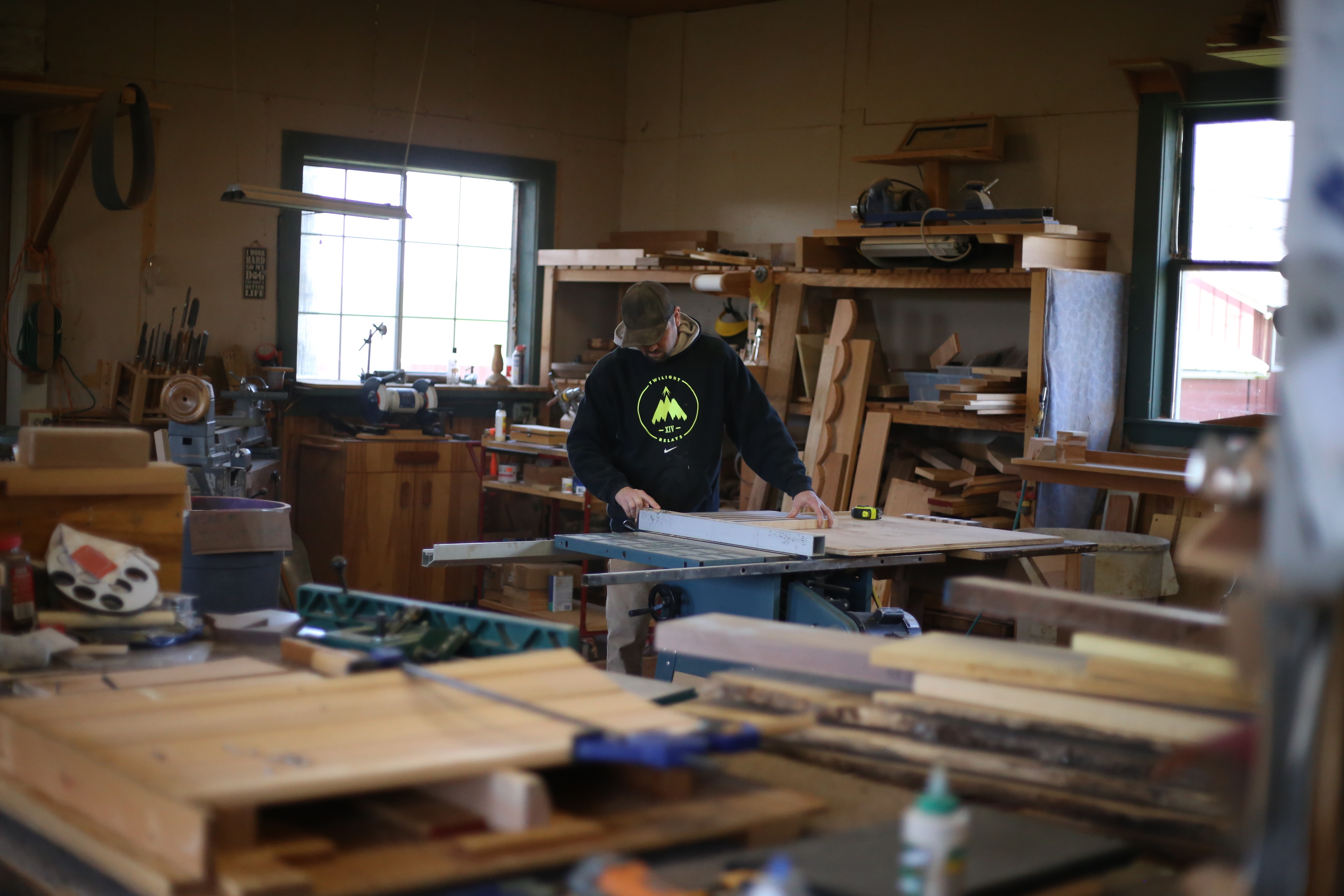 Welcome to the Blanchet Farm Woodshop!
The Blanchet Farm operates as a working mission.  Men must work in various programs 6 days a week in exchange for room, board, and many other Blanchet resources.  One of our newest work programs on the farm is our Blanchet Woodshop.  While we have been making wooden creations for years now, we have recently created a formal work program with a full time Woodshop Manager.  This new program has enabled us to formalize our training program, guide more men in the craft of woodworking, and offer some of their creations to the community at large.
Some men come to us with no real marketable skills. Others have burned out or burned too many bridges in their former trade. Blanchet is now offering men a new way to help rebuild their lives. In our program, we teach proper, safe woodworking practices. In the process of doing so, we produce our beautiful Signature Adirondack "Style" chairs. The men learn the value of consistency, responsibility and integrity. They learn attention to detail, problem solving skills, patience and how to be a team player. The men in the program are all at different skill levels and are taught to "lift up" rather than put down their peers. These are all positive character traits they can take with them and use to help themselves and others in the future.
---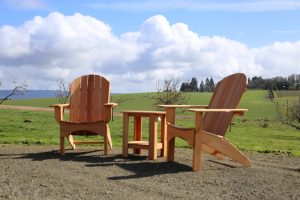 Our Adirondack chairs are designed to be more comfortable and more aesthetically pleasing than the traditional.  Though they look like traditional Adirondack chairs, they have several KEY DIFFERENCES:
We have designed our chairs around your comfort. Traditional Adirondacks have a very low seat and are typically difficult to get in and out of. Our chairs have a different leg style that elevates the seat making the stand-up easy and painless, while still giving the relaxing comfort you are looking for.
We have also designed the chairs with a curved back. The panels gently wrap with the contour of your back providing ultimate comfort.  Ergonomically, our chairs are so comfortable, with or without a cushion, you will never want to get up!
Our chairs are oversized and luxurious. You will not feel trapped or squished into these chairs.  In fact, the arms of the chair are sized perfectly for a coaster and cool beverage!
Most important to note, ALL of the money received from these chairs goes directly back to the program and help to lift up the men in recovery at the Blanchet Farm. Unlike the traditional Adirondack Chair, these Blanchet Chairs are unique, made with love, and are a proud accomplishment of men who are actively fighting to get their life back on track.
Whether the sleek design is what caught your eye or the goals of the training program, please consider purchasing one of these unique creations.  Blanchet Chairs are so much more than just a staple of your backyard or patio.  They are a testament to the hard work, sweat and sacrifice of those fighting to stay clean and sober and those fighting to create their own second chance.
Thank you for supporting their future and for believing in their continued growth through this unique work training program!
---