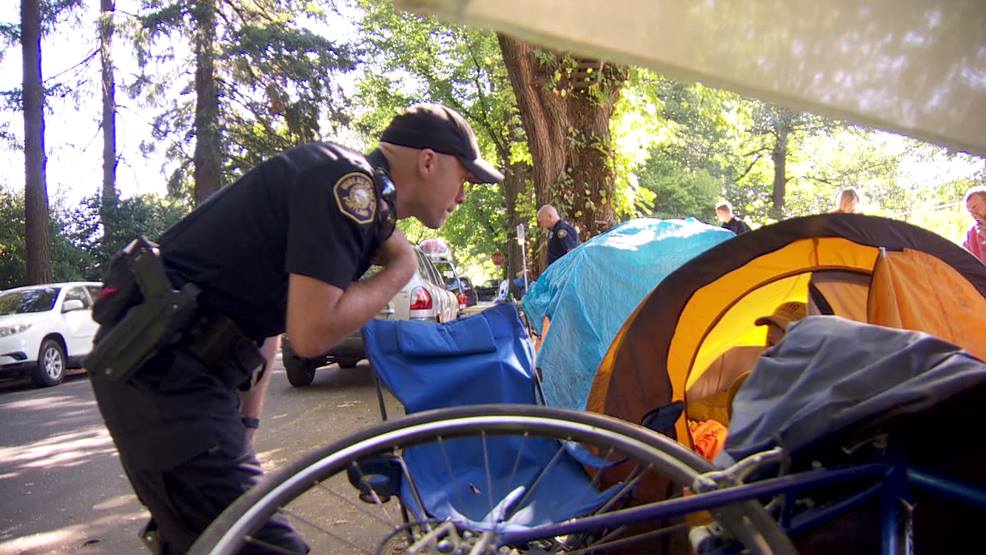 To the passerby, a homeless camp sweep may seem like a heartless way for the police to force homeless people out of sight without doing much to find a sustainable solution. But the relationship between the police and the homeless population is much more complex and so are the many problems that demand fixing. Portland Police Officer Jacobsen explains that while it's technically illegal to camp within Portland city limits, the police use discretion when dealing with various cases. The camps are posted and cleaned at the direction of the city's Homelessness and Urban Camping Impact Reduction Office, prioritizing community safety based on citizen complaints. A homeless person who is not considered a threat and who's camp has less of an impact on the surrounding area might be allowed to stay, while larger camps, sometimes sheltering drug use, are typically made to move.
The Anderson Agreement mandates that the City of Portland must post a notice of at least 24 hours before dispersing camps set on public property.  
As a result of the Anderson v. City of Portland case in 2009, the Anderson Agreement mandates that the City of Portland must post a notice of at least 24 hours before dispersing camps set on public property. Additionally, the police collect all the belongings of the individuals at the camp which are then stored in a building in SE Portland until they can be picked up. Officer Jacobsen says his team gives people a reasonable amount of time to clear out. If they are limited one way or another in their ability to clean up, the officers will provide them with more time. Additionally, Officer Jacobsen and his team work with social workers and case managers in order to offer resources to each person who is having to move out of their camp.
The group focus on building strong relationships with the homeless population, knowing many on a first name basis and engaging in conversation with those who are homeless in order to establish a close report. On the streets, as Jacobsen puts it, "today's suspect is tomorrow's informant". One serious problem the team faces, however, is the fear of talking to the police, a feeling inherently rooted in the cycle of homelessness. Many people who are homeless have suffered from some kind of severe trauma or have acquired a warrant for a crime concerning their situation. Because of this, the police are generally seen as a threat and those in difficult situations turn to drugs and alcohol to manage their problems instead of getting the cops involved.
Jacobsen's main goal is that of all police: to put significant criminals in jail and to keep the community, those both with and without a home, safe from danger. When it comes to Portland's homeless problem there are many complex factors that require layered solutions. Jacobsen's team and the Portland Police are working directly with the homeless population in collaboration with local social services to find solutions for everyone's benefit and safety.
-Written by Jax Nicoloff. Jax is a Blanchet House student ambassador and Lincoln High School student.