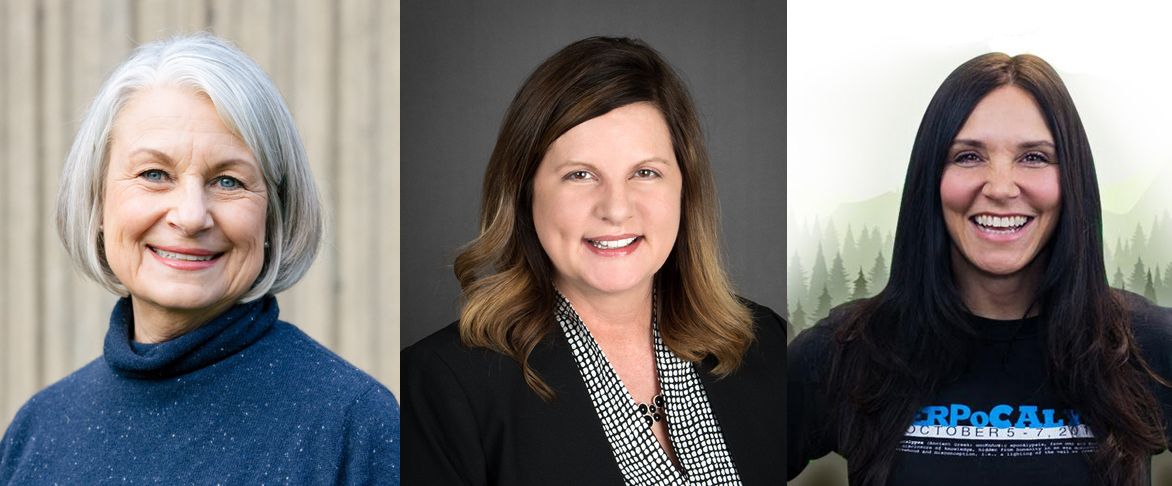 Portland civic leaders Janie (Marsh) Gullickson, Alisa Sinnott, and Diane Whidden have joined the board of Blanchet House. Blanchet House is a 66-year-old nonprofit organization dedicated to feeding the homeless and offering sober living programs to men in Portland and Yamhill County. There are now 15 members of the Blanchet House board with a total of four women.
"We are fortunate to have these distinguished women committed to sharing their diverse areas of expertise with our organization," says Blanchet House Executive Director Greg Baker.
Janie (Marsh) Gullickson knows first-hand the struggle of recovering from addiction and homelessness. She has risen to become the Executive Director of the Mental Health Association of Oregon. She is passionate about social justice issues with a focus on mental health and addiction recovery, homelessness, and advocacy. Gullickson is recently married, a mom to five and "Granny" to 11. Blanchet will benefit from her lived experiences and expertise.
Since 2010, Diane Whidden has been a member of the Community Benefit team at Kaiser Permanente Northwest. She serves as the Manager of Charitable Contributions, Community Engagement and Community Relations. Outside of work she enjoys spending time with her family, walking her dog, and traveling. Previously, Whidden has volunteered in the Beyond School Walls program with Big Brothers and Big Sisters. She is now a member of the Blanchet House Development Committee.
After 21 years, Alisa Sinnot retired from her role as Director of Christian Services at Central Catholic High School. Sinnot was responsible for creating and implementing the school's direct service program. She was honored to work with over 4,200 students, their families, a tremendous faculty and staff, and community partners to provide over 336,000 hours of service to those in need. Sinnot brings a wealth of experience cultivating, screening and placing volunteers.
The Blanchet House Board of Directors provides leadership and governance for promoting, advocating, and supporting its long-held mission to aid those in need. Blanchet House is located at 310 NW Glisan in downtown Portland, Oregon. You can learn more about their programs at www.blanchethouse.org.