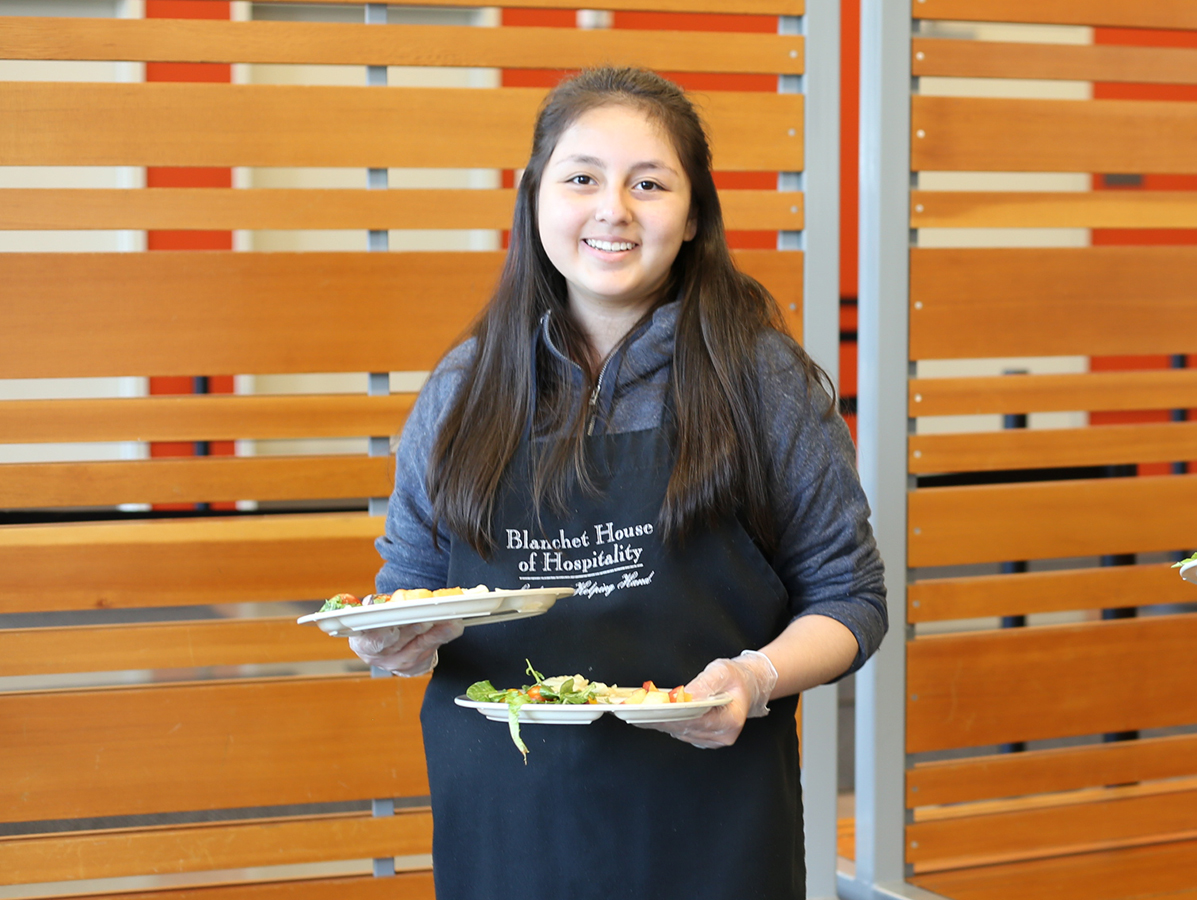 Erika Bahena
Wilson High School
I'm a sophomore. I like to volunteer a lot. I volunteer at Blanchet House and OMSI on Saturdays. I also do mock trial and I'm the co-captain this year. I do robotics after school too, that's fun. Outside of that I play music. I like to play flute, piano and guitar. I also do Red Cross Club, Key Club, and Leadership.
I like to serve at the Blanchet House because I feel like it's the most interactive part of volunteering there. Living in Portland we see homelessness everyday. I didn't know much about it or that many facts or resources about it because I'm not in that situation. I thought it would be a cool way to learn about it.
Now that I'm older I thought it would be a good time to start volunteering again. I had a 7th grade community outreach program where we had to volunteer at multiple places so I went to the Oregon Food Bank and then I found the Blanchet House. I've learned a lot more about Blanchet House that they give someone a place to live, like with the farm, they help with animals and give them skills that will set them up for a successful life. So, I think it's just more about them learning about themselves again and not just giving them a home.
I want to be more educated and be able to have more of an influence in my community. I've learned that the homeless have a lot more mental issues that are overlooked in our society. Even people that need to go through rehabilitation and stuff like that in the homeless community they're not really getting that treatment because people just look over it.
My project is a documentary to hopefully just show a quick glance of what Portland's homelessness is and the facts and just what people are doing and what they aren't doing. I'll interview someone at the farm and then someone at the house. I hope that people will be able to see that homeless people are people and even though you can just drive past them really quickly, that's not where their life ends. They have a lot more struggles than we see.
Olivia DiGiulio
St. Mary's High School
I am a junior. I love to write. I write for the Catholic Sentinel which is fun because I am really passionate about being Catholic. I like making art, reading, and spending time with my family and friends. I'm interested in looking at education reform and equity across education in America.
I like to serve at Blanchet House because I like to have that interaction with the guests. I'm interested in exploring homelessness because in Portland it's all around you. I want to be of service to my community and be able to connect people to different resources.  In elementary school we came to Blanchet House. I remember I was impressed by how smooth everything went, it was an experience I wanted to return to.
I was interested to find out that Blanchet House is one of the only centers in Old Town that doesn't have a religious affiliation and doesn't require any religious affiliation of their participants. Being an ambassador will be the first time I create different projects that will reach out to other communities.
My first project is to create a middle school outreach program called Community Beyond the Classroom. I will meet with students from PPS middle schools and discuss topics related to homelessness in Portland. I'm hoping to share some of the resources other ambassador's create so they'll see kids who aren't much older than they are creating things that are amazing and impactful.
My second project is to create at monthly meetings, where diners or residents at Blanchet can have some sort of outlet where they can do art or writing and be able to tell their story. I'd like to bring in high school students or members of the NorthWest Regional Reentry center to participate. The hope beyond that to is to create some kind of book at the end of all the different art and writing and publish that and have that be a uniting factor for people and a glimpse of a part of Portland that we might not have known otherwise.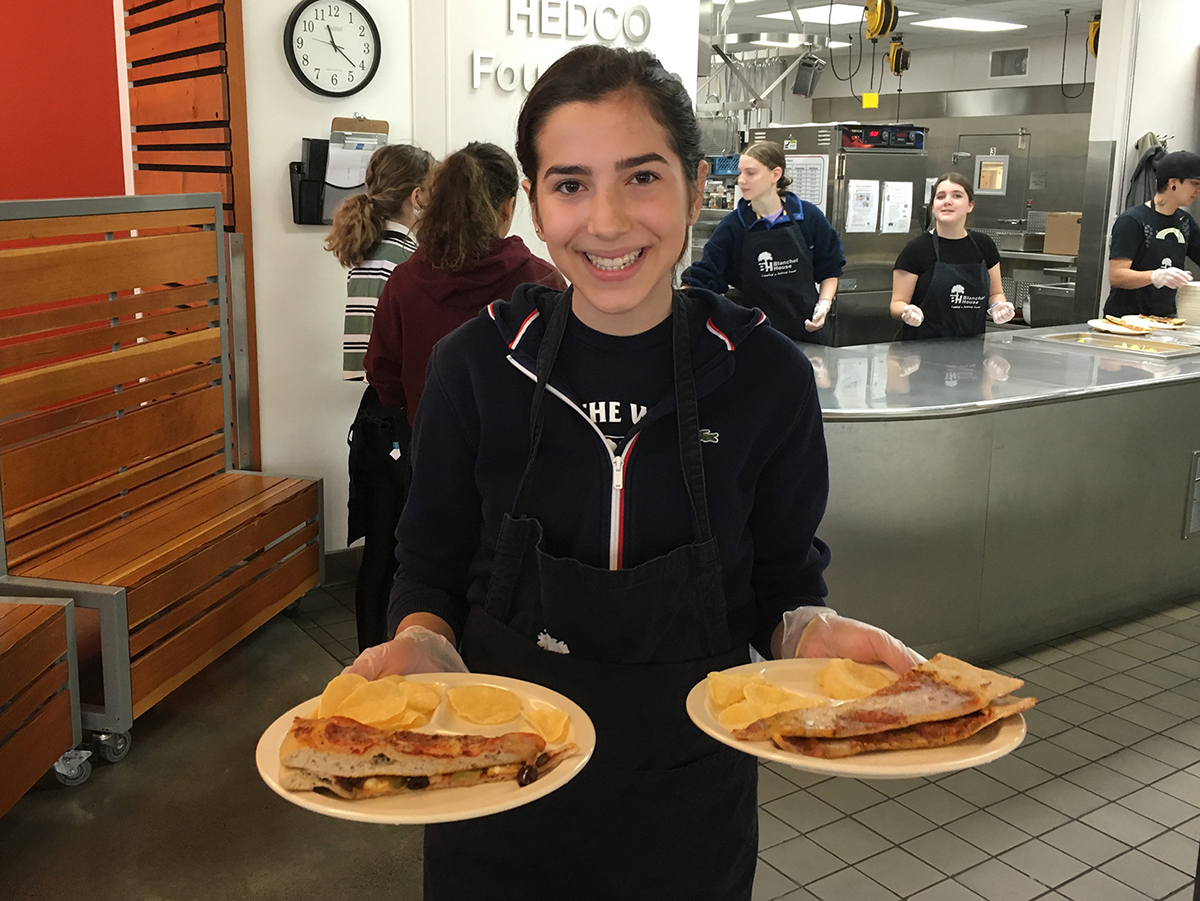 Zoe Jacobs
Lincoln High School
I'm in the 10th grade. I really like art, especially ceramics. In my free time I like to be with my friends and family, draw, read and go running. I also love skiing. I am part of BBYO which is a Jewish youth group.  
I like serving at the Blanchet House because I like to welcome the people in and see them enjoy their meal. I also feel like serving is the most interactive roll with the guests since we get to greet them. I'm interested in homelessness because of how many people it affects, especially in Portland. I think it's really unfair and it makes me sad that people have to live without a home.  
Homelessness is such a hard cycle to get out of and I really want to do something to make a change. Like I said before, living in Portland I have many interactions with homeless people and from a very young age I knew that it was something that needed to be solved.   
We have toured the farm and learned about some of the things that someone living there gets to do, such as woodworking and taking care of the animals. We learned about the program that supports the men to get back on their feet again. I love how it focuses on helping many aspects of a person's life, not just one.  
I want to continue to learn new things. It is really interesting to learn other people's perspectives and new ideas. I also want to help come up with some new ideas that can contribute to the Blanchet House. I have not done anything similar to this in the past, that's one of the reasons I am looking forward to it. 
Other than homelessness, I think there is a lot that needs change in our society right now. What comes to mind at this moment are the gun laws, racism, sexism, sexual assault / rape culture in our society, the wage gap and so much more. I am interviewing the other Blanchet House ambassadors and making an information list about homeless policies in Portland that I will share.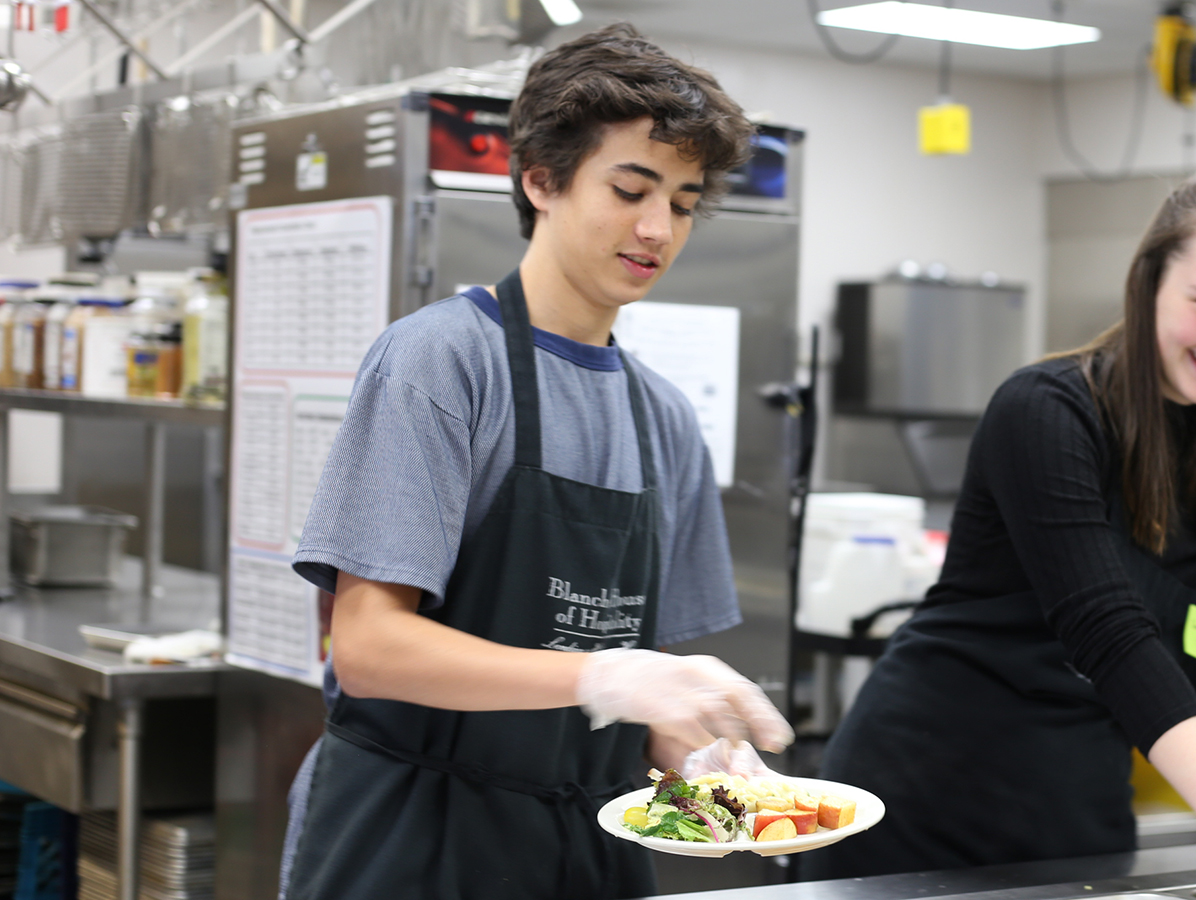 Jax Nicoloff
Lincoln High School
I like to play soccer and ski. I ski in my free time but I'm also on the ski team this year at Lincoln.
I like to serve and bus at Blanchet meal services because you get to interact more with the people. I'm interested in homelessness because it's been around me my whole life. I go to school and live near downtown so it's always been something I've grown up with, it's also a serious problem. Every time I see someone on the streets laying there when I'm walking or skating by with my friends I feel like I need to make a change. I think it's whether or not you actually make that change when you're not in that moment.
I probably heard about the Blanchet House at first when I volunteered with Sisters of the Road. I also read about it from a Lincoln newsletter. I've learned that there are some really effective ways to help people experiencing homelessness and people experiencing addiction, like the Blanchet House and farm. Also that these places aren't enough to help the whole problem. I hope to learn more about the problem, it's not something we are going to learn about in school so at a young age it's nice to learn from the different guest speakers. Also hopefully doing some new projects and events. Mental health goes hand in hand with homelessness but it is another thing by itself that needs to be greatly changed.
My project that I'm working on right now is writing an article about the Blanchet Farm for the magazine at Lincoln but also for Blanchet. I hope to show the Blanchet Farm and explain how the process works to people have no idea what it's about and also explain the experiences of people who are dealing with addiction and homelessness.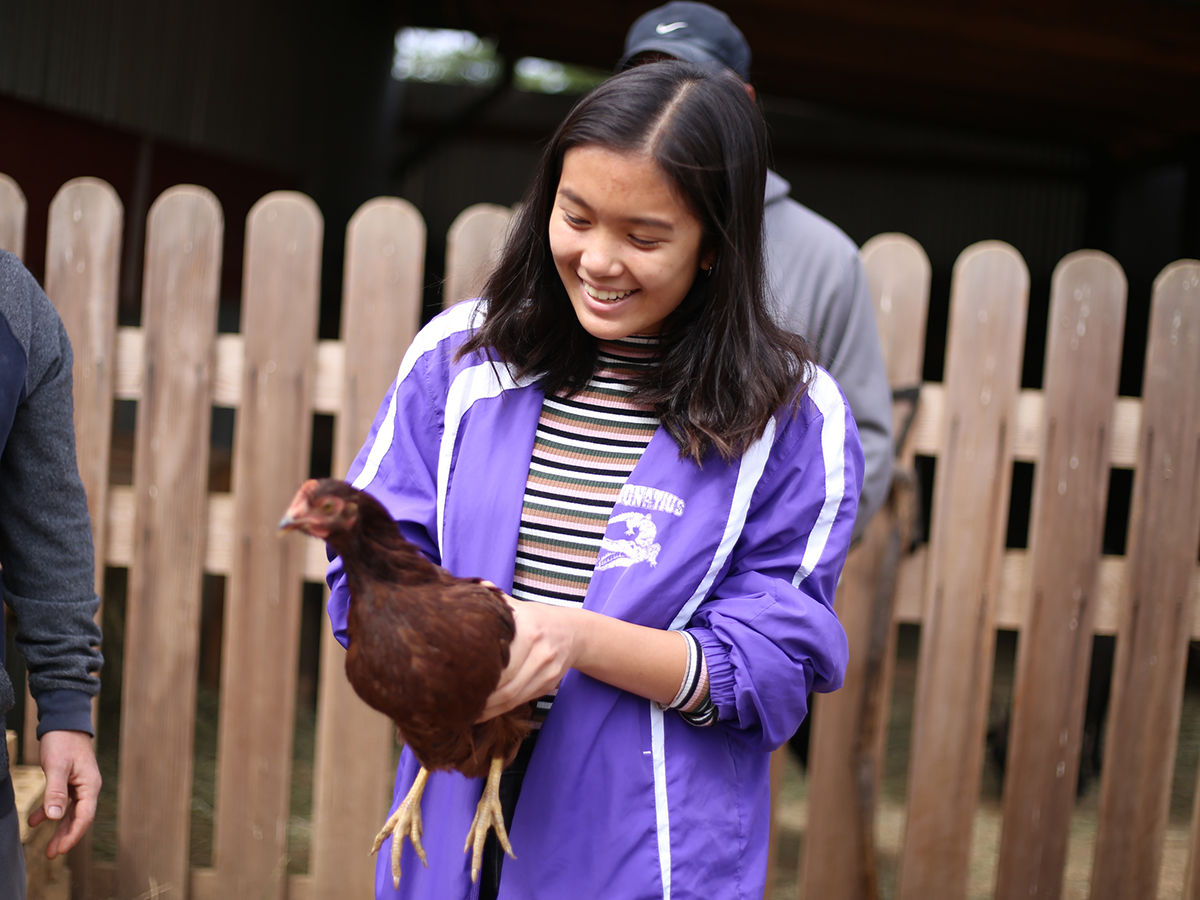 Hanna Nguyen
La Salle Prep High School
I'm a Junior. I am on the cross country and swim team and I like to write poetry. I like to go thrifting and stuff like that.
I am the creator of Asian Pacific Islander Club at my school, as well as a service club. I'm also a moderator of Youth Ending Slavery.
I like to volunteer at Blanchet House because I get to give people the respect they deserve. I really like talking to the meal guests and making them feel like they belong.
Both of my parents were born in Vietnam which is a really poverty stricken country. My parents grew up in poverty and it was really hard for them to get food and basic stuff. Living in America is such a luxury that I feel like a lot of people take for granted. So I grew up with the intuition that my parents didn't have as much so I should take advantage of all the opportunities that I'm given. With the privilege that I have I want to help people that are in need and try to help end homelessness, even though that's such a big statement, I want to be a part of that and use all of my abilities and all of my opportunities to help people that are in need. 
Going to a Catholic school from kindergarten to now I feel like has really influenced me because every year my middle school would do a different service project. From third to fifth grade we started out with participating with meals on meals and then in seventh grade we helped kids with mental and physical disabilities at Providence. In eighth grade we went to Blanchet House and worked with transition projects. Growing up with that passion to help people has really influenced me now, knowing that I can make a difference has really pushed me to want to make a change. I have learned more facts around homelessness, I never really thought that one of the main sources of homelessness was mental health. I have learned just a new perspective of homelessness in general.
Being an ambassador has made me more aware of what's behind the scenes. I really want to get a lot out of my projects, I really like the concept of having a project and being surrounded by people who also want to make a change. I really want to use my projects as an opportunity to meet new people and immerse myself in these people's situations and have a new perspective of homelessness as well as work towards alleviating the pain behind it and trying to make a difference. I've always been interested in social justice and that is why I'm involved in social justice clubs at my school but this [being a student ambassador] is the first big thing I've done.
I'm working on a documentary about the resources that people on the street or people in need including food, shelter and mental health treatment. The video will be focused around the book issued by Street Roots which contains a bunch of organizations that provide these resources. I've picked 10 from the book and I'm going to film at the place and then have a voice over of the organization saying their mission statement. I hope the documentary helps people be more aware of these resources that are available to them. I'm also going to educate my school through the service club I'm in.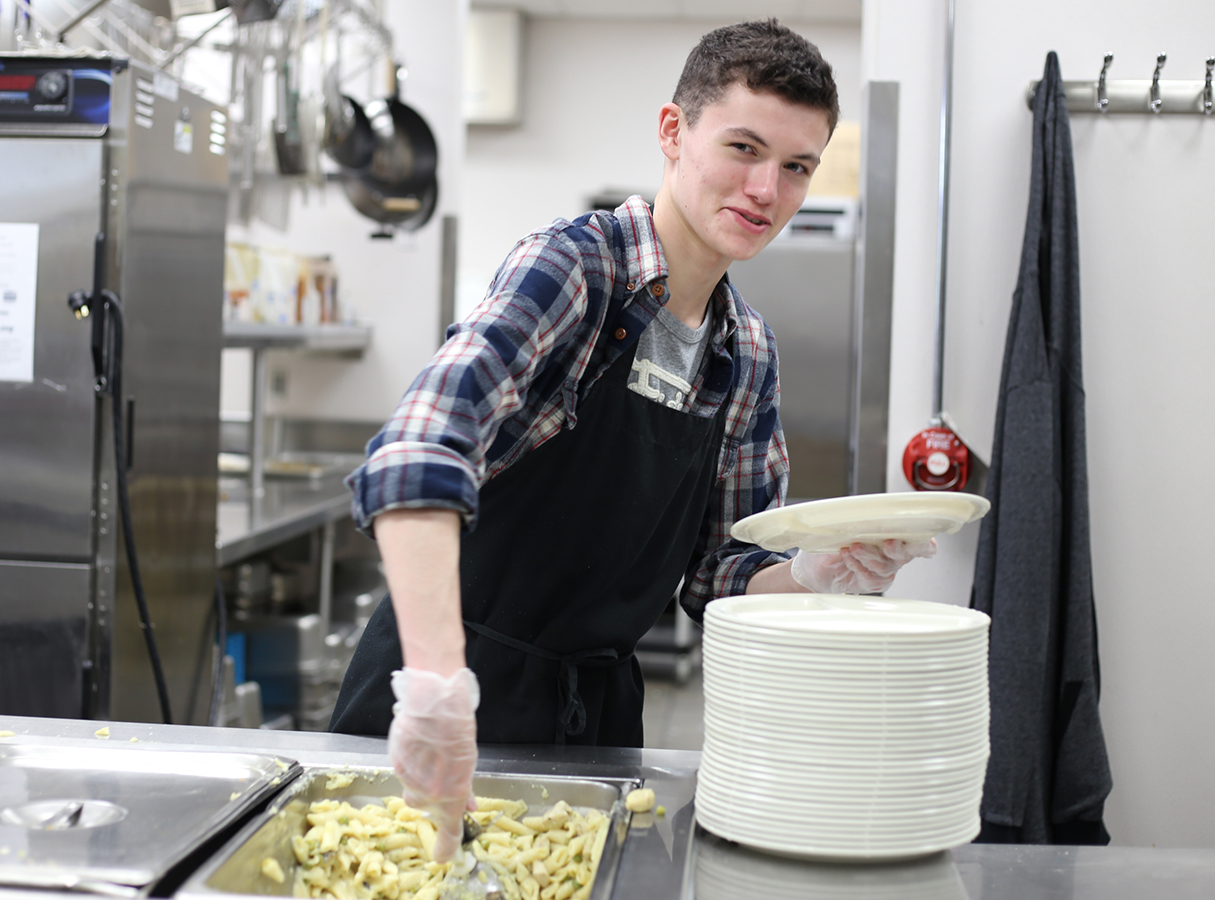 Ethan Skyles
Central Catholic High School
I am a junior. In my free time I play a lot of sports like soccer, baseball and basketball. Some of my interests are anything to do with animals, I want to be a veterinarian.
Most of the time I serve at Blanchet House so that would probably be my favorite because I get to interact with people that come in. Homelessness is very present in Portland, and I feel like I can use my time to help others.
Entering my 8th grade year at my school they gave us an opportunity to serve at Blanchet. I've been coming here ever since. I was going down a bad path and he thought it would help me, and it did. I learned how people can really be selfless. I feel like a lot of people today are very selfish and just seeing the people that go in and go through the rehab and also at the same time give back to their friends and the people they know is cool.
I hope I can experience something new, I've never really done anything like this, it's kind of like stepping out of my comfort zone, but that's what life's all about. O
ne of [my projects] is a podcast, I'm actually working on it right now with Jax. My other one, I'm building a website, kind of a newer revamped ones that combines different schools in the area and also Blanchet's website. My third one might be an article, but it's kind of undefined right now. "